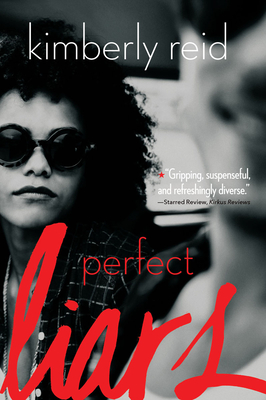 Perfect Liars
Hardcover

* Individual store prices may vary.
Description
Best Books, Kirkus Reviews
In this YA heist novel, a society girl with a sketchy past leads a crew of juvie kids in using their criminal skills for good.
Andrea Faraday is junior class valedictorian at the exclusive Woodruff School, where she was voted Most Likely to Do Everything Right. But looks can be deceiving. When her parents disappear, her life--and her Perfect Girl charade--begins to crumble, and her scheme to put things right just takes the situation from bad to so much worse. Pretty soon she's struck up the world's least likely friendship with the juvenile delinquents at Justice Academy, the last exit on the road to jail--and the first stop on the way out.
If she were telling it straight, friendship might not be the right word to describe their alliance, since Drea and her new associates could not be more different. She's rich and privileged; they're broke and, well, criminal. But Drea's got a secret: she has more in common with the juvie kids than they'd ever suspect. When it turns out they share a common enemy, Drea suggests they join forces to set things right. Sometimes, to save the day, a good girl's gotta be bad.
Tu Books, 9781620142738, 384pp.
Publication Date: May 15, 2016
1. In the beginning of the story, Drea has a strong independent streak, almost to the point of being aloof. Why does Drea struggle to make friends and to trust others? Why does her outlook change around friendship and camaraderie?
2. How does Drea's perception of adolescents in the juvenile justice system change?
3. Why is Drea ashamed of how her family attained its privilege?
4. What connection can be made between Damon's choices (becoming a police officer) and Drea's choices (in unrelenting pursuit of perfectionism) and the choices of their parents (being con artists)?
5. Drea's friends at the Justice Academy solve the problem with the very skills that led them to being in the juvenile justice system. What do you think the author, Kimberly Reid, wants readers to take away?
6. Look up imposter syndrome and "Duck Syndrome." Do either of these describe Drea's experiences? Is her pursuit of perfectionism unique to Drea's personality and internal pressures or are there systemic pressures as well? How might Drea's gender contribute to her anxiety and stress in being perfect? Does Drea face additional pressures or unfair expectations to be successful because she is biracial in an elite, mostly white prep school?
7. How are Drea and Xavier similar?
8. Do Drea and Xavier see each other as equals? Why or why not?
9. Examine the reasons that led to Gigi, Xavier, and Jason each being in the juvenile justice system. Do their actions define them as "bad" people? Does their involvement with Drea mean they are redeemed?
10. Which characters do you particularly admire or dislike?
11. Unlike the students Drea meets at Justice Academy, she has had access to elite institutions, privileged experiences, and influential people. Does Drea make the most of these resources?
12. Drea strives to be independent and self-sufficient. Does she achieve the freedom she seeks? Why or why not?
13. What impact do you think Drea's experience in collaborating with the students at the Justice Academy might have on her view of her parents' choices and lifestyle?
or
Not Currently Available for Direct Purchase