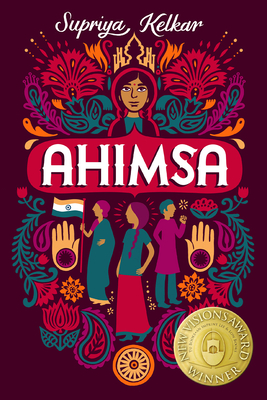 Ahimsa
Hardcover

* Individual store prices may vary.
Other Editions of This Title:
Digital Audiobook (11/25/2019)
Description
New Visions Award winner
Notable Social Studies Trade Books for Young People
Amelia Bloomer Project--Feminist Task Force
In this historical middle-grade novel, Gandhi asks for one member of each family to join the fight for independence from the British, and when Anjali's mother is jailed for doing so, Anjali must step out of her comfort zone to take over her mother's work.
In 1942, when Mahatma Gandhi asks Indians to give one family member to the freedom movement, ten-year-old Anjali is devastated to think of her father risking his life for the freedom struggle.
But it turns out he isn't the one joining. Anjali's mother is. And with this change comes many more adjustments designed to improve their country and use ahimsa--non-violent resistance--to stand up to the British government. First the family must trade in their fine foreign-made clothes for homespun cotton, so Anjali has to give up her prettiest belongings. Then her mother decides to reach out to the Dalit community, the untouchables of society. Anjali is forced to get over her past prejudices as her family becomes increasingly involved in the movement.
When Anjali's mother is jailed, Anjali must step out of her comfort zone to take over her mother's work, ensuring that her little part of the independence movement is completed.
Inspired by her great-grandmother's experience working with Gandhi, New Visions Award winner Supriya Kelkar shines a light on the Indian freedom movement in this poignant debut.
Tu Books, 9781620143568, 320pp.
Publication Date: October 2, 2017
About the Author
Supriya Kelkar grew up in the Midwest, where she learned Hindi as a child by watching three Hindi movies a week. Winner of the New Visions Award for Ahimsa, Supriya is a screenwriter who has worked on the writing teams for several Hindi films and one Hollywood feature. Supriya's books include Ahimsa; Strong as Fire, Fierce as Flame; American as Paneer Pie; and That Thing About Bollywood, among others. Visit her online at www.supriyakelkar.com.
1. What is ahimsa? How is ahimsa central to Hinduism and the Indian freedom movement?
2. What was the Quit India movement? What groups of people were involved? How was it started and what was the goal?
3. What does it mean to "give one family member to the freedom fight"? Has your own family ever made sacrifices to support a larger social movement, or can you imagine a circumstance in which you would?
4. One of the first things Anjali must do when her mother joins Gandhi's movement is get rid of her foreign-made clothes in favor of home-spun cotton. Why might someone want to give up foreign-made clothes today, and how hard do you think it would it be to do?
5. How does Anjali's mother challenge traditional gender roles? How is she confined by them?
6. How does Anjali confront and overcome her own prejudices? Can you think of a time when you were challenged on an assumption or prejudice that you held?
7. Keshavji speaks of two fronts of the independence movement for India: standing up to the British, and becoming more equal internally in India. Why was it important for Indians to become more united and equal as a part of the freedom movement?
8. What parallels do you see between Gandhi's nonviolence movement and the Civil Rights movement in the United States?
9. How did Hindu-Muslim tensions play a role in the partition of India? What implications of this tension do we see today?
10. Describe the relationship between Captain Brent and Anjali. How does Captain Brent show respect for Anjali? How does Anjali use ahimsa to defend Captain Brent?
11. What do you think became of Mohan after he left the city? How do you feel about him leaving?
12. What similarities do you see between the way Dalit people were treated in India and the way impoverished people are treated in the United States? Do you think that the United States has a caste system?