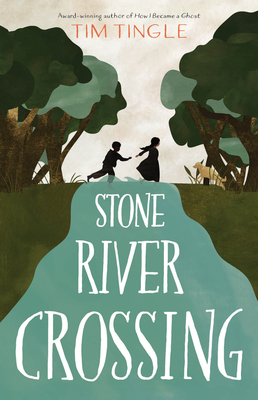 Stone River Crossing
Hardcover

* Individual store prices may vary.
Description
From the award-winning author of How I Became a Ghost, a tale of unlikely friendship and miracles. When Martha Tom helps Lil Mo and his family escape from the plantation across the river, it's just the beginning of a Choctaw adventure of a lifetime.
Martha Tom knows better than to cross the Bok Chitto River to pick blackberries. The Bok Chitto is the only border between her town in the Choctaw Nation and the slave-owning plantation in Mississippi territory. The slave owners could catch her, too. What was she thinking? But crossing the river brings a surprise friendship with Lil Mo, a boy who is enslaved on the other side. Then Lil Mo discovers that his mother is about to be sold and the rest of his family left behind. But Martha Tom has the answer: cross the Bok Chitto and become free.
Crossing to freedom with his family seems impossible with slave catchers roaming, but then there is a miracle--a magical night where things become unseen and souls walk on water. By morning, Lil Mo discovers he has entered a completely new world of tradition, community, and ... a little magic. But as Lil Mo's family adjusts to their new life, danger waits just around the corner. In an expansion of his award-winning picture book Crossing Bok Chitto, acclaimed Choctaw storyteller Tim Tingle offers a story that reminds readers that the strongest bridge between cultures is friendship.
Tu Books, 9781620148235, 336pp.
Publication Date: May 30, 2019
About the Author
TIM TINGLE is an Oklahoma Choctaw and an award-winning author and storyteller of twenty books. In 1993, he retraced the Trail of Tears to Choctaw homelands in Mississippi and began recording stories of tribal elders. From talks with Archie Mingo emerged Crossing Bok Chitto, Tingle's first illustrated children's book. This history-based tale is the inspiration for Stone River Crossing. The plot is filled with elements of Choctaw culture, plus a colorful dash of Choctaw magic realism. Tingle lives in Texas.
1. How do the cultural celebrations and traditions in Stone River Crossing differ from your family's celebrations and/or traditions? If your family does not participate in celebrations, compare how you honor your ancestors to the traditions described in the book.
2. How might the wedding scene change if Bledsoe arrived a few hours earlier across the Bok Chitto River?
3. How does the author, Tim Tingle, describe colonization to readers?
4. How does colonization impact the storyline and your understanding of Choctaw cultures and traditions?
5. Why is it important that Lil Mo describes what his life was like at the plantation to Martha Tom? How is this essential to the book?
6. Why did the author, Tim Tingle, include Ofijo in the book?
7. Would taking the character Ofijo out of the book change the story? If so, how?
8. How does Funi Man describe iskuli (money) to Koi Losa? How does Koi Losa respond? Do you agree with how Funi Man views iskuli?
9. Imagine that the story started with Martha Tom being captured on the plantation side of the Bok Chitto River instead of Lil Mo crossing to the Choctaw Nation side of the river. How might this change the direction of the story?
10. How does Stone River Crossing compare to other books or short stories you have read that include Native American characters in the past, present, or future?
11. In what ways do the characters' friendships in Stone River Crossing relate to your friendships? Why or why not?