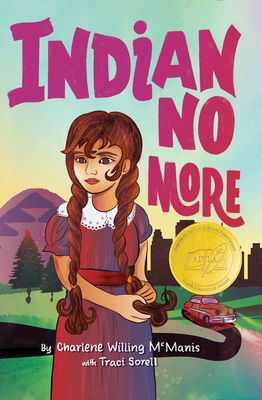 Indian No More
Hardcover

* Individual store prices may vary.
Description
Notable Children's Book, American Library Association (ALA)
Editors' Choices for Books for Youth, Booklist
Notable Books for a Global Society, International Reading Association (IRA)
Amelia Bloomer Project - Feminist Task Force, American Library Association (ALA)
American Indian Youth Literature Award for Best Middle Grade Book, American Library Association (ALA)
When Regina's Umpqua tribe is legally terminated and her family must relocate from Oregon to Los Angeles, she goes on a quest to understand her identity as an Indian despite being so far from home.
Regina Petit's family has always been Umpqua, and living on the Grand Ronde Tribe's reservation is all ten-year-old Regina has ever known. Her biggest worry is that Sasquatch may actually exist out in the forest. But when the federal government enacts a law that says Regina's tribe no longer exists, Regina becomes Indian no more overnight--even though she lives with her tribe and practices tribal customs, and even though her ancestors were Indian for countless generations.
Now that they've been forced from their homeland, Regina's father signs the family up for the federal Indian Relocation Program and moves them to Los Angeles. Regina finds a whole new world in her neighborhood on 58th Place. She's never met kids of other races, and they've never met a real Indian. For the first time in her life, Regina comes face to face with the viciousness of racism, personally and toward her new friends.
Meanwhile, her father believes that if he works hard, their family will be treated just like white Americans. But it's not that easy. It's 1957 during the Civil Rights era, and the family struggles without their tribal community and land. At least Regina has her grandmother, Chich, and her stories. At least they are all together.
In this moving middle-grade novel drawing upon Umpqua author Charlene Willing McManis's own tribal history, Regina must find out: Who is Regina Petit? Is she Indian, American, or both? And will she and her family ever be okay?
Tu Books, 9781620148396, 224pp.
Publication Date: September 24, 2019
1. What does Regina learn from her grandmother Chich over the course of the story? Why is Chich important to Regina and her family?
2. Why do Regina and her family have to move to Los Angeles? What is the Indian Relocation Program, and how does it affect Regina and the Petits?
3. How did Chich's stories help Regina understand herself and her identity?
4. How does Regina experience racism when she first gets to Los Angeles?
5. How do the young people in Regina's neighborhood treat and view her? How do their relationships evolve?
6. Why do you think the author Charlene Willing McManis wrote this story?
7. What did Charlene Willing McManis want to tell her readers? What is her message and why do you think that?
8. What does the title, Indian No More, mean to you after reading? How is the title important to understanding the entire story?
9. How does Regina grapple with her identity over the course of the book? What does she learn about herself and her family?
10. How does Indian No More relate to the ongoing and systematic oppression and racism that Native people experience today?