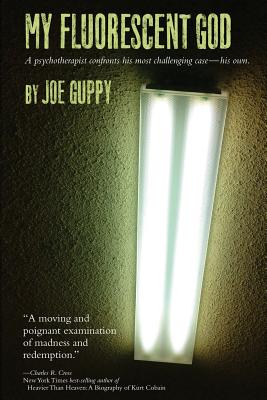 My Fluorescent God (Paperback)
Booktrope Editions, 9781620154410, 204pp.
Publication Date: October 10, 2014
* Individual store prices may vary.
Description
Joe Guppy's life derailed in 1979. The 23-year-old was dealing with a bad breakup and existential angst, but it was a few stomach pills he took in Mexico that pushed him over the edge into paranoid psychosis... and straight into the mental ward of Seattle's Providence Hospital or, as he perceived it, Hell. In the ensuing six months, he battled his real-life demons, jumped out a second-story window, and encountered God in a fluorescent light fixture. In this raw, often wryly comic memoir, Guppy invites readers into his haunted, 23-year-old head... and the experience is electrifying. Recreated from journal entries and the notes of mental-health professionals, the story of the author's struggle to rebuild his sanity is a gripping spiritual and psychological adventure.
Praise For My Fluorescent God…
"Joe Guppy's My Fluorescent God is a moving and poignant examination of madness and redemption."

–Charles R. Cross

New York Times best-selling author of

Heavier Than Heaven: A Biography of Kurt Cobain



"Riveting. Captures the world of mental illness and made me feel like I was right there in it. All of the tension, anguish, frustration is brought to life on the page, as well as the moments of hopefulness, humor, and eventual triumph."

–Bob Nelson

Oscar-nominated screenwriter of

Alexander Payne's Nebraska



"With ironic humor and vivid honesty, Joe Guppy invites the reader into a visceral account of his young adult journey through acute mental illness. Simultaneously uplifting and harrowing, Guppy's first person-narrative transports the reader into a period of madness that is full of life. His insights and experiences as a psychotherapist bring tremendous dimension to his descriptions."

–David M. Goodman, Ph.D.

Harvard Medical School, author of

The Demanded Self: Levinasian Ethics and Identity in Psychology



"Satisfies from all angles—psychological, philosophical, theological, literary, and, broadest of all—human. Highly readable and profoundly insightful."

—Jim Harbaugh, S.J., author of

A 12-Step Approach to the Spiritual Exercises



"Joe Guppy shows us what it is like to be a patient in a psychiatric unit and gives a three-dimensional and memorable portrait of the staff and patients he encounters there. This book is about suffering and confusion but it is far more than that. Guppy writes with quiet humor and grace and thereby transforms a painful time in his life into a story that we can all participate in and learn from, and even genuinely enjoy along the way. Moving and artful."

–Steen Halling, Ph.D

Seattle University, author of

Intimacy, Transcendence and Psychology



"I love this book because Joe Guppy's story is fascinating, and his writing is vivid and engaging. At the same time, I hate that this happened to him and could happen to anyone. A compelling read."

—Lynne M. Baab, author of

The Power of Listening



"Joe Guppy describes the isolated experience of insanity with such insight, brilliance, and intensity, I found myself thinking, 'Oh my god, this is exactly the hell of mental illness. I get it. I get it.' Plus, it's often FUNNY. Not an easy task."

—Lauren Weedman, author of

A Woman Trapped in a Woman's Body



"As an urban pastor, I am often asked to help people navigate the murky waters of life, mental illness, and faith. Joe Guppy's astonishingly frank account of all three doesn't offer an easy answer, but it does bear witness to a light of hope that can break through dark places."

—Dan Baumgartner, First Presbyterian Church of Hollywood (CA)
or
Not Currently Available for Direct Purchase