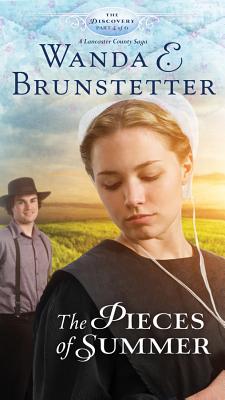 The Pieces of Summer (Mass Market)
Part 4 (The Discovery - A Lancaster County Saga #4)
Shiloh Run Press, 9781620291450, 128pp.
Publication Date: May 1, 2013
Other Editions of This Title:
CD-Audio (5/1/2013)
CD-Audio (5/8/2013)
Hardcover, Large Print (8/28/2013)
* Individual store prices may vary.
Description

Book 4 of an exclusive 6-consecutive-month release Amish serial novel.  In The Pieces of Summer, part four of New York Times Bestselling author, Wanda E. Brunsetter's The Discovery--A Lancaster County Saga, it's only been a few months since Meredith Stoltzfus lost her husband, Luke, and deep down, she feels uncomfortable when Jonah Miller comes by often, so willing to help her with things around the house. Meanwhile, as a young, nameless man heals and regains strength in his body, his mind grasps at every image that flits across his memory, desperately trying to recall his former life. . . .



The Discovery--A Lancaster County Saga

Book 1 - Goodbye to Yesterday

Book 2 - The Silence of Winter

Book 3 - The Hope of Spring

Book 4 - The Pieces of Summer

Book 5 - A Revelation in Autumn

Book 6 - A Vow for Always
About the Author
New York Times
bestselling and award-winning author Wanda E. Brunstetter is one of the founders of the Amish fiction genre. She has written close to 90 books translated in four languages.  With over 10 million copies sold, Wanda's stories consistently earn spots on the nation's most prestigious bestseller lists and have received numerous awards.
Wanda's ancestors were part of the Anabaptist faith, and her novels are based on personal research intended to accurately portray the Amish way of life. Her books are well-read and trusted by many Amish, who credit her for giving readers a deeper understanding of the people and their customs.
When Wanda visits her Amish friends, she finds herself drawn to their peaceful lifestyle, sincerity, and close family ties. Wanda enjoys photography, ventriloquism, gardening, bird-watching, beachcombing, and spending time with her family. She and her husband, Richard, have been blessed with two grown children, six grandchildren, and two great-grandchildren.
To learn more about Wanda, visit her website at
www.wandabrunstetter.com
. 
Praise For The Pieces of Summer: Part 4 (The Discovery - A Lancaster County Saga #4)…
I am so addicted to this series that I am thankful that I had part 4 on hand so that I could keep right on reading because I am not sure what I would have done not knowing what what was going to happen.
This is the best book in the series and I gave the other three five stars so what am I to give this one?
I am so glad that Wanda Brunstetter decided to do this series and I hope that she does more like this! Definitely another 5 star book!
— Tammy Graham
I really enjoyed The Pieces of Summer! The ending of this book was really good as it left me ready for the next one in the series. I liked the different elements Wanda mixed into the story with Jonah and Meredith's sister. I also enjoyed finally getting an update on Eddie. I feel this was a long time coming and it was nice to finally hear more about him.
I enjoyed this read. It was a quick read for me, not that the book is that long, but I was engaged in the story. I am really looking forward to the next installment in the series A Revelation in Autumn.
— Zac Weikal
Wow this ends with the best cliffhanger of all 4 parts of the series. Still keeps you wanting more.
If I was not so tired I would stay up to read part 5. Still love the story, the characters and I want to know how it all ends now.
— Rhonda Laney
The Pieces of Summer is the fourth book in the Discovery series, and one that I had been waiting for, for a while. What I like about these novellas is that they start up right where they leave off, which is very frustrating when you reach the end of one, but starting the next one brings it all back together!
— Samantha Bryant
Ms. Brunstetter is a talented author and she knows how to create characters that her readers easily fall in love with while they're reading along. I'm eager to read the next installment, but I'm also saddened because I know that this book is quickly coming to an end soon. I highly recommend this fourth installment and I can't wait to continue on my journey with Meredith, Eddie and the rest of the characters in this novel. 
— Diana Coyle
I just love this author and I am enthralled with this series. Can't wait to read the next one!
— Janis Rodgers
A very quick read that entices the reader for more.
— Patsy Higgason
I'm enjoying The Discovery series by Wanda Brunstetter. The family atmosphere is intriguing and the tight-knit quality of the story is nice. The writing blends well from one scene to the next and I had to know what would happen next.
— Kim Miller
Wanda really does a great job of representing the Amish and I'm sure they love her for the way she portrays their way of life and customs to others. It's no wonder why Wanda is one of my very favorite Amish authors.
— Susan Dyer