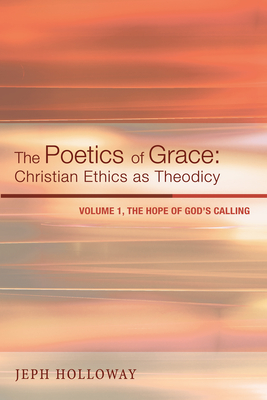 The Poetics of Grace (Paperback)
Christian Ethics as Theodicy, Volume 1: The Hope of God's Calling
Cascade Books, 9781620320396, 290pp.
Publication Date: April 9, 2013
* Individual store prices may vary.
Description
Description: What is God doing about a world marked by conflict and division? What about a world in which our technologies promise great good but also threaten our existence? What is God doing in a world where the demands for accumulation and acquisition create division and despair? Can Christians hope to be of positive influence in a world that does not always support, reflect, or even understand Christian commitments? Christian ethics often raises such questions as these, and the possible answers vary widely. Paul's Letter to the Ephesians is a tremendous resource for exploring a faithful response to perhaps the toughest question of all: what is God doing about evil? The role of Christian ethics is to take seriously the challenge that, whatever God is doing, God calls us to participate in a distinctive task that embraces our own commitments and labors within the divine purpose. Ephesians says that God has taken the initiative to pursue that purpose and, remarkably, offers that we ourselves are part of the answer to the question, what is God doing about evil? Endorsements: ""Hope for the future cannot be extrapolated from data of the present. That would only yield despair. If there is to be hope, it must derive from a different sort of logic. In The Poetics of Grace, Jeph Holloway has undertaken to spell out this different logic. By insisting that the primary question of ethics is not 'what must I do?' but 'what has been given to us?' Holloway, motivated by deep pastoral concern, frames a Trinitarian ethics attuned both to history and Christian Scripture."" --Brad J. Kallenberg, Professor of Theology and Ethics, University of Dayton ""God, in Holloway's groundbreaking The Poetics of Grace, summons us to engage in the divine, transformative work that settles on nothing less than daring, responsible, and participatory biblical ethics in line with God's creative, peacemaking, and reconciling work of sustaining life. This unique reading of Ephesians is a probing and stimulating, delicate and unfailing gift to the academy and the church."" --Aliou Ciss Niang, Assistant Professor of New Testament, Union Theological Seminary About the Contributor(s): Jeph Holloway is Professor of Theology and Ethics in the School of Christian Studies and Graduate Program at East Texas Baptist University in Marshall, Texas. He is the author of Peripateō as a Thematic Marker for Pauline Ethics (1992).