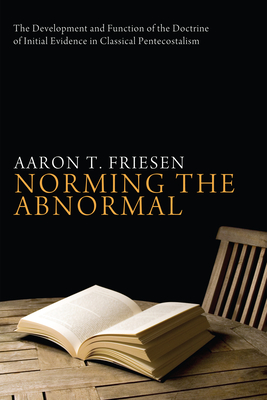 Norming the Abnormal (Paperback)
The Development and Function of the Doctrine of Initial Evidence in Classical Pentecostalism
Pickwick Publications, 9781620322369, 320pp.
Publication Date: February 19, 2013
* Individual store prices may vary.
Description
Synopsis: Pentecostalism is one of the largest and fastest growing religious movements around the world. Yet, the movement's defining doctrine has met with controversy and criticism since its inception. Classical Pentecostals have not only affirmed and valued the experience of speaking in other tongues, they have argued that such an experience is the first evidence of a Christian having reached a level of spiritual empowerment they call Baptism in the Holy Spirit. That speaking in an unknown language should be considered by many Pentecostals to be a normative and uniform right of passage for all Christians is interesting. That such a controversial doctrine could rise to take such a prominent role in defining and shaping the Pentecostal movement begs further historical and social study. This work charts the development of the doctrine from a small community in the Midwest to become a norm for Pentecostal identity and a hallmark of Pentecostal experience around the world. Then, through an empirical study of ministers in three Pentecostal denominations, the work explores the current beliefs of practices of Pentecostals regarding the doctrine of initial evidence in order to form some conclusions and proposals about the future of the doctrine among classical Pentecostals. Endorsements: "Friesen's book brings together history and contemporary data to show how many modern pentecostal ministers accept the original formulations of their founding fathers and mothers. In doing so, it shows how speaking in tongues has taken on new significance, which, while still important, is not quite the same as the old significance. This is an excellent example of practical theology and has the potential to change the shape of future debates on Pentecostalism." --William K. Kay, Professor of Pentecostal Studies, University of Chester, England "What is the relationship between baptism in the Spirit, speaking in tongues, and the doctrine of initial evidence? Drawing from history as well as contemporary practice, Aaron Friesen gently but firmly challenges Pentecostals to engage seriously the] apparent disparity between pentecostal teaching and pentecostal practice. Friesen does not leave the reader dangling, but suggests new yet faithful possibilities for refocusing how Pentecostals might better communicate these important concepts." --Cecil M. Robeck Jr., Professor of Church History and Ecumenics, Fuller Theological Seminary Author Biography: Aaron Friesen is a member of the Faculty and Director of Distance Education at New Hope Christian College in Eugene, Oregon. He is a licensed minister in Open Bible Churches.