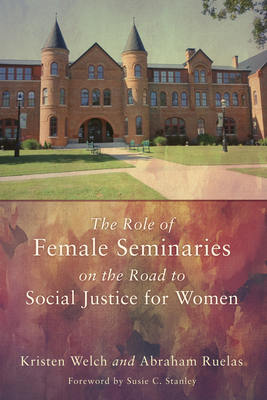 The Role of Female Seminaries on the Road to Social Justice for Women
Paperback

* Individual store prices may vary.
Description
In the United States, female seminaries and their antecedents, the female academies, were crucial first institutions that played a vital role in liberating women from the ""home sphere,"" a locus that was the primary domain of Euro-American women. The female seminaries founded by Native Americans and African Americans had different founding rationales but also played a key role in empowering women. On the whole, the initial intent of these schools was to prepare women for their proper role in American society as wives and mothers. An unintended effect, however, was to prepare women for the first socially accepted profession for women: teaching. Thus equipped, women played a crucial role in the development of American education at all levels while achieving varying degrees of social justice for themselves and other groups through engagement in the reform movements of their times--including women's suffrage, abolition, temperance, and mental health reform. By recapturing the role religion played in shaping education for women, Welch and Ruelas offer a refreshing take on history that draws on several primary texts and details more than one hundred female seminaries and academies opened in the United States. ""Welch and Ruelas have done an excellent job of recovering the valuable contribution of women in laying the educational foundation for their sisters in every facet of the Christian academy. Their solid, hard work provides a wealth of material on the beginning of, not only small women's colleges, but some of our most prestigious institutions of higher education. . . . Women in the contemporary academy, and all who are concerned with social justice and giving women well deserved credit for their contributions to building solid institutions throughout the history of this country, will find rich material in this volume."" --Estrelda Alexander, President, William Seymour College, Bowie, Maryland ""Students of American history interested in discerning connections between religion, education, and gender would be wise to read Kristen Welch and Abraham Ruelas's new book, The Role of Female Seminaries on the Road to Social Justice for Women. The research is careful, the writing clear, and the interpretation creative. Religious motivations take center stage as the very education intended to limit women's realm of influence to the home actually had the unintended effect of empowering many as teachers and social reformers. In telling this engaging story, Welch and Ruelas demonstrate that spiritual ideas often take on lives of their own, engendering expectancy and the unexpected as often as complacency and the compliant."" --Daniel Woods, lead pastor, Culbreth Memorial Pentecostal Holiness Church, Falcon, NC Kristen Welch is Instructor of English at Cochise College. She is the author of ""Women with the Good News"" The Rhetorical Heritage of Pentecostal Holiness Women and Deep Roots: Defining the Sacred Through the Voices of Pentecostal Women Preachers. Abraham Ruelas is Dean of Academics and Professor of Communication and Psychology at Patten University. He is the author of Women and the Landscape of American Higher Education: Wesleyan Holiness and Pentecostal Founders and No Room for Doubt: The Life and Ministry of Bebe Patten.
Wipf & Stock Publishers, 9781620325636, 194pp.
Publication Date: January 12, 2015