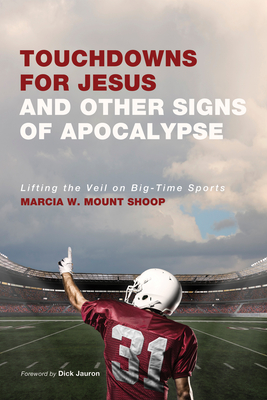 Touchdowns for Jesus and Other Signs of Apocalypse (Paperback)
Lifting the Veil on Big-Time Sports
Cascade Books, 9781620329191, 115pp.
Publication Date: July 1, 2014
Other Editions of This Title:
Hardcover (7/1/2014)
* Individual store prices may vary.
Description
Why do sports matter so much to so many people? And why should we care? Far from being a distraction or a trivial pastime, sports tell us deep truths about ourselves. Big-time sports are a particularly potent mirror for humanity--reflecting both our promising possibilities and our demonic distortions. Theologian (and football coach's wife) Marcia Mount Shoop invites you to take a closer look at the hold that sports have on us. Touchdowns for Jesus takes you beneath the veil in some of the most challenging issues in sports today: fanaticism, sexism, racism, and abuse of power. And beneath the lifted veil you also encounter wisdom about how we can find our way back to what is most life-giving about sports. If you love sports, or if you just wonder why others do, Touchdowns for Jesus will give you a whole new way to view the games people play. "Mount Shoops's new book, Touchdowns for Jesus and Other Signs of Apocalypse, will become a classic for everyone, from fans to scholars, looking to frame collegiate sports in a way that offers tangible ideas and inspiration for refashioning this billion dollar industry so that it insures student-athletes are accepted, nurtured, and prepared for the championship we call life." --Emmett Gill, Assistant Professor of Social Work, North Carolina State University, Raleigh, NC "With eloquent intensity, Marcia W. Mount Shoop challenges all we think we know about the college and professional sports culture that has uniquely enveloped the last two decades of her life as a coach's wife, mother, and minister. As Shoop writes, 'Football provides us with an apocalypse worth our gaze, ' and her personal tales--from shouting at hecklers at Soldier Field to getting kicked out of a wives' Bible study--enrich the wisdom of her words. . . . By the end, it's easy to feel better for having examined Shoop's powerful language that creates a clearer understanding of the redemptive powers of sport." --David Haugh, Chicago Tribune sports columnist, Chicago, IL "Throw out the playbook. This is not a conventional play--and certainly not a conventional book about big-time sports and theology. Marcia has written an incredibly thoughtful and insightful perspective for all of us rabid sports fans to consider. Reading this book will help all of us in examining our faith and how it plays out in our day-to-day devotion to big-time sports in our society." --Robert Orr, former North Carolina Supreme Court Justice, NC "Reverend Marcia Shoop is a powerful woman and a great writer. Her intelligence, education, and compassion provide her rare insights into sports. She has been close enough to this insane world to know how it works, but removed enough to clearly and honestly discuss what's right and wrong about the games we watch and the machines that drive them." --Bomani Jones, ESPN Commentator, Miami, FL "Mount Shoop combines her knowledge as a feminist theologian and ordained minister with her years of experience as a football coach's wife to navigate the reader through a spiritual journey into the world of big time sports. Shaped by her religiously informed feminist commitment to social justice, Mount Shoop offers revelations on sports's potential for redemption and what we as a society can do to create a more equitable world for athletes, coaches, fans, and communities. A must read for anyone concerned with the sexism, racism, and institutional power and abuse that plagues big time sports in the United States." --Cheryl Cooky, Associate Professor of Women's, Gender, and Sexuality Studies, Purdue University, West Lafayette, IN "Regardless of the regularity of sport scandals, we as an American society continue to 'repeat and repent' our transgressions in this irresistible industry. With a spiritual lens and insider's perspective, Shoop provides an intellectual and passionate framework to dissect our involvement and passion for sport competition. A far notion from a 'Hail Mary, ' Touchdowns for Jesus scores.