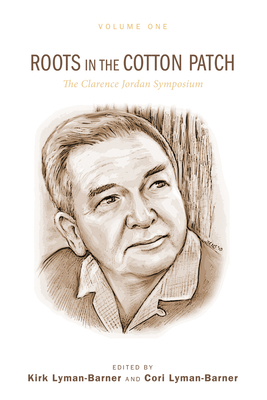 Roots in the Cotton Patch (Paperback)
Cascade Books, 9781620329856, 173pp.
Publication Date: July 11, 2014
* Individual store prices may vary.
Description
In honor of what would have been Clarence Jordan's one hundredth birthday and the seventieth anniversary of Koinonia Farm, the first Clarence Jordan Symposium convened in historic Sumter County, Georgia, in 2012, gathering theologians, historians, actors, and activists in civil rights, housing, agriculture, and fair-trade businesses to celebrate a remarkable individual and his continuing influence. Clarence Jordan (1912-1969), a farmer and New Testament Greek scholar, was the author of the Cotton Patch versions of the New Testament and the founder of Koinonia Farm, a small but influential religious community in southwest Georgia. Roots in the Cotton Patch, Volume 1 contains Symposium presentations addressing Clarence's influence as a storyteller and contextual preacher and prophet, his pacifist witness in a violent and segregated South, and the contemporary meaning of his life's work in Christian community. Uniting these powerful essays is the obvious impact Jordan's life has had on so many. His life and work continue to inspire a new generation of activists, seminary students, and people in search of the meaning of Christian community. The world needs more Clarence Jordan--and this book helps accomplish that The contributors to this fantastic volume add much depth and nuance to Jordan and the Koinonia community. I pray that this book will find its way into many hands, and then into many minds. --Brian Kaylor, author of Presidential Campaign Rhetoric in an Age of Confessional Politics In a world filled with so much cynicism and callousness, Clarence Jordan reminds us that 'the life together' can be a more hopeful and compassionate alternative. This book echoes Jordan's call to be a prophetic demonstration plot in a world desperately in need of reconciliation. --Anton Flores-Maisonet, Alterna, Georgia Both volumes of these books should come with a warning label. For years, Clarence Jordan has been both a gadfly and a mentor for me. These volumes, which consist of presentations delivered at a symposium of which I was privileged to be a part, reawakened in me the challenge to be a prophet of God, and not a false prophet of a church, and a disciple of Jesus, and not just an admirer. --Billy E. Vaughn, Spencer Baptist Church, North Carolina Clarence Jordan has long been one of my heroes. It is a delight to spend time with people who have incorporated his vision of a lived faith in God into their creative work. As a neighbor of Clarence Jordan's is quoted in Roots as saying of him, 'he gone now, but his footprint still here.' This fine book affirms that statement and gives me hope for all of our futures. --Martha Woodroof, author of Small Blessings Clarence Jordan's prophetic and Jesus-centered reading of the Bible is still relevant and can be seen in the voices collected in this book. They give his vision new life, necessary for healing the deep divisions found in humanity today. --Kelli Yoder, assistant editor/web editor for Mennonite World Review This collection of essays witnesses to the Jesus-like figure of Clarence Jordan, as the books and letters in the New Testament testify to Jesus as the Christ. The love for and reverence of Clarence, combined with the stories of opposition to his ministry, confirm his Christ-likeness just as the crucifixion and resurrection confirmed Jesus as the Messiah. --Ronald H. Stone, author of Politics and Faith Kirk Lyman-Barner received his Master of Divinity from Pittsburgh Theological Seminary. He is Director of U.S. Field Operations for The Fuller Center for Housing and pastor of Praxis Americus United Church of Christ. Cori Lyman-Barner holds an MA from Eastern Mennonite Seminary. She coordinates a home school cooperative in Americus, Georgia. The Lyman-Barners consider it a privilege to live, work, and raise their three children in Clarence Jordan's Cotton Patch.