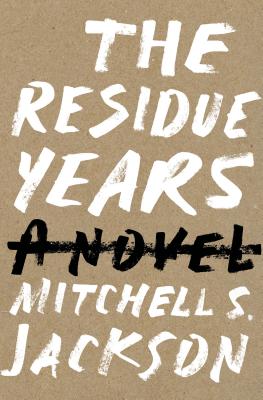 The Residue Years (Hardcover)
Bloomsbury USA, 9781620400289, 352pp.
Publication Date: August 20, 2013
* Individual store prices may vary.
Description
Winner Whiting Writers' Award
Winner Ernest J. Gaines Award for Literary Excellence
Finalist for the PEN/Hemingway Award for Debut Fiction
Finalist for the Flaherty-Dunnan First Novel Prize
Finalist for the Hurston/Wright Legacy Award
Mitchell S. Jackson grew up black in a neglected neighborhood in America's whitest city, Portland, Oregon. In the '90s, those streets and beyond had fallen under the shadow of crack cocaine and its familiar mayhem. In his commanding autobiographical novel, Mitchell writes what it was to come of age in that time and place, with a break-out voice that's nothing less than extraordinary.
The Residue Years switches between the perspectives of a young man, Champ, and his mother, Grace. Grace is just out of a drug treatment program, trying to stay clean and get her kids back. Champ is trying to do right by his mom and younger brothers, and dreams of reclaiming the only home he and his family have ever shared. But selling crack is the only sure way he knows to achieve his dream. In this world of few options and little opportunity, where love is your strength and your weakness, this family fights for family and against what tears one apart.
Honest in its portrayal, with cadences that dazzle, The Residue Years signals the arrival of a writer set to awe.
About the Author
Mitchell Jackson was born and raised in Portland, Oregon. He holds a Masters of Writing from Portland State and an MFA from New York University. Mitchell teaches writing at NYU, Medgar Evers College, and John Jay College. He also works as a journalist, writing about rap music for Vibe, The Source, and various others. His fiction and poetry have appeared in literary journals, and he is a previous winner of the Hurston Wright Award for College Writers. He is also the author of the original e-book Oversoul: Stories and Essays. He lives in Brooklyn, NY. www.mitchelljackson.com
Praise For The Residue Years…
"[A] powerful debut... full of impossible hope... Jackson's prose has a spoken-word cadence, the language flying off the page with percussive energy... There is warmth and wit, and a hard-won wisdom." —Roxane Gay, The New York Times Book Review
"A fresh new voice in fiction." —O, The Oprah Magazine
"Jackson's poetic prose is a joy to read... The ways mother and son grapple with social judgment and limited choices are provocative and timely." —Booklist
"Completely gripping... Beautifully written and sad and hopeful in a way that aches." —Portland Mercury
"Authenticity and a rhythmic prose propel [this] debut novel." —Time Out New York
"I was touched by characters whose lives were often as real for me as my memories of growing up. The language invented to tell their stories engages, challenges, clarifies the American language, claiming it, enlarging it." —John Edgar Wideman, author of Fanon, Philadelphia Fire, and Brothers and Keepers
"In this raw heartwreck of a novel, every bit of personal wisdom is hard-won. Here is Grace, mother of Champ: 'Some people are latecomers to themselves, but who we are will soon enough surround us.' It's a searing claim and prophecy about lives severely tested. The author is entirely persuasive, such that Grace and her sons, given vivid voice, are one of the fictional families I have cared about most." —Amy Hempel, author of The Collected Stories
"The language in this book is as gut-wrenching as it is stunning, at once an elegy and an anthem. The Residue Years is a story about doing what you must until you can do what you want. But most of all, it is about all the sacrifices we're willing to make for love." —Maaza Mengiste, author of Beneath the Lion's Gaze
"It's so tough to write beautifully about ugly things, but Mitchell S. Jackson makes it look easy. The Residue Years is the story of a man and woman trying their best to overcome the enormous hurdles life has put in front of them, two portraits of the courageous battle to simply do one's best. This is a memorable, powerful novel and Mitchell S. Jackson is a genuine talent." —Victor LaValle, author of The Devil in Silver
"Mitchell S. Jackson writes brilliant sentences, so full of the energy and beauty and tragedy of life. The Residue Years is an amazing first novel that also introduces an important new voice in literary fiction." —Michael Kimball, author of Big Ray
"I know these characters well: Champ with his swagger and invincibility, doing all he can to protect his fiercely beating heart. Grace, held together with polish and a prayer, trying to make a way when there isn't one. Both of them longing, for a better life, a clear path out of their predicaments. I know the language they speak: voices redolent of struggle and the South displaced to our country's far northwestern corner: Portland, Oregon. A wrenchingly beautiful debut by a writer to be reckoned with, The Residue Years marks the beginning of a most promising career." —Jesmyn Ward, author of Salvage the Bones and Men We Reaped
"There will be temptation to put Mitchell Jackson's formidable debut novel in a convenient box but a true reading defies segregation. The Residue Years speaks in melodies about a grim world you think you know yet likely never inhabited. See the face of systemic racism, gentrification, failed hoop dreams, and a misguided drug war that makes criminals of victims. Feel the breaking heart. And also be lifted up; this fantastic novel speaks ultimately of love." —Robb Todd, author of Steal Me For Your Stories
or
Not Currently Available for Direct Purchase