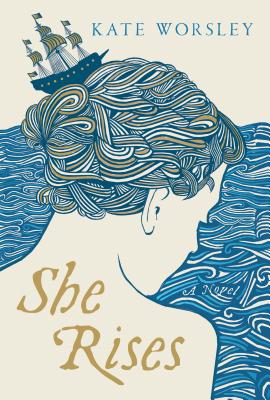 She Rises (Hardcover)
Bloomsbury Publishing PLC, 9781620400975, 421pp.
Publication Date: June 18, 2013
* Individual store prices may vary.
or
Not Currently Available for Direct Purchase
Description
It is 1740 and Louise Fletcher, a young dairy maid on an Essex farm, has been warned of the lure of the sea for as long as she can remember--after all, it stole away her father and brother. But when she is offered work in the bustling naval port of Harwich, as a lady's maid to a wealthy captain's daughter, she leaps at the chance to see more of the world. There she meets Rebecca, her haughty young mistress, who is unlike anyone Louise has encountered before: as unexpected as she is fascinating.
Intertwined with her story is fifteen-year-old Luke's: He is drinking in a Harwich tavern when it is raided by Her Majesty's Navy. Unable to escape, Luke is beaten and press ganged and sent to sea on board the warship Essex. He must learn fast and choose his friends well if he is to survive the brutal hardships of a sailor's life and its many dangers, both up high in the rigging and in the dark below decks.
Louise navigates her new life among the streets and crooked alleys of Harwich, where groaning houses riddled with smugglers' tunnels are flooded by the spring tides, and love burns brightly in the shadows. Luke, aching for the girl he left behind and determined to one day find his way back to her, embarks on a long and perilous journey across the ocean.
The worlds they find are more dangerous and more exciting than they could ever have imagined, and when they collide the consequences are astonishing and irrevocable.
A breathtakingly accomplished love story and a gripping search for identity and survival, "She Rises" is a bold, brilliant, and utterly original novel.
About the Author
Kate Worsley was born in Preston, Lancashire, and studied English at University College London. She has worked variously as a journalist, a massage practitioner and follow-spot operator, and has an MA in Creative Writing (Novels) from City University London. She now lives on the Essex coast. She Rises is her first novel.
Praise For She Rises…
"At its heart, Worsley's is a generous novel, concerned with the vulnerability of human life (female life in particular) and the cost of freedom to characters so thoroughly beset by cruelty and limitation."—New York Times Book Review "An immensely enjoyable novel, full of energy, intelligence and delicious turns of phrase. I can't wait to see more of her fiction." —Sarah Waters "Worsley deftly handles the intricate and contrasting plot lines, balancing action and adventure with a wrenching love story and finally bringing them together in a surprising, dramatic ending. This first novel certainly recalls Dickens' seedy characters but also evokes . . . the addictive adventures of Patrick O'Brian's Aubrey and Maturin series." —Booklist (starred review) "Richly atmospheric …this unusual, seductive period tale of love and transformation creates its own memorable world." —Kirkus Reviews "[A] bold approach to the familiar naval adventure genre." —Publishers Weekly
Advertisement