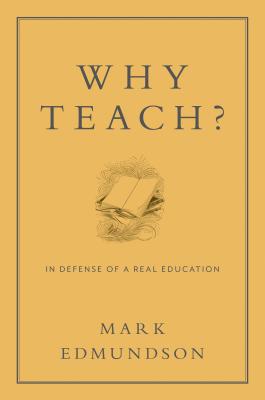 Why Teach? (Hardcover)
In Defense of a Real Education
Bloomsbury USA, 9781620401071, 240pp.
Publication Date: August 20, 2013
* Individual store prices may vary.
Description
Mark Edmundson's essays reclaim college not as the province of high-priced tuition, career training, and interactive online courses, but as the place where serious people go to broaden their minds and learn to live the rest of their lives.
A renowned professor of English at the University of Virginia, Edmundson has felt firsthand the pressure on colleges to churn out a productive, high-caliber workforce for the future. Yet in these essays, many of which have run in places such as Harper's and the New York Times, he reminds us that there is more to education than greater productivity. With prose exacting yet expansive, tough-minded yet optimistic, Edmundson argues forcefully that the liberal arts are more important today than ever.
Why Teach? offers Edmundson's collected writings on the subject, including several pieces that are new and previously unpublished. What they show, collectively, is that higher learning is not some staid, old notion but a necessary remedy for our troubled times. Why Teach? is brimming with the wisdom and inspiration that make learning possible.
About the Author
Mark Edmundson teaches at the University of Virginia, where he is University Professor. A prizewinning scholar, he is also the author of Why Read?, Teacher, The Death of Sigmund Freud, and The Fine and Perfect Wisdom of the Kings of Rock and Roll. His writing has appeared in such publications as The New Republic, The New York Times Magazine, The Nation, and Harper's. He lives in Batesville, VA with his wife and two sons.
Praise For Why Teach?: In Defense of a Real Education…
"If I meet any students heading to the University of Virginia, I will tell them to seek out Mark Edmundson…Mr. Edmundson reminds us of the power strong teachers have to make students rethink who they are and whom they might become." —Michael S. Roth, New York Times
"Mark Edmundson's lively account of the way we educate now offers enjoyment and enlightenment." —Harold Bloom
"A spirited and cheering read…accurate and insightful, even inspiring." —Chicago Tribune
"In prose so fresh and personal that it leaps off the page, Mark Edmundson launches a stinging critique of higher education today. Everywhere he sees teachers flattering students, confirming their prejudices, and training them for the success game rather than opening their minds to new ways of looking at the world. His teaching ideal, developed here in exemplary detail, is at once utopian and absolutely essential. This book deserves to be widely read." —Morris Dickstein, author of Gates of Eden and Dancing in the Dark
"Edmundson may have strong words about culture, education and the common reader's quest to be entertained above all else, but he provides a bracing tonic against the decline of higher education." —Kirkus Reviews
"Edmundson's accessible prose will motivate both students and teachers. Highly recommended for all involved in higher education; an enjoyable and inspiring read." —Library Journal
"A meditation, a jeremiad, some musings, and some possible solutions. The questions (what to teach? what to study?) find answers in the values Edmundson discovers in becoming an English major: 'Love for language, hunger for life, openness and a quest for truth or truths.' Addressing teachers, students, and parents, Edmundson defends the intellectual and spiritual value, even the usefulness, of the 'scholarly enclave' and 'seeking knowledge so as to make the lives of other human beings better.'" —Publishers Weekly
"Some of the best essays around about the meaning of a college education. Wise, passionate, frank, funny, and always intimately in touch with the texture of the classroom experience, this is a gift to all of us who care about the future of higher education." —William Deresiewicz, author of A Jane Austen Education
"Why Teach? is a heartfelt and provocative book that will interest anyone who wonders what happened to the idea that college should be a life-altering, mind-expanding experience. With wry humor and hard-won wisdom, Mark Edmundson offers an inspiring vision of the liberal arts as a vehicle for personal transformation." —Tom Perrotta, author of Little Children and The Leftovers
"You may not like everything Mark Edmundson has to say in this shimmering series of essays, but you will never again need to ask his question, 'Why Teach?' Read his answers and make your own revolution." —Megan Marshall, author of Margaret Fuller: A New American Life
"A wonderful book. Indispensable reading for all those concerned with what higher education in America and in the world should be." —J. Hillis Miller, Distinguished Research Professor, University of California, Irvine
"Mark Edmundson manages to be old-fashioned and radical at the same time, skeptical of every latest thing and yet deeply comprehending of students' hyperlinked and hyperactive lives. Edmundson is a school of one, a voice of calm and refection with lessons worth teaching." —Edward Ayers, president, University of Richmond
"Mark Edmundson obviously missed the intellectual timidity gene that's so helpful for an academic career. He has the audacity to argue in this book that universities should not be business and consumer training facilities, internet hookup spots, and workout centers, but places where students grapple with 'perspective-altering' intellectual challenges." —Gerald Graff, Professor of English and Education, University of Illinois at Chicago, former President, Modern Language Association
"To read this book is to experience just the kind of course Edmundson admires, one that provokes thought and self-examination. A heartfelt, beautifully written, profound, and often hilarious appeal to rage against the machinery of modern education." —Booklist, starred review
or
Not Currently Available for Direct Purchase