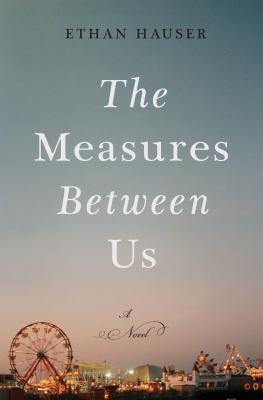 The Measures Between Us
Hardcover

* Individual store prices may vary.
Other Editions of This Title:
Paperback (6/10/2014)
Description
An unprecedented storm is threatening the East Coast, swelling the rivers and muddying the roads, and in a small suburb of Boston, a group of intimates and strangers struggles to confront a rapidly changing world. Vincent, a high school shop teacher, grapples with whether to hospitalize his only daughter. Jack, a research intern at a local college, tries to make sense of the world through the climate data he helps to gather. Henry, a young psychology professor, tests the bounds of his marriage, while Lucinda, his pregnant wife, harbors her own secret. And at the heart of this soaring story, at the center of all of these characters, is Cynthia, a young woman uncertain of everything but her sadness.
The Measures Between Us delicately and powerfully traces the spider web of connections that bind us together and the void of mystery that lies beyond.It is an accounting and an affirmation of lives in consideration of their end-beautifully crafted and deeply moving.
Praise For The Measures Between Us…
"Bad weather as a manifestation of emotional turmoil is an old literary trick. But in his debut novel, The Measures Between Us, [Hauser] relies on beautiful prose and sensitive characterization instead of easy gimmicks. A-" —Entertainment Weekly
"The Measures Between Us is a beautifully written and completely compelling story about the storms that flood towns and the ones that flood human lives. This is a novelistic debut of enormous accomplishment and even greater promise. It is the very essence of a good read." —Stephen King
"[A] high-reaching, affecting debut." —Publishers Weekly
"Hauser's finely crafted first novel entwines the lives of various characters with their inner struggles. As the connections between these disparate elements are slowly revealed, Hauser's characters find they can no longer ignore the truth, leading to moments of clarity that ring hauntingly true." —Booklist
"While the world and weather carry on, indifferent to lives left in ruins, Ethan Hauser's network of people enact the many permutations of love--the difficulty of needing it, finding it, hanging onto it, and, perhaps most curious of all, avoiding it when it arrives inconveniently. In every way, this is a love story and beautifully faithful to rendering it whole." —Antonya Nelson, author of Bound
Bloomsbury USA, 9781620401156, 400pp.
Publication Date: July 9, 2013
About the Author
Ethan Hauser received his MFA from the University of North Carolina at Greensboro. His fiction has been published in Esquire, Playboy, New Stories From the South: The Year's Best, and elsewhere. He has held residencies at Yaddo and the MacDowell Colony, and has won the Chicago Tribune's Nelson Algren Short Story Award. Hauser lives in New York, and is an editor at The New York Times, where his journalism also appears.
or
Not Currently Available for Direct Purchase