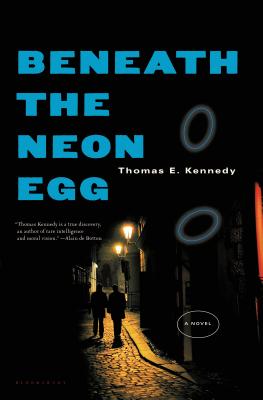 Beneath the Neon Egg (Hardcover)
A Novel
Bloomsbury USA, 9781620401415, 192pp.
Publication Date: August 5, 2014
* Individual store prices may vary.
Description
Beneath the Neon Egg is a novel of jazz, violence, sex, death, love, and the underbelly of life, set in the low light of a Copenhagen winter. It is the story of Patrick Bluett, a forty-three-year-old Irish­-American in Denmark, divorced and navigating his relationship with his college-age children, searching for life in a new country. It is also the story of his neighbor, a man in a similar circumstance who becomes his friend-and becomes entangled with a Russian prostitute.
The novel borrows its four-part structure from John Coltrane's majestic jazz symphony A Love Supreme, which Patrick Bluett listens to as he gazes out the window at the frozen streets of his adopted city, unaware of events in the apartment across the hall, and unaware of the consequences his friend will meet-or will, perhaps, escape.
The final novel of Thomas E. Kennedy's acclaimed Copenhagen Quartet-four independent novels about the seasons and souls of Copenhagen-Beneath the Neon Egg cements Kennedy's reputation as a literary revelation.
About the Author
Thomas E. Kennedy's many books include novels, story and essay collections, literary criticism, translations, and anthologies. He teaches in the M.F.A. program at Fairleigh Dickinson University. Beneath the Neon Egg is the final book in his Copenhagen Quartet, following In the Company of Angels, Falling Sideways, and Kerrigan in Copenhagen. Born and raised in New York, he lives in Copenhagen with his two children.
Visit his websites at www.copenhagenquartet.com and www.thomasekennedy.com.
Praise For Beneath the Neon Egg: A Novel…
"[Kerrigan in Copenhagen] is a spiraling exploration of alcohol, history, literature, art and jazz . . . [with] stunning prose that twirls with the improvisations of the jazz musicians Kerrigan admires." —Susann Cokal, The New York Times Book Review, Editor's Choice
"Powerful and of the moment . . . [Kennedy] is a writer to be reckoned with." —Jonathan Yardley, The Washington Post, on In the Company of Angels
"Thomas E. Kennedy is an astonishment, and In the Company of Angels is as elegant as it is beautiful, as important as it is profound. A marvel of a read." —Junot Díaz, on In the Company of Angels
"A profound and exceptional work." —Guardian, on In the Company of Angels
"Ensnaring [and] original . . . Simply an unforgettable novel." —Los Angeles Times, on In the Company of Angels
"Falling Sideways is the finest novel I have read in many years. Thomas Kennedy is a true discovery, an author of rare intelligence and moral vision. Not least, the book is immensely compelling and beautifully written." —Alain de Botton, on Falling Sideways
"Touches on the contemporary moment with a deft precision." —Financial Times, on Falling Sideways
"That rarest of commodities in American literary fiction, a novel about men and women at work; it is part-satire and part-drama, and it is very smart." —Washington Post, on Falling Sideways
or
Not Currently Available for Direct Purchase