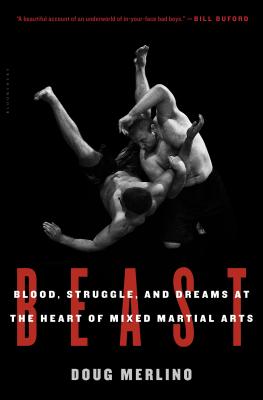 Beast (Hardcover)
Blood, Struggle, and Dreams at the Heart of Mixed Martial Arts
Bloomsbury USA, 9781620401552, 272pp.
Publication Date: October 13, 2015
Other Editions of This Title:
Paperback (1/17/2017)
MP3 CD (2/23/2016)
* Individual store prices may vary.
Description
The first book to bring readers deep inside a top mixed martial arts gym, Beast shows exactly what it takes to reach the top of this exacting sport. Doug Merlino spent two years at Florida's American Top Team, living, eating, and training alongside some of the world's best fighters, and traveled with them to fights around the world. The result is the most unvarnished look at the sport yet, with its electrifying highs and devastating lows. For both the uninitiated and for hardcore fans, Beast offers an intense journey into an often misunderstood world.
About the Author
Doug Merlino is a veteran journalist who has written for Wired, Men's Journal, Legal Affairs, and many other publications. He previously lived in Budapest after leaving Seattle. He now lives in New York with his wife.
Praise For Beast: Blood, Struggle, and Dreams at the Heart of Mixed Martial Arts…
"Easily the best book on MMA that I have ever read." —Eddie Goldman, No Holds Barred
"An intimate portrayal of the world of Mixed Martial Arts . . . Told in a candid and nicely flowing conversational tone, this story will certainly appeal to MMA followers but may also attract a broader range of sports fans, in the manner of John Feinstein's similar days-in-the-life accounts. The best of the growing collection of MMA literature." —starred review, Booklist
"Merlino is able to get into these fighters' minds and souls to find out what exactly makes them tick. This is as inside a look at MMA as you're going to get without actually being there yourself. A must-read for MMA fans." —MMA Manifesto
"One of the best books written on MMA; readers don't have to be fans of the sport to appreciate this story." —Library Journal
"Insightful . . . Merlino provides an enhanced picture for anyone who wants to look past the glitz and glamour of the spotlights presented on television and see the grit and sacrifice required from anyone who wants to step into the octagon." —Publishers Weekly
"Merlino consistently captures the grit, determination, and sheer willpower of these hungry warriors . . . Fascinating." —Kirkus Reviews
"This is more than a tour guide of a violent underworld. It is also a philosophic statement about conflict, understanding it, facing it, owning it, dealing with it. A wonderful dark read." —Bill Buford, author of AMONG THE THUGS and HEAT
"Beautifully reported and written with rollicking flair, Beast is every bit as electric as the ferocious sport it chronicles. Doug Merlino's extraordinary book perfectly captures not only the brutal splendor of mixed martial arts, but also the ways in which so many ambitious young men and women seek salvation through controlled violence. By the time you reach the last page, you will be so emotionally invested in each fighter's turbulent journey that you'll yearn for a sequel--or, better yet, a trilogy." —Brendan I. Koerner, author of THE SKIES BELONG TO US
"A poignant, intimate look at professional fighters and their lives. Merlino pulls you in as he was pulled in; and in the end, understanding is earned, not given." —Sam Sheridan, author of A FIGHTER'S HEART and THE FIGHTER'S MIND
"What makes us fight? Doug Merlino enters the dark world of mixed martial arts and discovers a landscape of pain, humor, fear, and tremendous courage. With elegant writing and tenacious reporting, Merlino makes us care about these men and the elemental humanity of their stories." —Claire Dederer, author of POSER: MY LIFE IN TWENTY-THREE YOGA POSES
"Doug Merlino takes the reader way down into the grain of fighting lives: the gym, the road, the business, the complexities of desire and fear, the spectacle of fight night. A patiently observed, deeply felt book about the craft and meaning of skilled violence." —Carlo Rotella, author of CUT TIME: AN EDUCATION AT THE FIGHTS
"To win inside the cage, you fight yourself as hard as you fight any opponent. Beast takes us into the lives of men fighting these battles in an intense portrait of very human struggles--physical, emotional, and philosophical--and into the crazy history of how MMA came to be the stage for brutal glory that it is today.Beast is blood-soaked and heartrending." —David Shoemaker (aka the Masked Man), author of THE SQUARED CIRCLE: LIFE, DEATH, AND PROFESSIONAL WRESTLING