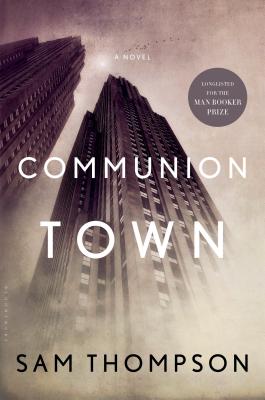 Communion Town: A City in Ten Chapters (Hardcover)
A City in Ten Chapters
Bloomsbury Publishing PLC, 9781620401651, 279pp.
Publication Date: December 3, 2013
* Individual store prices may vary.
or
Not Currently Available for Direct Purchase
Description
Each of us conjures our own city, one of many incarnations; a place throbbing with so many layers, meanings, and hidden corners cannot be the same for any two citizens.
"Communion Town" calls to mind David Mitchell's "Ghostwritten," Italo Calvino's "Invisible Cities," and China Mieville's "The City & The City," but is uniquely its own. This incandescent novel maps an imaginary city and explores the lives of its outcasts and scapegoats. Each chapter is told from the perspective of a different citizen-defining the city itself as a character, both protagonist and antagonist-and each is told in a different genre, from a hardboiled detective story to steampunk to gothic horror, displaying the great range of Sam Thompson's literary ability. As the novel unfolds in different neighborhoods, we encounter a lovelorn folksinger, a repressed detective, a slaughterhouse worker, a lost tourist, a bon vivant, and a ghost. From their lonely voices we gather the many-faceted story of the city: a place imagined differently by each citizen as he or she searches for connection, transformation, or escape.
About the Author
Sam Thompson was born in 1978. He read English at Trinity College, Dublin, and is now a tutor at St. Anne's College, Oxford. He also writes for the Times Literary Supplement, the London Review of Books, and the Guardian. This is his first novel. He lives in Oxford with his wife and two sons.
Praise For Communion Town: A City in Ten Chapters…
"Dazzling debut…What Communion Town renders with stunning and often heartbreaking lucidity is the complexity of consciousness itself…[Thompson] is a writer of almost freakish range . . . an elegant and hauntingly beautiful book – as expansive as a Greek chorus and as intimate as a memory." —New York Times Book Review

"Each chapter in the novel, longlisted for the 2012 Man Booker Prize, is told by a different character, in a different genre. And each unspools like a pitch-perfect improvisation." —New York Times
"Thompson is a gifted storyteller, someone who can mimic voices and fashion his own, a writer who clearly appreciates the art of the tale."
—Cleveland Plain Dealer
"Thompson expertly captures the breathless cadence of youthful passion . . . . An entertaining and densely layered pastiche of whodunits, the product of a mind steeped in the manner and method of Sir Arthur Conan Doyle."
—The Boston Globe
"Thompson is a master of voice . . . as well as imagined geography . . . .
Communion Town
is a book for the careful reader; the stories, though they stand on their own, build to a multi-narrative that rewards attention to detail. Thompson's dexterity in this regard is the surest sign that he is a writer to watch, and the Booker listing a sign of things to come."
—The Daily Beast
"Thompson inhabits each of his narrators completely and offers acutely crafted moments of piercing clarity—even beauty—throughout."
—Denver Post
"What a place:
Communion Town
is a vividly depicted dystopia with a faintly steampunk air…meticulous prose…this accomplished book is quite novel indeed."
—Washington Independent Review of Books
"Graceful . . . a world simultaneously revealed and obscured: just when you've gotten a grip on
Communion Town
, it's transformed."
—Publishers Weekly
"If you enjoy the work of decoding, there are pleasures awaiting you here."
—Shelf Awareness
"Lyrical and suspenseful…
Communion Town
serves as the real protagonist, a fully realized place that Thompson—with often breathtaking prose and versatility—peoples with cynics, dangerous wanderers, and lonely outcasts. A shadowy city saturated with life and lore, and held together by human struggles." —
Booklist
"Long-listed for the Man Booker Prize, Sam Thompson's
Communion Town
charts an imaginary city through the perspectives of ten of its marginalized citizens."
—Penthouse
"Sam Thompson's Booker longlisted novel tells the story of a city in 10 chapters
—
and reads like a blend of Italo Calvino and Sherwood Anderson."
—Bookish
Advertisement