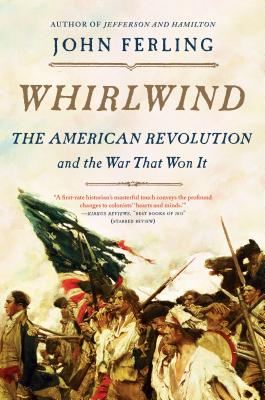 Whirlwind
The American Revolution and the War That Won It
Paperback

* Individual store prices may vary.
Other Editions of This Title:
Hardcover (5/5/2015)
Description
Written in the authoritative and narrative-driven style that made his books "The Ascent of George Washington "and "Jefferson and Hamilton "critical and commercial successes, John Ferling's "Whirlwind "will become the definitive history of the American Revolution for our time.
A master historian and superb teller of history, Ferling illuminates the years 1763 to 1783--from the end of the French and Indian War that left England triumphant in North America to the signing of the Treaty of Paris in September 1783 and the final departure of British troops from New York City in November of that year. Ferling is as astute at analyzing the causes and politics of the American Revolution as he is skilled at narrating the battles of the Revolutionary War. With original insight, he chronicles the myriad and complex events and contentious viewpoints that drove Americans in their insurgency against Great Britain and sustained them in the seemingly quixotic belief that they could win their independence. He takes us to the halls of power in Parliament and the streets of London to view the Revolution from all British perspectives. He presents the individual battles, from Lexington and Concord to Yorktown, in a fresh and dramatic new light.
With a wide scope and penetrating insight, embracing characters both celebrated and unknown, John Ferling brings the most important event in America's history to a new generation of American readers.
Bloomsbury Publishing PLC, 9781620401743, 432pp.
Publication Date: May 10, 2016
About the Author
John Ferling is professor emeritus of history at the University of West Georgia. He is the author of many books on American Revolutionary history, including The Ascent of George Washington; Almost a Miracle, an acclaimed military history of the War of Independence; and the award-winning A Leap in the Dark. His most recent book on American history is Jefferson and Hamilton: The Rivalry That Forged a Nation. He and his wife, Carol, live near Atlanta.
or
Not Currently Available for Direct Purchase