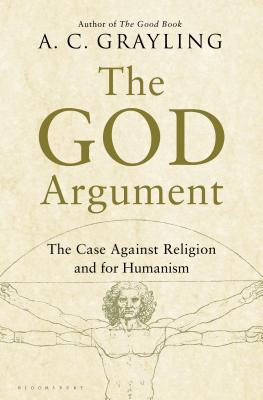 The God Argument
The Case against Religion and for Humanism
Hardcover

* Individual store prices may vary.
Description
What are the arguments for and against religion and religious belief--all of them--right across the range of reasons and motives that people have for being religious, and do they stand up to scrutiny? Can there be a clear, full statement of these arguments that once and for all will show what is at stake in this debate?
Equally important: what is the alternative to religion as a view of the world and a foundation for morality? Is there a worldview and a code of life for thoughtful people--those who wish to live with intellectual integrity, based on reason, evidence, and a desire to do and be good--that does not interfere with people's right to their own beliefs and freedom of expression?
In The Case Against Religion, Anthony Grayling offers a definitive examination of these questions, and an in-depth exploration of the humanist outlook that recommends itself as the ethics of the genuinely reflective person.
Praise For The God Argument: The Case against Religion and for Humanism…
"Debunks the teleological, ontological and cosmological arguments employed throughout Christendom for the literal existence of God…Those looking for a succinct analysis of these centuries old debates will appreciate Grayling's insights." —The Washington Post, "On Faith"
"London-based academic and philosopher Grayling (To Set Prometheus Free, 2010, etc.) has the sharp analytical mind of fellow naysayer Richard Dawkins, though he is gentler about saying no to God or god or gods...readers looking for fire-and-brimstone contrarianism will want to turn to Dawkins or the late Christopher Hitchens instead. Mild though the rebuke is, a readable and persuasvie argument - if, of course, an exercise in preaching to the choir." —Kirkus Reviews
Bloomsbury USA, 9781620401903, 288pp.
Publication Date: March 26, 2013
About the Author
A. C. Grayling is Master of the New College of the Humanities, UK. He has written and edited numerous works of philosophy and is the author of biographies of Descartes and William Hazlitt. He believes that philosophy should take an active, useful role in society. He has been a regular contributor to The Times, Financial Times, Observer, Independent on Sunday, Economist, Literary Review, New Statesman and Prospect, and is a frequent and popular contributor to radio and television programmes, including Newsnight, Today, In Our Time, Start the Week and CNN news. He is a Fellow of the World Economic Forum at Davos, and advises on many committees ranging from Drug Testing at Work to human rights groups.
or
Not Currently Available for Direct Purchase