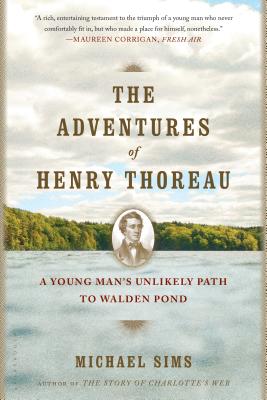 The Adventures of Henry Thoreau
A Young Man's Unlikely Path to Walden Pond
Paperback

* Individual store prices may vary.
Other Editions of This Title:
Hardcover (2/18/2014)
Description
Henry David Thoreau is an American intellectual icon; what made him so was the decade between his graduation from Harvard and the years he spent in a cabin he built himself on Ralph Waldo Emerson's land at Walden Pond--the formative decade that turned him into one of America's most influential writers.
In a detailed and textured narrative, Sims brings Thoreau to life--striding across the page like a radical folksinger rather than the curmudgeonly recluse who occupies our mental image of Walden Pond. In this youthful period, he wrote his first book and refined the journal entries that formed the core of his later work, Walden; joined the anti-slavery campaign and studied Native American culture; spent the night in jail that led to his celebrated essay Civil Disobedience, which would inspire the likes of Gandhi and Martin Luther King; developed a scientific/poetic response to nature; and aligned himself with the Transcendentalism , which questioned assumptions about God, citizenship, and the Industrial Revolution.
Sims relates intimate moments in Thoreau's daily life--teaching Nathaniel Hawthorne to row a boat; tutoring Emerson's nephew on Staten Island--and the deep influence of his parents and his beloved older brother, John, whose tragic early death haunted him. Chronicling Thoreau's youthful transformation, Sims shows how his intellectual development would resonate for the rest of his life, and throughout American literature and history.
Praise For The Adventures of Henry Thoreau: A Young Man's Unlikely Path to Walden Pond…
"Sims creates a sensuous natural environment in which to appreciate his subject." —Kirkus Reviews
"[A] surpassingly vivid and vital chronicle of Thoreau's formative years. As Sims portrays a solemn boy nicknamed 'the Judge,' we gain fresh understanding of Thoreau's choices and convictions on his way to becoming a seminal environmentalist and civil-disobedience guru." —Booklist
"An amiable and fresh take on the legendary sage of Walden Pond . . . an animated portrait. Sims has once again proven himself to be a distinctive writer on the subjects of human nature and humans in nature." —Bookpage
"An affectionate and lively recreation of the world that surrounded [Thoreau]." —Christian Science Monitor, picked as one of the 10 Best Books of February
"I confess I picked up this biography not because of a burning interest in Thoreau . . . but because I loved Michael Sims' previous book about E. B. White and the writing of Charlotte's Web. Sims made White's youthful world of 1920s New York come alive and he does the same thing here for Thoreau's Concord. . . . The Adventures of Henry Thoreau is a rich, entertaining testament to the triumph of a young man who never comfortably fit in, but who made a place for himself, nonetheless." —Maureen Corrigan, Fresh Air
"A well-researched and richly detailed portrait . . . The Henry David Thoreau portrayed here is no 'marble bust of an icon.' He's restless, prickly and possessed of a relentless intellectual curiosity--a complex, fully realized human being. With this picture in mind, anyone who admires Thoreau's life and work will view him with fresh eyes." —Shelf Awareness
"Sims offers intriguing sidelights and memorable details . . . [he] helps us to see Thoreau as a colorful, crotchety human being." —Washington Post
"Sims gracefully captures what he calls Thoreau's 'ecstatic response to nature.'" —Wall Street Journal
Bloomsbury USA, 9781620401972, 384pp.
Publication Date: June 23, 2015
About the Author
Michael Sims is the author of the acclaimed The Story of Charlotte's Web, Apollo's Fire: A Day on Earth in Nature and Imagination, Adam's Navel: A Natural and Cultural History of the Human Form, and editor of Dracula's Guest: A Connoisseur's Collection of Victorian Vampire Stories and The Dead Witness: A Connoisseurs Collection of Victorian Detective Stories. He lives in western Pennsylvania.
or
Not Currently Available for Direct Purchase