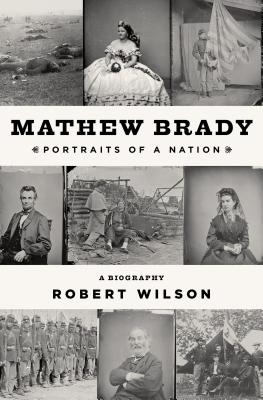 Mathew Brady
Portraits of a Nation
Hardcover

* Individual store prices may vary.
Description
In the 1840s and 1850s, "Brady of Broadway" was one of the most successful and acclaimed Manhattan portrait galleries. Henry Clay, Daniel Webster, Dolley Madison, Henry James as a boy with his father, Horace Greeley, Edgar Allan Poe, the Prince of Wales, and Jenny Lind were among the dignitaries photographed in Mathew Brady's studio. But it was during the Civil War that he became the founding father of what is now called photojournalism and his photography became an enduring part of American history.

The Civil War was the first war in history to leave a detailed photographic record, and Mathew Brady was the war's chief visual historian. Previously, the general public had never seen in such detail the bloody particulars of war--the strewn bodies of the dead, the bloated carcasses of horses, the splintered remains of trees and fortifications, the chaos and suffering on the battlefield. Brady knew better than anyone of his era the dual power of the camera to record and to excite, to stop a moment in time and to draw the viewer vividly into that moment.

He was not, in the strictest sense, a Civil War photographer. As the director of a photographic service, he assigned Alexander Gardner, James F. Gibson, and others to take photographs, often under his personal supervision; he also distributed Civil War photographs taken by others not employed by him. Ironically, Brady had accompanied the Union army to the first major battle at Bull Run, but was so shaken by the experience that throughout the rest of the war he rarely visited battlefields, except well before or after a major battle. The famous Brady photographs at Antietam were shot by Gardner and Gibson.

Few books about Brady have gone beyond being collections of the photographs attributed to him, accompanied by a biographical sketch. MATHEW BRADY will be the biography of an American legend--a businessman, an accomplished and innovative technician, a suave promoter, a celebrated portrait artist, and, perhaps most important, a historian who chronicled America during its finest and gravest moments of the 19th century.
Praise For Mathew Brady: Portraits of a Nation…
"[An] elegant and informative biography." —Glenn Altschuler, Boston Globe

"Wilson brings the famous Civil War photographer to life with this long overdue bio." —Billy Heller, New York Post

"A well-researched biography… Wilson deepens the book with informed insight into photography's impact on society and on the beginnings of photojournalism." —David Hendricks, San Antonio News-Express

"[MATHEW BRADY] does a fine job of conveying a dramatic period in history when technology and a great war transformed a nation. This is not a book of politics, but one of process: Mr Wilson is very good at explaining how new approaches to image-making and printing made photography increasingly versatile and accessible." —The Economist

"[A] compact, straightforward, unblinking volume…a flinty chunk of Americana." —Dwight Garner, New York Times

"[A] well-written portrait." —Cleveland Plain-Dealer

"An in-depth, thoroughly researched chronicle." —Shelf Awareness

"With Wilson's keen analysis of Brady's life and times and the images that defined them, "Mathew Brady: Portraits of a Nation" brings into sharp focus a fascinating footnote to American history." —Douglass Daniel, Associated Press

"[A] patient and painstaking new biography of the portraitist and Civil War photographer." —Caleb Crain, New York Times Book Review

"Wilson does a grand job of bringing Brady's era to life--rich descriptions of New York City and Washington, D.C., ground the book in a strong sense of place, and the author's contextualization of numerous historic photographs adds depth to Brady's magnificent work. Those with an interest in photography and the Civil War (and especially fans of Timothy Egan's Short Nights of the Shadow Catcher) will savor this telling glimpse into the America first captured on film, and the man who made it happen." —Publisher Weekly

"Wilson concedes from the beginning that little is known about Brady's personal life but the author compensates with a thorough tracking and assessment of the professional career… A useful introduction to the man who established photographs as both works of art and important historical documents." —Kirkus Reviews

"This biography will interest a wide audience at all levels of readership. Recommended." —Library Journal
Bloomsbury USA, 9781620402030, 288pp.
Publication Date: August 6, 2013
About the Author
Robert Wilson is the author of The Explorer King, a biography of Clarence King, the Indiana Jones of the 19th century. He is editor of The American Scholar, a former editor of Preservation, the founding literary editor of Civilization (all three of which won National Magazine Awards during his tenure), a former book editor and columnist for USA Today, and a former editor at The Washington Post Book World. His essays, reviews, and fiction have appeared in numerous publications, including The American Scholar, American Short Fiction, The Atlantic Monthly,The New Republic, Smithsonian, The Washington Post Magazine, and The Wilson Quarterly and on the op-ed, opinion, and book-review pages of The Boston Globe, The New York Times, USA Today, and The Washington Post. He is the editor of A Certain Somewhere: Writers on the Places They Remember, a collection of essays from Preservation magazine published by Random House in 2002. Find more information at www.mathewbrady.net
or
Not Currently Available for Direct Purchase