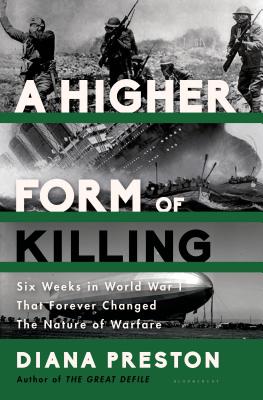 A Higher Form of Killing
Six Weeks in World War I That Forever Changed the Nature of Warfare
Hardcover

* Individual store prices may vary.
Other Editions of This Title:
Paperback (5/17/2016)
Description
Between April 22 and May 30, 1915, Western civilization was shocked. World War I was already appalling in its brutality, but it had until then been fought on the battlefield and by rules long agreed by convention. Suddenly those rules were abandoned when Germany forever altered the way war would be fought. On April 22, at Ypres, German canisters spewed poison gas at French and Canadian soldiers in their trenches; on May 7, the German submarine, U-20, without warning, torpedoed the passenger liner Lusitania, killing 1,198 civilians; and on May 31, a German zeppelin began the first aerial bombardment of London and its inhabitants. Each of these actions violated rules of war carefully agreed to at the Hague Conventions of 1898 and 1907 and were deliberately breached by Germany in an attempt to spread terror and force the Allies to surrender. While that failed, the psychological damage caused by these attacks far outweighed the casualties. The era of weapons of mass destruction had dawned.
While each of these momentous events has been chronicled in histories of the war, celebrated historian Diana Preston links them for the first time, revealing the dramatic stories and the personalities behind them through the eyes of those who were there--whether making the decisions to use the weapons or experiencing their horrifying effect in the trenches, on board the Lusitania or on the streets of London. Placing the attacks in the context of the centuries-old debate over what constitutes "just war," Preston shows how, in their aftermath, the other combatants felt the necessity to develop extreme weapons of their own. In our current time of terror, when weapons of mass destruction are once again implemented and threatened and wartime atrocities abound in a very different kind of conflict, the vivid story of their birth is of great relevance.
Praise For A Higher Form of Killing: Six Weeks in World War I That Forever Changed the Nature of Warfare…
"A British historian of considerable breadth and accomplishment, Preston (The Dark Defile: Britain's Catastrophic Invasion of Afghanistan, 1838-1842, 2012, etc.) focuses on three wartime innovations that elevated to new heights mankind's ability to slaughter itself: submarines, zeppelins and poison gas . . . In what is often difficult but necessary reading, Preston provides haunting descriptions of the effects of poison gas. A harrowing--and, in this era of drones, absolutely pertinent--look at the rapacious reaches of man's murderous imagination." —starred review, Kirkus
"Preston deftly and graphically weaves the complex stories--hitherto kept distinct--of these land, sea and air innovations into a connected narrative. For the first time, readers can grasp the mounting cognitive assault on civilians, soldiers and politicians of the curious clustering of events that spring." —New York Times Book Review
"Well-detailed, shattering . . . This is Preston at the top of her analytical form, offering fascinating modern parables on war, mortality and civilization." —starred review, Publishers Weekly
"For an illuminating look at the Lusitania in the context of Germany's pioneering use of weapons of mass destruction, see Diana Preston's A Higher Form of Killing." —Lev Grossman, TIME Magazine
"[A] gripping and excellent book . . . Preston, whose previous books include a history of the sinking of the Lusitania, tells this grim story well. Her extensive archival research fills in the historical chronology with well-selected quotations from personal accounts of participants at every level of civilian and military life and of government." —Richard Rhodes, Washington Post
"The author's excellent use of war diaries and newspapers in the sections on Zeppelin warfare are particularly gripping, juxtaposing the terror and awe felt by Londoners and the heroism required of Zeppelin crews . . . A well-documented and argued analysis of the emergence of modern warfare." —starred review, Shelf Awareness
"A fascinating and chilling chronicle of weapons of mass destruction . . . Preston's eloquent and objective history of war is immensely exciting." —Library Journal
"Vividly narrating the deployment of each of these new technologies, Preston emphasizes the horrors they delivered and the ethical deliberations (or absence thereof) of key decision makers. Viewed together, Preston suggests, these three new ways of killing demonstrated the shortcomings of the laws of war and set the trajectory for even more powerful weapons of mass destruction." —Booklist
"[A] fine new book . . . Preston succeeds best in her dramatic renderings of the gas attacks at Ypres, the terror on the decks of the Lusitania as it sank, and the surreal flights of giant airships that seemed like an H.G. Wells fiction come to life." —Boston Globe
Bloomsbury Press, 9781620402122, 352pp.
Publication Date: February 24, 2015
About the Author
Diana Preston is an Oxford-trained historian and the author of A First Rate Tragedy, The Boxer Rebellion, Lusitania: An Epic Tragedy, and Before the Fallout: From Marie Curie to Hiroshima, which won the 2006 Los Angeles Times Book Prize for Science and Technology. With her husband, Michael, she has coauthored A Pirate of Exquisite Mind and Taj Mahal. She lives in London, England.
Coverage from NPR
or
Not Currently Available for Direct Purchase