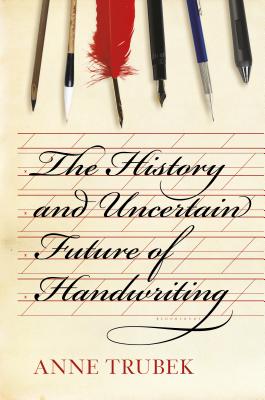 The History and Uncertain Future of Handwriting
Hardcover

* Individual store prices may vary.
Description
The future of handwriting is anything but certain. Its history, however, shows how much it has affected culture and civilization for millennia.
In the digital age of instant communication, handwriting is less necessary than ever before, and indeed fewer and fewer schoolchildren are being taught how to write in cursive. Signatures--far from John Hancock's elegant model--have become scrawls. In her recent and widely discussed and debated essays, Anne Trubek argues that the decline and even elimination of handwriting from daily life does not signal a decline in civilization, but rather the next stage in the evolution of communication.
Now, in The History and Uncertain Future of Handwriting, Trubek uncovers the long and significant impact handwriting has had on culture and humanity--from the first recorded handwriting on the clay tablets of the Sumerians some four thousand years ago and the invention of the alphabet as we know it, to the rising value of handwritten manuscripts today. Each innovation over the millennia has threatened existing standards and entrenched interests: Indeed, in ancient Athens, Socrates and his followers decried the very use of handwriting, claiming memory would be destroyed; while Gutenberg's printing press ultimately overturned the livelihood of the monks who created books in the pre-printing era. And yet new methods of writing and communication have always appeared. Establishing a novel link between our deep past and emerging future, Anne Trubek offers a colorful lens through which to view our shared social experience.
Praise For The History and Uncertain Future of Handwriting…
"As Anne Trubek makes clear in this slim but eloquent volume, handwriting has always been about more than simply words on paper . . . Trubek's book is thoroughly engaging and filled with odd, even moving facts." - Boston Globe
"A compelling and entertaining history of humanity's relationship to the physical act of writing . . . extremely readable." - Newsday
"Ms. Trubek unearths some captivating sidelights in the history of handwriting." - Wall Street Journal
"Anne Trubek covers a great deal of interesting ground in The History and Uncertain Future of Handwriting . . . Trubek's history of handwriting is a story of metamorphosis, not of decline." - Inside Higher Ed
"Well-researched . . . [Trubek] persuasively argues that our fixation with writing by hand is driven more by emotion than evidence, as it is perceived to be inextricably linked to our history, core values and individual identities." - Los Angeles Times
"A succinct overview of written communication . . . Trubek believes that change offers opportunities 'in accessibility, in democratization . . . that should be celebrated.' Quirky facts enliven a brisk story of the history of handwriting." - Kirkus Reviews
"Thoroughly enjoyable. . . delightful history [ending] with the conclusion that handwriting will not vanish but perhaps, like letterpress printing, become a fine art." - Publishers Weekly
"[Trubek] considers the political and social implications inherent in who learned to write, what they recorded and the scripts they used . . . Trubek never loses sight of the fact that handwriting is a controversial subject today. Throughout her history, she offers amusing and insightful comparisons between past and present, preparing the reader for a final discussion of the future of handwriting. The result is a light-handed and thoughtful account of a complicated subject." - Shelf Awareness
"Ms. Trubek is a bewitching and witty travel partner." - Wall Street Journal on A SKEPTIC'S GUIDE TO WRITERS' HOUSES
"A slim, clever bit of literary criticism masquerading as smart travel writing." - Chicago Tribune on A SKEPTIC'S GUIDE TO WRITERS' HOUSES
"A blazingly intelligent romp, full of humor and hard-won wisdom . . . [Trubek] crisscrosses the country in search of epiphanies on the doorsteps of some of our more important writers." - Minneapolis Star-Tribune on A SKEPTIC'S GUIDE TO WRITERS' HOUSES
Bloomsbury USA, 9781620402153, 192pp.
Publication Date: September 6, 2016
About the Author
Anne Trubek is the editor in chief of Belt magazine and publisher of Belt Publishing. She has published articles in The New York Times, The Atlantic, Wired, and many other publications. She is the author of A Skeptic's Guide to Writers' Houses and lives in Cleveland, Ohio.