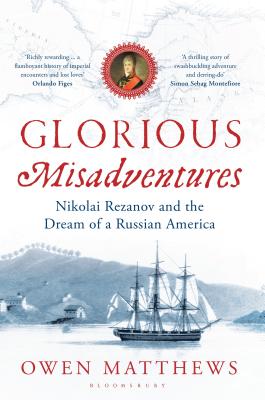 Glorious Misadventures: Nikolai Rezanov and the Dream of a Russian America (Hardcover)
Nikolai Rezanov and the Dream of a Russian America
Bloomsbury Publishing PLC, 9781620402399, 384pp.
Publication Date: November 12, 2013
* Individual store prices may vary.
or
Not Currently Available for Direct Purchase
Description
The Russian Empire once extended deep into America: in 1818 Russia's furthest outposts were in California and Hawaii. The dreamer behind this great Imperial vision was Nikolai Rezanov diplomat, adventurer, courtier, millionaire and gambler. His quest to plant Russian colonies from Siberia to California led him to San Francisco, where he was captivated by Conchita, the fifteen-year-old daughter of the Spanish Governor, who embodied his dreams of both love and empire. From the glittering court of Catherine the Great to the wilds of the New World, Matthews conjures a brilliantly original portrait of one of Russia's most eccentric Empire-builders.
About the Author
Owen Matthews was born in London and spent part of his childhood in America. He studied Modern History at Oxford University before beginning his career as a journalist in Bosnia. In 1995 he accepted a job at The Moscow Times, a daily English-language newspaper. He also freelanced for a number of publications including The Times, the Spectator and the Independent. In 1997, he became a correspondent at Newsweek magazine in Moscow where he covered the second Chechen war, as well as politics and society. Owen was also one of the first journalists to witness the start of the US bombing in the Panjshir Valley in Afghanistan, 2001, and went on to cover the invasion of Iraq, 2003. His first book on Russian history, Stalin's Children, was published to great critical acclaim in 2008. Owen is currently Newsweek magazine's bureau chief in Moscow, where he lives with his wife and two children.
Praise For Glorious Misadventures: Nikolai Rezanov and the Dream of a Russian America…
"Matthews's humor, eye for detail, and voluminous knowledge of the historical context make this book a penetrating and enjoyable account of the exploration age and Russian society, from the imperial court to the wild frontier garrisons."—Publishers Weekly (starred review)"Fascinating…Rezanov [is] a kind of Russian Fitzcarraldo, an imperial visionary in hot pursuit of a mad dream." –New York Times
"Rezanov's bizarre schemes and improbable adventures make interesting reading, as does Matthews' account of the history of early settlements along North America's West Coast, especially Russia's Alaskan colonies." –
Seattle Times
"Drawing on diaries and other sources, Mr. Matthews weaves a tale of courage and chicanery, avarice and incompetence… [A] well-researched glimpse into an underappreciated era in New World history."—
Wall Street Journal
"Matthews is wonderful at pacing the history of Russia's various eastward fur-trapping journeys and voyages; whether the cast of energetic, clever and violent fur traders are crossing Siberia by sleigh or the Atlantic and Pacific by ship, he never rushes, he never lags."—
San Francisco Chronicle
"Deftly chronicle[d]. So the settlements are cold, the men are drunk, the trade is slow, but Matthews treats it all with an amused dryness that's as quintessentially British as good gin. The many digressions are in the service of a story that would make a fine Hollywood film."—
Newsweek
"Did you know that early in the 19th Century—as Napoleon was on the march—Russia's Tsar Alexander I sent  a vainglorious, hotheaded seafaring courtier named Rezanov to conquer California for the Russian empire? Obviously, Rezanov's mission didn't succeed (though he made a killing in "soft gold" in Sitka and Alaska en route—harvesting thousands of seal skins, which the Chinese bought at premium prices).  In Glorious Misadventures: Nikolai Rezanov and the Dream of a Russian America, Owen Matthews thrillingly relates this swashbuckling, Vernean, and entirely true chapter of forgotten history."—
Daily Beast
"Fascinating… This epic historical account illuminates the promise and failings of a lost empire through the ambition of a single man."—Booklist

"Matthews writes that 'Any historian who sets out to search for a hero will almost inevitably uncover something of the scoundrel,' and he's found a fascinating scoundrel in Rezanov, whose complex villainy and shrewdness is almost enough to overshadow the uniqueness of his mission." –Daily Beast "Matthews opens a new window into the first settlements of America's Pacific coast, the men who led it and the reasons for its failure."—Pittsburgh Post-Gazette
"A thrilling story of swashbuckling adventure and flamboyant derring-do about a neglected but intriguing episode of Russian-American history, Owen Matthews chronicles the shambolic, often-forgotten and short-lived Russian empire in America, combining fresh research with a compelling narrative."
—Simon Sebag Montefiore, bestselling author of Stalin: The Court of the Red Czar  "Richly rewarding and hugely enjoyable, Glorious Misadventures is a flamboyant history of sea-faring adventures, imperial encounters, missed opportunities and lost loves which takes the reader back to that long forgotten age when the Russians and the Spanish were the masters of the wilderness between Alaska and California."—Orlando Figes, bestselling author of Natasha's Dance: A Cultural History of Russia and The Whisperers: Private Life in Stalin's Russia
Advertisement