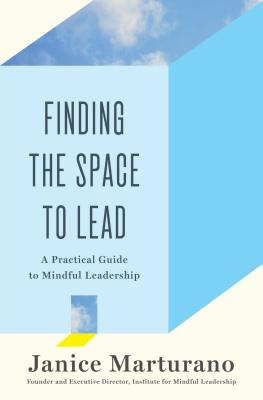 Finding the Space to Lead
A Practical Guide to Mindful Leadership
Hardcover

* Individual store prices may vary.
Other Editions of This Title:
Paperback (9/29/2015)
Description
The complexity and relentless pace of our world places exceptional demands on leaders today. They work incredibly hard and yet feel that they are not meeting their own expectations of excellence. They feel disconnected from their own values and overburdened. By the thousands, they seek out books on leadership skills, time management, and "getting things done," but the techniques these volumes offer, useful as they are, don't often don't speak to the leader's fundamental sense that something is missing.
Janice Marturano, a senior executive with decades of experience in Fortune 500 corporations, explains how Mindful Leadership training integrates the practice of mindfulness-meditation and self-awareness-with the practical tools of management, enabling leaders to bring a wider range of their capacities to the challenges at hand. We already know from scientific research that mindfulness practices enhance mental health and improve clarity and focus. FINDING THE SPACE shows how this training has specific value for leaders.
This is not a new "leadership system" to add to the burden of already overworked people. It brings the concepts of mindfulness into the everyday life of anyone in a leadership role, through specific exercises that address practical issues-the calendar, schedule, phone usage, meetings, to-do list, and strategic planning, as well as interpersonal challenges such as listening and working with difficult colleagues.
Leaders who have experienced mindfulness training report that it provides a "transformative experience" with significant improvements in innovation, self-awareness, listening, and making better decisions. In FINDING THE SPACE TO LEAD, Marturano masterfully lays out her proven techniques for promoting mindfulness in the busy executive's working life.
Praise For Finding the Space to Lead: A Practical Guide to Mindful Leadership…
"With leaders everywhere searching for ways to be mindful, Janice Marturano's timely new book, Finding the Space to Lead, is the definitive guide to becoming a mindful leader. If you follow her practical advice and easy-to-adopt exercises, this book will change your life." —Bill George, Professor, Harvard Business School and former Chair and CEO of Medtronic
"Finding the Space to Lead gives us concrete strategies, from a high powered executive of a major American corporation, to increase our focus and creativity, as well as how to lead with compassion. In this practical and straightforward book, Janice Marturano shares her down to earth and common sense approach that can help moms and moguls alike. I highly recommend it." —Congressman Tim Ryan, Ohio, author of A Mindful Nation
"At the World Economic Forum, I saw in person how Janice Marturano's Mindful Leadership training could make a real difference in the lives of corporate leaders from around the globe. Her powerful new book, Finding the Space to Lead, makes the principles of this training accessible to readers everywhere." —Arianna Huffington, President and Editor-in-Chief, Huffington Post Media Group
"A must read for anyone in a leadership position. This is a riveting account of how mindfulness can transform leadership in organizations and improve individual well-being and organizational success. Sprinkled with compelling real-world examples, this book should be required reading for leaders of any organization." —Richard J. Davidson, Founder and Chair, Center for Investigating Healthy Minds, University of Wisconsin-Madison
"Janice Marturano is a widely-admired executive and a leader in a movement that is changing the shape of our world through mindfulness and emotional intelligence. With this insightful book, leaders of all shapes and sizes will not only become much more effective in every way, they will also become happier." —Chade-Meng Tan, Google's Jolly Good Fellow and international bestselling author of Search Inside Yourself
"Janice Marturano has been an inspiration to many of her friends at General Mills. Her new book, which explores the framework of mindful leadership, is an excellent read for anyone balancing the complexities of modern life and leadership." —Michael L. Davis, SVP, Human Resources, General Mills
"This book is both deeply moving and utterly inspiring. Whether you are already a leader, or preparing to lead, or perhaps you have had leadership 'thrust upon you,' reading this book and following its practices will become a lifeline, allowing you to discover a way to cultivate your deepest potential to lead with excellence and wisdom." —Professor Mark Williams, Professor of Clinical Psychology, University of Oxford
"I describe my first mindfulness retreat as life-changing and once again Janice has 'WOW'ed' me. Her clarity, encouragement and reminders to be gentle on ourselves as we learn to be mindful leaders are simply amazing. Finding the Space to Lead will benefit all who read and practice it." —Gale S. Pollock, Major General (Retired), CRNA, FACHE, FAAN
"This is a book filled with practical steps that can help businesses to succeed by cultivating the strengths of their most important resource--their employees. This book is a must read for business leaders who want to create a sustainable corporate environment grounded in shared communication and trust." —Matt Mumber MD, author of Sustainable Wellness: An Integrative Approach to Transform Your Mind, Body and Spirit
"Janice's personal story about discovering mindfulness, and ultimately defining how it applies to enhanced leadership, is inspiring. This is not some 'new age mindset' rhetoric . . . as someone who had no idea what mindfulness was, this has made me a better leader, father and husband by building the muscle of staying focused 'on demand.'" —Joe Ens, Vice President, General Mills
"Mindful Leadership has transformed my life. As a corporate change agent my ability to understand myself better and others is crucial to bring about skillful & sustainable improvements. In Finding the Space to Lead, Janice, the pioneer of Mindful Leadership, offers us the practices that have enriched my leadership competencies and opened the most meaningful workplace and life dimension." —Andreas Metzen, Senior Vice President, DVB Bank SE
"Janice Marturano knows what leadership excellence is, and shows us how it can be cultivated. Much more than just a simple application of some mindfulness techniques, Finding the Space to Lead joins mind training exercises and sound business disciplines into practical, transformative leadership practices." —James Gimian, Publisher, Mindful and mindful.org
Bloomsbury Press, 9781620402474, 208pp.
Publication Date: January 7, 2014
About the Author
Janice Marturano was for many years a senior executive and deputy general counsel at General Mills, a Fortune 200 corporation; she has also worked at Panasonic and Nabisco. At General Mills she initiated the company's program in mindfulness for leaders, which has helped earn it the #1 ranking among American businesses for executive training. She is now the Director of the Institute for Mindful Leadership, which she founded and which offers this training to leaders from corporations, nonprofits, and other institutions. She lives in New Jersey. She has been profiled in the Financial Times and now blogs for the Huffington Post. She was invited to speak on Mindful Leadership at the 2013 World Economic Forum in Davos.
or
Not Currently Available for Direct Purchase