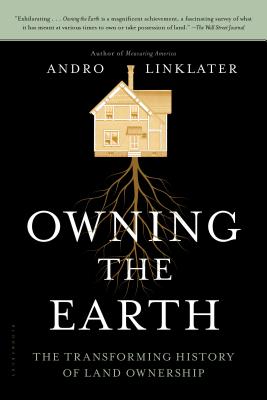 Owning the Earth
The Transforming History of Land Ownership
Paperback

* Individual store prices may vary.
Description
Barely two centuries ago, most of the world's productive land still belonged either communally to traditional societies or to the higher powers of monarch or church. But that pattern, and the ways of life that went with it, were consigned to history by the most creative and simultaneously destructive cultural force in the modern era: the idea of individual, exclusive ownership of land.

Spreading from both shores of the north Atlantic, it laid waste to traditional communal civilizations, displacing entire peoples from their homelands, and brought into being a unique concept of individual freedom and a distinct form of representative government. By contrast, as Linklater demonstrates, other great civilizations, in Russia, China, and the Islamic world, evolved very different structures of land ownership and thus very different forms of government and social responsibility. The history and evolution of this concept is a fascinating chapter in the history of civilization, offering unexpected insights about how various forms of democracy and capitalism developed, as well as a revealing analysis of a future where the Earth must sustain nine billion lives. Owning the Earth presents a radically new view of mankind's place on the planet and the history behind it.
Praise For Owning the Earth: The Transforming History of Land Ownership…
"[A] masterly work . . . His intellectual range is as wide as his geographic or temporal range . . . This reinterpretation of global history will give readers of history, politics, and economics much to think about." —Publishers Weekly, starred review

"[Linklater] has the talent not just to let us know how things work, but to make us want to know . . . A magical mystery tour that leaves the reader both mildly footsore and exhilarated by unexpected connections." —Richard Eder, The New York Times on Measuring America

"Remarkable . . . Linklater traces with unusual elegance and a keen wit the epic story of measuring our nation, charting the process by which, with each length of the surveyor's chain, new states were literally bought into being." —Margaret Wertheim, Los Angeles Times Book Review on Measuring America

"A wonderful and fascinating new book . . clever and a hugely satisfying read. It deserves to be a classic." —Simon Winchester, The Boston Globe on Measuring America

"What's great about history, when well done, is how even the most familiar topics can be revisited again . . . to offer a fresh perspective. That's what Andro Linklater does in Measuring America." —Bob Minzesheimer, USA Today on Measuring America

"Linklater gives us a different perspective than we usually get when reading about how the U.S. developed. The frontier experience took place not only in wide open spaces, but within the borders of the United States. How that happened is an important story and Linklater tells it splendidly." —Bookpage on The Fabric of America

"Mr. Linklater offers readers a whirlwind tour through the corridors of Westminster, the rat-infested prisons of St. Petersburg, the slave-funded mansions of Liverpool. He captures the fevered state of English politics and society during the Napoleonic era." —The Wall Street Journal on Why Spencer Perceval Had to Die
Bloomsbury USA, 9781620402917, 496pp.
Publication Date: May 19, 2015
About the Author
Andro Linklater was the author of Measuring America: How an Untamed Wilderness Shaped the United States and Fulfilled the Promise of Democracy as well as The Code of Love and several other books. He lived in England.
or
Not Currently Available for Direct Purchase