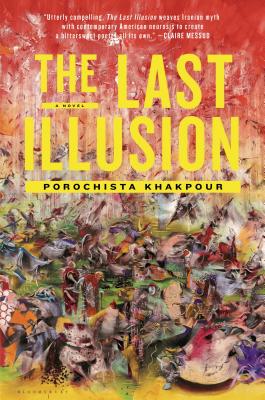 The Last Illusion
Hardcover

* Individual store prices may vary.
Other Editions of This Title:
Paperback (3/3/2015)
Description
From the critically acclaimed author of "Sons and Other Flammable Objects" comes a bold fabulist novel about a feral boy coming of age in New York, based on a legend from the medieval Persian epic "The Shahnameh," the Book of Kings.
In a rural Iranian village, Zal's demented mother, horrified by the pallor of his skin and hair, becomes convinced she has given birth to a White Demon. She hides him in a birdcage and there he lives for the next decade. Unfamiliar with human society, Zal eats birdseed and insects, squats atop the newspaper he sleeps upon, and communicates only in the squawks and shrieks of the other pet birds around him.
Freed from his cage and adopted by a behavioral analyst, Zal awakens in New York to the possibility of a future. An emotionally stunted and physically unfit adolescent, he strives to become human as he stumbles toward adulthood, but his persistent dreams in bird and his secret penchant for candied insects make real conformity impossible. As New York survives one potential disaster, Y2K, and begins hurtling toward another, 9/11, Zal finds himself in a cast of fellow outsiders. A friendship with a famous illusionist who claims-to the Bird Boy's delight-that he can fly and a romantic relationship with a disturbed artist who believes she is clairvoyant send Zal's life spiraling into chaos. Like the rest of New York, he is on a collision course with devastation.
In tones haunting yet humorous and unflinching yet reverential, "The Last Illusion" explores the powers of storytelling while investigating contemporary and classical magical thinking. Its potent lyricism, stylistic inventiveness, and examination of otherness can appeal to readers of Salman Rushdie and Helen Oyeyemi. A celebrated essayist and chronicler of the 9/11-era, Khakpour reimagines New York's most harrowing catastrophe with a dazzling homage to her beloved city.
Praise For The Last Illusion…
"A boy raised among birds is rescued and brought to pre-September 11 New York in Porochista Khakpour's savagely funny, Persian folktale-inspired The Last Illusion (Bloomsbury), in which coming-of-age and first love are complicated by dreams of flight and chocolate–covered crickets." —Vogue
"An audaciously ambitious novel . . . . Plot summary fails to convey the spirit of this creative flight of fancy; farce meets disaster in a novel that illuminates what it means to be human, normal and in love." —Kirkus Reviews (starred review)
"Utterly original and compelling, Porochista Khakpour's The Last Illusion weaves Iranian myth with very contemporary American neurosis to create a bittersweet poetry all its own. This ambitious, exciting literary adventure is at once grotesque, amusing, deeply sad—and wonderful, too." —Claire Messud
"Lauded American Iranian critic and novelist Khakpour writes another gripping tale that mixes myth and history . . . . Khakpour's writing walks a line between mythical and realistic, somehow melding the two seamlessly and keeping reality in sharp focus; the reader aches for Zal, who fumbles through life as neither completely bird nor completely human." —Booklist
"The Last Illusion deftly, unexpectedly, blends Persian myth with modern life, and with the perils and pleasures of magic. In a gripping, sinuous, sometimes explosive voice, Porochista Khakpour tell us a story like no other, with a protagonist like no other—and there is not a reader who will not remember him always." —Amy Bloom
"Magical and hysterical, each sentence more beautiful than the next, The Last Illusion proves Khakpour a novelist-dazzler on the magnitude of an Aimee Bender or a Jonathan Lethem. The English language has a new master tickler and it is laughing out loud." —Gary Shteyngart
"The Last Illusion is a book full of hard-fought wonders, harsh and yet full of grace, with a touch of myth, and an abundance of love. A haunting novel that lingers long after the last page." —Dinaw Mengestu, author of The Beautiful Things That Heaven Bears
"Porochista Khakpour gives us a stunning, darkly humorous, and at some points totally heartbreaking novel abut an Iranian boy who thinks he's a bird after years of torture; it's sure to stick around in your brain long after you've closed it." —Flavorwire
"Funny and haunting, bridges the distance between ancient myth and the modern world. As much a coming-of-age story as it is a clear-eyed account of our contemporary lives. This is a work of pure imagination." —Saïd Sayrafiezadeh, author of When Skateboards Will Be Free
"Blazingly original." —The Millions
"Khakpour's elegant, mysterious, hilarious novel contains the most intriguing and inventive collection of heartbreaking characters you'll ever meet: a mystic in search of a religion, a magician with only one trick, and of course, Zal, the feral boy who just might be a bird. Powerful, passionate, essential work!" —Deb Olin Unferth, author of Revolution
"This novel confirms Khakpour as one of our best new satirists, partly because she is never as moving as when she is entirely sincere." —Alexander Chee
Bloomsbury Publishing PLC, 9781620403044, 323pp.
Publication Date: May 13, 2014
About the Author
Porochista Khakpour's debut novel, Sons and Other Flammable Objects, was named a New York Times Editor's Choice, one of the Chicago Tribune's Fall's Best, and the 2007 California Book Award winner in the first fiction category. Her honors include fellowships from the National Endowment for the Arts, the Johns Hopkins University Writing Seminars, Northwestern University, the Sewanee Writers' Conference, Ucross, and Yaddo. Her nonfiction has appeared in or is forthcoming in Harper's, the New York Times, the Los Angeles Times, Spin, Slate, and Salon, among many others. Khakpour currently teaches at Columbia University's MFA program, Fordham University, and Wesleyan University. She lives in New York City.
or
Not Currently Available for Direct Purchase