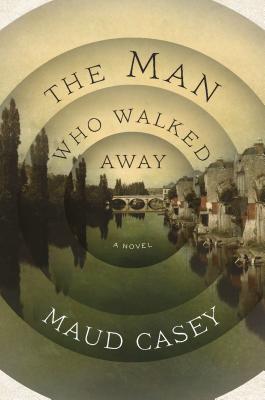 The Man Who Walked Away
A Novel
Hardcover

* Individual store prices may vary.
Other Editions of This Title:
Digital Audiobook (7/10/2014)
Paperback (12/30/2014)
Description
In a trance-like state, Albert walks-from Bordeaux to Poitiers, from Chaumont to Macon, and farther afield to Turkey, Austria, Russia-all over Europe. When he walks, he is called a vagrant, a mad man. He is chased out of towns and villages, ridiculed and imprisoned. When the reverie of his walking ends, he's left wondering where he is, with no memory of how he got there. His past exists only in fleeting images.

Loosely based on the case history of Albert Dadas, a psychiatric patient in the hospital of St. André in Bordeaux in the nineteenth century, The Man Who Walked Away imagines Albert's wanderings and the anguish that caused him to seek treatment with a doctor who would create a diagnosis for him, a narrative for his pain.

In a time when mental health diagnosis is still as much art as science, Maud Casey takes us back to its tentative beginnings and offers us an intimate relationship between one doctor and his patient as, together, they attempt to reassemble a lost life. Through Albert she gives us a portrait of a man untethered from place and time who, in spite of himself, kept setting out, again and again, in search of wonder and astonishment.
Praise For The Man Who Walked Away: A Novel…
"Rhapsodic . . . Casey's book is a vivid chronicle of the time, bringing alive the mysteries and joys of a fledgling science . . .  Casey evokes -- with no shortage of verve and gusto -- the romance of 19th-century Europe, when madness plagued more than asylums, and nomadism acquired an allure it had never had . . . Mesmerizing . . . As compelling a portrait as you will find of the co-dependence between psychiatrist and patient." —Washington Post

"Casey is a consummate stylist, and her new book is so richly engaged with language, so profligate with glorious sentences, that at times the prose ascends to the level of poetry. This is a writer who pays deep, sensual attention to the world." —Geraldine Brooks, The New York Times Book Review

"Unconventional and engaging . . . Our need for stories, our relationship with time, the inevitability of loss, and our startling endurance all resonate through her beautifully crafted interweaving of image and observation, fairy tale and fact." —Publishers Weekly, starred review

"Lyrical in its style and fascinating in its psychology, Casey's narrative provokes a host of intriguing questions." —Kirkus Reviews, starred review

"Maud Casey's The Man Who Walked Away is a haunting, deeply empathetic, and rigorously intelligent novel. It is also a seamless marvel of construction and language. The Man Who Walked Away cast a spell from which I never wished to wake." —Alice Sebold, author of The Lovely Bones and The Almost Moon

"Pay attention, this lovely novel urges. As Maud Casey spins this mysteriously urgent tale of patient and doctor entwining, her quicksilver prose yields one astonishing image after another: each moment fleetingly beautiful, each character here--here!--and nowhere else. As this novel is like nothing else. Reading it is a singularly moving experience." —Andrea Barrett, author of Ship Fever and Archangel

"Only a writer as brilliant as Maud Casey could write a novel as understated, urgent, and mysterious as The Man Who Walked Away. In her deft and deeply empathetic hands, this book about dark things--terror, fragility, memory, and illness--shimmers with a rare and wondrous beauty." —Lauren Groff, author of Arcadia

"Maud Casey's ensorcelling marvel of a novel, The Man Who Walked Away, starts with a wind, the poet's element, that blows over, through and past all, transporting us, as great art will, to the wonderment of being in the world, or in Albert's case, not in the world. Only in "the vase" of the asylum, with its benign Director and staff, can Albert rest, find love (he hopes) and a history. Casey's novel, with its accounts of the asylum's correctives to the anguish of erasure--walks in nature and 'the song of Nurse Anne's voice'--is an axe to the ice-encased heart, musically wrought, deeply affecting, wise and consolatory." —Christine Schutt, author of Prosperous Friends

"The Man Who Walked Away is a book of enchantments of an extremely intelligent kind. Dreamlike and sharply real, the novel unfolds in a nineteenth-century asylum where all the inmates have their own poetry of delusion, fear turned to metaphor. Wildly original fiction, with a particular melancholy magic." —Joan Silber, author of Ideas of Heaven and The Size of the World
Bloomsbury USA, 9781620403112, 240pp.
Publication Date: March 4, 2014
About the Author
Maud Casey is the author of two novels, The Shape of Things to Come, a New York Times Notable, and Genealogy, and a collection of stories, Drastic. She is the recipient of the Calvino Prize and has received fellowships from the Fundación Valparaiso, Hawthornden International Writers Retreat, Château de Lavigny, and the Passa Porta residency at Villa Hellebosch. She lives in Washington, D.C., and teaches at the University of Maryland and in the low-residency M.F.A. program at Warren Wilson.
or
Not Currently Available for Direct Purchase