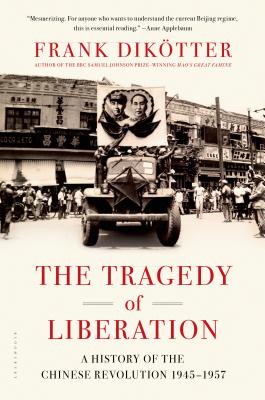 The Tragedy of Liberation (Paperback)
A History of the Chinese Revolution 1945-1957
Bloomsbury Publishing PLC, 9781620403495, 400pp.
Publication Date: February 17, 2015
Other Editions of This Title:
Paperback (1/9/2018)
Hardcover (9/24/2013)
* Individual store prices may vary.
Description
"The Chinese Communist party refers to its victory in 1949 as a 'liberation.' In China the story of liberation and the revolution that followed is not one of peace, liberty, and justice. It is first and foremost a story of calculated terror and systematic violence." So begins Frank Dikotter's stunning and revelatory chronicle of Mao Zedong's ascension and campaign to transform the Chinese into what the party called New People. Due to the secrecy surrounding the country's records, little has been known before now about the eight years that followed, preceding the massive famine and Great Leap Forward.
Drawing on hundreds of previously classified documents, secret police reports, unexpurgated versions of leadership speeches, eyewitness accounts of those who survived, and more, and told with great narrative sweep, The Tragedy of Liberation bears witness to a shocking, largely untold history, giving voice at last to the millions who were lost and casting new light on the foundations of one of the most powerful regimes of the twenty-first century.
About the Author
Frank Dikotter is chair professor of humanities at the University of Hong Kong. Before moving to Asia in 2006, he was professor of the modern history of China at the School of Oriental and African Studies, University of London. He has published nine books about the history of China, including Mao's Great Famine, which won the BBC Samuel Johnson Prize for Non-Fiction in 2011. He lives in Hong Kong.
or
Not Currently Available for Direct Purchase