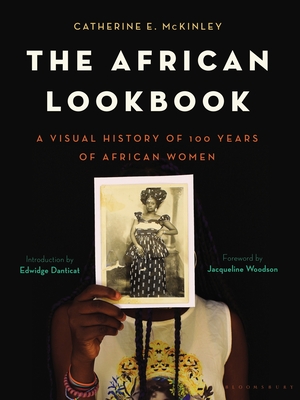 The African Lookbook
A Visual History of 100 Years of African Women
Hardcover

* Individual store prices may vary.
Description
An unprecedented visual history of African women told in striking and subversive historical photographs--featuring an Introduction by Edwidge Danticat and a Foreword by Jacqueline Woodson.

Most of us grew up with images of African women that were purely anthropological--bright displays of exotica where the deeper personhood seemed tucked away. Or they were chronicles of war and poverty--"poverty porn." But now, curator Catherine E. McKinley draws on her extensive collection of historical and contemporary photos to present a visual history spanning a hundred-year arc (1870–1970) of what is among the earliest photography on the continent. These images tell a different story of African women: how deeply cosmopolitan and modern they are in their style; how they were able to reclaim the tools of the colonial oppression that threatened their selfhood and livelihoods.

Featuring works by celebrated African masters, African studios of local legend, and anonymous artists, The African Lookbook captures the dignity, playfulness, austerity, grandeur, and fantasy-making of African women across centuries. McKinley also features photos by Europeans--most starkly, striking nudes--revealing the relationships between white men and the Black female sitters where, at best, a grave power imbalance lies. It's a bittersweet truth that when there is exploitation there can also be profound resistance expressed in unexpected ways--even if it's only in gazing back. These photos tell the story of how the sewing machine and the camera became powerful tools for women's self-expression, revealing a truly glorious display of everyday beauty.
Praise For The African Lookbook: A Visual History of 100 Years of African Women…
"The curator draws on her collection of historical and contemporary photographs of African girls and women for a striking visual history spanning decades." - USA Today, "5 Books not to Miss"

"[A] richly detailed and immersive visual history . . . Packed with arresting images and incisive analysis, this well-conceived survey tells a powerful story of African liberation." - Publishers Weekly

"From young girls in Mali wearing 'hot' outfits beneath attire deemed respectable by Muslim culture to women defying Western Christianity by wearing traditional African attire to church, McKinley focuses on the ways in which fashion is a form of protest and resistance, preserving history in 'more resilient and revealing' ways than any other. The African Lookbook is an exquisite collection of African photographs and stories bearing witness to the power and grace of African women." - Booklist

"[A] bold act of reclaiming. Here, in photographs and lyrical prose, McKinley defies Western stereotypes about African women." - The Millions "A Year in Reading: Nadia Owusu"

"How lucky we are that Catherine McKinley has collected this exquisite series of photographs from all corners of the African continent . . . proof of the range of beauty and elegance the world was otherwise telling us we could not possess." - Edwidge Danticat, from the Introduction

"As I slowly moved through the stunningly beautiful pages of The African Lookbook, I found myself being transported by the glorious photographs Catherine McKinley has collected. . . . We took and continue to take the skin, the pain, the fabric, the tools we have. And with all of this--as Catherine McKinley has done here--we make something as beautiful as our own selves." - Jacqueline Woodson, from the Foreword

"Aunty!" . . . reveals photography's role as a tool or weapon when investigating identity and empowerment." - New York Times on AUNTY!

"[McKinley's] discoveries resonate, and her unique experiences provide a vivid snapshot of the cultures she encountered in Africa." - The Washington Post on INDIGO

"Gorgeous." - Los Angeles Times on INDIGO

"An eye-opening account of the controversial role this gorgeous, coveted pigment has played through the millennia." - Elle on INDIGO
Bloomsbury Publishing, 9781620403532, 240pp.
Publication Date: January 19, 2021
About the Author
Catherine E. McKinley is a curator and writer whose books include the critically acclaimed Indigo, a journey along the ancient indigo trade routes in West Africa, and The Book of Sarahs, a memoir about growing up Black and Jewish in the 1960s–80s. She's taught creative nonfiction writing at Sarah Lawrence College and Columbia University. The McKinley Collection, featured here, is a personal archive representing African photographies from 1870 to the present. She lives in New York City.

Edwidge Danticat is the author of several books, including Breath, Eyes, Memory, an Oprah's Book Club selection; Krik? Krak!, a National Book Award finalist; The Farming of Bones, an American Book Award winner; and the novel-in-stories, The Dew Breaker. She is the editor of The Butterfly's Way: Voices from the Haitian Diaspora in the United States and The Beacon Best of 2000: Great Writing by Men and Women of All Colors and Cultures, Haiti Noir and Haiti Noir 2, and Best American Essays 2011. She has written several books for young adults and children—Anacaona, Behind the Mountains, Eight Days, The Last Mapou, Mama's Nightingale, and Untwine—as well as a travel narrative, After the Dance, A Walk Through Carnival in Jacmel. Her memoir, Brother, I'm Dying, was a 2007 finalist for the National Book Award and a 2008 winner of the National Book Critics Circle Award for autobiography. She is a 2009 MacArthur Fellow.