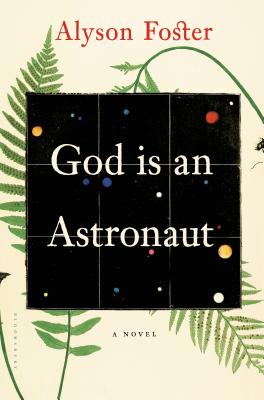 God is an Astronaut (Hardcover)
A Novel
Bloomsbury USA, 9781620403563, 304pp.
Publication Date: July 1, 2014
Other Editions of This Title:
Paperback (5/3/2016)
* Individual store prices may vary.
Description
The day of the accident, Jess is in the backyard with a chainsaw, clearing space to build the greenhouse she's always wanted. And, as always, she is thinking of Arthur. Arthur, her colleague in the botany department, who never believed she'd actually start the project. Arthur, who, after getting too close, has cut off contact, escaping to study the subarctic pines.
But now there has been a disaster, connected to her husband's space tourism company: the explosion of a space shuttle filled with commercial passengers, igniting a media frenzy on her family's doorstep. Jess's engineer husband is implicated, and she knows there is information he's withholding, even as she becomes an unwitting player in the efforts to salvage the company's reputation.
Struggling, Jess writes to the only person she can be candid with. She writes to Arthur. And in her e-mails -- warm, frank, yet freighted with regret and the old habits of seduction -- Jess tries to untangle how her life has changed, in one instant but also slowly, and how it might change still.
With sure pacing and intimate wisdom, God is an Astronaut unfurls a story of secrets and of wonderment, the unforgettable and the vast unknowable.
About the Author
Alyson Foster grew up in Michigan and received her BA in creative writing from the University of Michigan, winning a Hopwood Award for her fiction. She received her MFA from George Mason University, where she was a Completion Fellow, and her short fiction has appeared in various publications. Alyson Foster lives in Washington DC, where she works for the National Geographic Society library.
@alysonafoster
Praise For God is an Astronaut: A Novel…
"In this smart novel … Foster brings to life Jess Frobisher, a perfectly flawed protagonist whose sharp wit is as natural as her green thumb." —Minneapolis Star-Tribune, "5 Summer Novels You Must Read"
"Jess handles each blow with resilience and grace. Clearly, she's last-woman-standing material, as her humor and perspective keep her above the fray." —O, the Oprah Magazine, "16 Books You Must Pick Up This August"
"Propulsive prose offers a fine portrait of a woman in distress but not going under." —Library Journal, "Top Indie Fiction for Spring/Summer"
"An affecting journey through a family's downward spiral . . . Jessica Frobisher reports on the disaster and aftermath in emails to her former lover and colleague, Arthur, and her fumbling, fragile attempts to make sense of her life's crash and burn is well wrought." —The Washingtonian, "Top 10 Books for July 2014"
"Alyson Foster's writing is smart and razor-sharp and shows a keen eye for people and current culture. God is an Astronaut provides an entertaining look at one flawed woman's attempt to find solid footing on a rapidly spinning world." —San Francisco Book Review
"Alyson Foster is Nora Ephron spliced with Margaret Atwood." —The Hoopla
"An incredibly powerful modern love story." —Cosmopolitan UK
"Very modern . . . An active imagination is clearly at work here, and contributes to an excellent first novel." —New Zealand Herald
"Foster expertly builds suspense…[Her] absorbing character study couched in a very contemporary cautionary tale is likely to find many fans." —Booklist
"The format's a unique vehicle for telling a story, and Foster's at her best when she's pressing its limitations. By omitting half of the book's defining conversation, Foster digs out an absence at the core of her story, shaping a complex Arthur simply from Jess' reactions. We may never hear from him, but we know him well from the shadows he casts on Jess . . . [Jess Frobisher] is crafted by Foster with wit and sympathy. Foster litters the book with curious details, and told in Jess' voice, they can swing from funny to beautiful." —Washington City Paper
"God is an Astronaut is a novel of this very moment: the uncertainty of our place in the universe, the difficulty and opportunity of instant communication, our oscillation between fighting with and falling in love with technology. But it is also a novel of every moment: Lust, regret, tragic arrogance, redeeming love--these have always been part of our humanity. Alyson Foster is a brave writer, one I admire greatly for the intensity of her vision and her willingness to step into telling the difficult story of right now." —Lydia Netzer, author of Shine Shine Shine and How to Tell Toledo from the Night Sky
"From the first page, I was drawn in by this gripping and winning novel. The writing is fresh, vivid, and funny, beautifully capturing the mysteries of both the cosmos and our daily lives." —Madeline Miller, author of The Song of Achilles
"Alyson Foster's debut novel is a puzzle book told in the language of botany, astronomy, family, friendship, and love. A remarkable and haunting monologue-in-pieces handled with such mastery that Jess Frobisher's one-sided correspondence ultimately becomes an unbroken dialogue with the reader." —Christian Kiefer, author of The Infinite Tides
"Alyson Foster's God is an Astronaut is a page-turner. I was captivated by both the Jess's predicament and Foster's masterful writing." —Daphne Kalotay, author of Russian Winter and Sight Reading
"God is an Astronaut is a captivating, ingeniously plotted book that explores the unknowability of others in a wholly new way. Through the novel's emails, the characters are revealed with wonderful complexity, and surprise us again and again." —Karen E. Bender, author of A Town of Empty Rooms and Like Normal People
"A witty and original novel, rich in pithy insights, gloriously spot-on with regard to the yearning middle-aged heart stalwartly beating amid the complexities family life. Lost love and lost socks co-exist here, as our engaging botanist heroine digs her way to an unexpected epiphany." —Barbara Trapido, author of Brother of the More Famous Jack
or
Not Currently Available for Direct Purchase