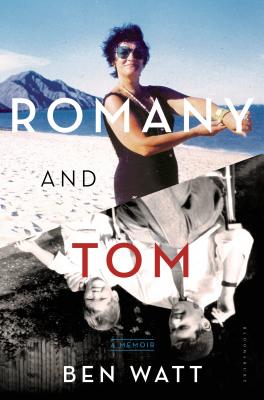 Romany and Tom (Hardcover)
A Memoir
Bloomsbury USA, 9781620403723, 368pp.
Publication Date: June 10, 2014
Other Editions of This Title:
Paperback (12/15/2015)
* Individual store prices may vary.
Description
Longlisted for the Samuel Johnson Prize for Non-Fiction 2014
Ben Watt's father was a working-class Glaswegian jazz musician-a politicized left-wing bandleader and composer-whose heyday in the late 1950s took him into the glittering heart of London's West End. His mother, Romany, the daughter of a Methodist parson, was a Shakespearean actress who had triplets in her first marriage before becoming a leading showbiz feature writer and columnist in the '60s and '70s. They were both divorced and from very different backgrounds, and they came together at a fateful New Year's Day party in 1957 like colliding trains.
Romany and Tom is Ben Watt's honest, sometimes painful, and often funny portrait of his parents' exceptional lives and marriage, depicted in a personal journey from his own wide-eyed London childhood, through years as an adult with children and a career of his own, to that inevitable point when we must assume responsibility for our own parents in their old age. Spanning several decades-and drawing on a rich seam of family letters, souvenirs, photographs, public archives, and personal memories-it is a vivid story of the postwar years, ambition and stardom, family roots and secrets, big band jazz, depression and drink, life in clubs and nursing homes. It is also about who we are, where we come from, and how we love and live with one another for the long term.
About the Author
Born in 1962, Ben Watt is a musician, songwriter, DJ and author. His first book, Patient: The True Story of a Rare Illness was a New York Times Notable Book of the Year, voted a Sunday Times Book of the Year by William Boyd and shortlisted for the Esquire Non-fiction Book of the Year. He is perhaps most well known for his twenty-year career in alt-pop duo Everything But The Girl (1982–2002). He is also an international club and radio DJ, and since 2003 has run his own independent record labels Buzzin' Fly and Strange Feeling. Having recently returned to songwriting and live performance, his first solo album for thirty years is expected in 2014. He lives in north London with his wife Tracey Thorn and their three children.
Follow him on Twitter: @Ben_Watt
www.benwatt.com
Praise For Romany and Tom: A Memoir…
"Keenly observed . . . A thoughtful, sensitively wrought memoir." —Kirkus Reviews
"Unsentimental but moving . . . He recreates scenes and places with an effortless immediacy . . . In the end, Watt casts an illuminating light on those strange figures he calls parents, and on ours." —Publishers Weekly
"[A] beautiful, faithful memoir of his parents. It made me bawl roughly every thirty pages. Most impressive of all is the book's near-perfect structure. Sly and seamless, its abundant layers offer one of the most complete depictions of a marriage I have ever read." —New Statesman
"A poignant, life-affirming work." —The Financial Times
"A love affair told in reverse . . . Neither sentimental nor savage, yet often wise, moving and entertaining within the same paragraph, Romany and Tom is a major achievement." —The Guardian
"Watt's prose [is] elegant, crisp and clean. His approach to tough subjects [is] unflinchingly unsentimental . . . Watt holds back the main mystery about his parents until later on . . . the effect is like a blow to the heart." —The Observer
"In this elegantly written and clear-sighted memoir, Watt--who is best known as one half of the pop duo Everything But The Girl--juxtaposes memories of growing up in a household of boho, hard-drinking parents, with his later efforts to help them navigate old age, with all the fear, stubbornness and disorientation that comes with it . . . A tender work. . . cutting to the heart of the frustrations that come with caring for one's parents who were, not long ago, just like us." —Independent on Sunday
or
Not Currently Available for Direct Purchase