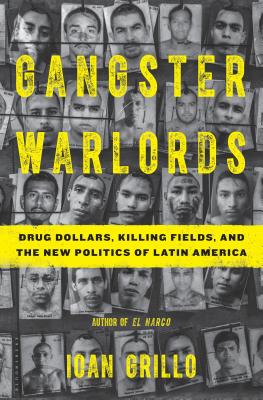 Gangster Warlords
Drug Dollars, Killing Fields, and the New Politics of Latin America
Hardcover

* Individual store prices may vary.
Other Editions of This Title:
Compact Disc (10/1/2019)
MP3 CD (9/27/2016)
Description
In a ranch south of Texas, the man known as The Executioner dumps five hundred body parts in metal barrels. In Brazil's biggest city, a mysterious prisoner orders hit-men to gun down forty-one police officers and prison guards in two days. In southern Mexico, a meth maker is venerated as a saint while enforcing Old Testament justice on his enemies.

A new kind of criminal kingpin has arisen: part CEO, part terrorist, and part rock star, unleashing guerrilla attacks, strong-arming governments, and taking over much of the world's trade in narcotics, guns, and humans. What they do affects you now--from the gas in your car, to the gold in your jewelry, to the tens of thousands of Latin Americans calling for refugee status in the U.S. Gangster Warlords is the first definitive account of the crime wars now wracking Central and South America and the Caribbean, regions largely abandoned by the U.S. after the Cold War. Author of the critically acclaimed El Narco, Ioan Grillo has covered Latin America since 2001 and gained access to every level of the cartel chain of command in what he calls the new battlefields of the Americas. Moving between militia-controlled ghettos and the halls of top policy-makers, Grillo provides a disturbing new understanding of a war that has spiraled out of control--one that people across the political spectrum need to confront now.
Praise For Gangster Warlords: Drug Dollars, Killing Fields, and the New Politics of Latin America…
"A vitally important book." —starred review, Library Journal

"A striking exploration of the horrors of mass violence in the Western Hemisphere, with the author offering hope that radical policies could provide positive change." —Kirkus Reviews

"Grillo dissects Latin America's narco world, both its mechanics and its culture, with a precision and firsthand knowledge that is astounding. There has quite simply never been a book like this before, one that not only examines the broader currents that allow the drug trade to flourish, but animates that discussion with intimate portraits of both its practitioners and victims. Taut and endlessly revelatory, Gangster Warlords is required reading for anyone who seeks to understand the drug wars taking place in Latin America today--and especially for any Americans who might imagine it's just 'their' problem." —Scott Anderson, bestselling author of LAWRENCE IN ARABIA

"Grillo's new book is steely-eyed and sensitive reporting on the criminal kings at the front-lines of the continental catastrophe called the war on drugs." —Daniel Hernandez, author of DOWN & DELIRIOUS IN MEXICO CITY

"With El Narco, Mr. Grillo gave us an unprecedented glimpse into the vicious world of Mexican drug cartels. In Gangster Warlords, he masterfully expands the criminal landscape to include villains across Latin America and the Caribbean. The depth and detail he provides on fearsome organizations like the Red Commando in Brazil and the Shower Posse in Jamaica cast a much-needed spotlight on groups not regularly featured in US media. A sobering and fascinating look at deadly gangsters in often-neglected corners of our own hemisphere." —Sylvia Longmire, author of CARTEL and BORDER INSECURITY

"Something new and terrible is happening in the Americas. It has murdered a million people in ten years, and yet we don't fully understand it. Until now. Combining hair-raising reporting with erudite analysis, Grillo has written an indispensable guide to the new world disorder." —Richard Grant, author of GOD'S MIDDLE FINGER

"Reading Gangster Warlords is a like riding shotgun through the darkest battlefields of the drug war with a hardboiled narcotics detective at the wheel. You won't want to get out of the car. With terrific storytelling and analytical sweep, Grillo's guided tour lays bare the interconnected nature of 21st century crime and drug trafficking in the Americas. His warlords are the region's new insurgents, offering no ideology beyond power and riches. The ripples of their violence reach further than we tend to acknowledge. And they aren't going away any time soon." —Nick Miroff, Latin American correspondent, The Washington Post

"The stories in Gangster Warlords offer a dramatic portrait of a region torn by poverty, dysfunctional politics and the bloody allure of crime. Grillo has written a riveting Latin American tragedy. If only it were fiction." —León Krauze, Univision

"Superbly reported, Gangster Walords offers a searching look into crime groups across Latin America and examines how the region got into the violent mess it is in. Ioan Grillo delves deep to deliver grisly detail in sharp focus with the skill of a born raconteur. Just like El Narco, this is a page-turner, despite the tough subject matter." —Jude Webber, Mexico and Central America correspondent, Financial Times

"Ioan Grillo captures the power and the horror of the Latin American drug cartels with unrivaled reporting and riveting writing. With Gangster Warlords, he once again proves his mastery of interweaving the broader context with vivid, on-the-ground journalism to provide readers with a street level view of a complex war fought without clear front lines." —Matthew Heineman, director of CARTEL LAND

"Taking his readers for a walk through some of the world's most dangerous streets, Ioan Grillo has produced a crucial travel guide of the murky world of Latin America's criminal fiefdoms. Enriched by narcotics trafficking and other rackets, these mostly non-ideological capos and their armies of young gunmen threaten the region's often shaky governments and institutions, as much or more as the armed insurgencies of decades past. This is shoe leather reporting at its very best: honest, insightful and engrossing." —Jose de Cordoba, correspondent, The Wall Street Journal

"Grillo's remarkable new book takes us behind the blood soaked headlines in Mexico and courageously connects the footprints of a beast ravaging the continent, from Central to South America to the Caribbean. The haunting journey is chilling. The reporting first-rate. The lessons sobering, long after you finish Gangster Warlords." —Alfredo Corchado, author of MIDNIGHT IN MEXICO

"Lays out in clear terms the contours of a world that has existed for years and only grown more barbaric as it's graduated to 'war' status." —Bookforum on EL NARCO
Bloomsbury Press, 9781620403792, 384pp.
Publication Date: January 19, 2016
About the Author
Ioan Grillo is a contributing writer at the New York Times specializing in crime and drugs. Based in Mexico City, he has also worked for Time magazine, the History Channel, CNN, Reuters, the Associated Press, and Esquire. He is the author of El Narco, a finalist for the Los Angeles Times Book Award, and Gangster Warlords, a New York Times Book Review Editor's Choice and a Guardian Book of the Year.
or
Not Currently Available for Direct Purchase