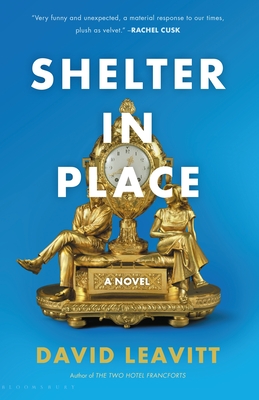 Shelter in Place
Hardcover

* Individual store prices may vary.
Other Editions of This Title:
Paperback (11/23/2021)
Description
"Very funny and unexpected, a material response to our times, plush as velvet." –Rachel Cusk

"A wickedly funny and emotionally expansive novel about all the bewildering ways we seek solace from the people and things that surround us." – Jenny Offill

David Leavitt returns with his signature "coolly elegant prose" (O, The Oprah Magazine) to deliver a comedy of manners for the Trump era.

It is the Saturday after the 2016 presidential election, and in a plush weekend house in Connecticut, an intimate group of friends, New Yorkers all, has gathered to recover from what they consider the greatest political catastrophe of their lives. They have just sat down to tea when their hostess, Eva Lindquist, proposes a dare. Who among them would be willing to ask Siri how to assassinate Donald Trump? Liberal and like-minded-editors, writers, a decorator, a theater producer, and one financial guy, Eva's husband, Bruce-the friends have come to the countryside in the hope of restoring the bubble in which they have grown used to living. Yet with the exception of one brash and obnoxious book editor, none is willing to accept Eva's challenge.

Shelter in Place is a novel about house and home, furniture and rooms, safety and freedom and the invidious ways in which political upheaval can undermine even the most seemingly impregnable foundations. Eva is the novel's polestar, a woman who moves through her days accompanied by a roving, carefully curated salon. She's a generous hostess and more than a bit of a control freak, whose obsession with decorating allows Leavitt to treat us to a slyly comic look at the habitués and fetishes of the so-called shelter industry. Yet when, in her avidity to secure shelter for herself, she persuades Bruce to buy a grand if dilapidated apartment in Venice, she unwittingly sets off the chain of events that will propel him, for the first time, to venture outside the bubble and embark on a wholly unexpected love affair.

A comic portrait of the months immediately following the 2016 election, Shelter in Place is also a meditation on the unreliable appetites-for love, for power, for freedom-by which both our public and private lives are shaped.
Praise For Shelter in Place…
"There is an art to writing about unlikable people while still engaging the reader to invest in their indulgence, vanity and, yes, happiness . . . compelling . . . [and] kookily endearing." - The New York Times Book Review

"Allusions to Edith Wharton and Henry James abound. Leavitt easily nails the trappings of entitlement, [playing] privileged, shallow characters for their unwitting part in the current reality." - NPR.org

"A story that is more about the concept of Trump than the election itself…Leavitt injects a welcome degree of humor and diversion into the proceedings…a brilliant fiction." - Washington Independent Review of Books

"Leavitt is a master at pointing out problems without telling you he's doing so — a kind of subtlety that is imperative for effective criticism…If you're a fan of books that explore the intricacies of wealth, politics, love, and friendship, you'll want to pick up Shelter in Place." - Paperback Paris

"A thoroughly modern comedy of manners, Shelter in Place is both one of the best novels of the year as well as the most humorous." - Bay Area Reporter

"A thoroughly entertaining read." - Zoomer Magazine

"Very funny and unexpected, a material response to our times, plush as velvet." - Rachel Cusk, author of The Outline Trilogy and COVENTRY

"A wickedly funny and emotionally expansive novel about all the bewildering ways we seek solace from the people and things that surround us." - Jenny Offill, author of WEATHER

"David Leavitt is a masterful writer, and his dialogue, his innate sense of the rhythm of how people talk to each other, both in public and in private, is absolutely incredible. It's impossible not to be pulled into this novel, to see the epicenter of chaos in the lives of these characters, and listen to them try to talk themselves into a new imagining of the world. With precision and humor, Leavitt has created something amazing." - Kevin Wilson, author of NOTHING TO SEE HERE

"I've long been a fan of David Leavitt's work, for its range, its depth, its smarts and its humor. He is a phenomenal and prescient writer." - Justin Torres, author of WE THE ANIMALS

"Shelter in Place is a poignant, funny, wonderful novel, a pleasure and a joy." - Donald Antrim, author of ELECT MR. ROBINSON FOR A BETTER WORLD and THE EMERALD LIGHT IN THE AIR

"A brilliant comedy of manners about the convoluted ways that people of taste, affluence, privilege, breeding, etc. avoid looking too closely at their own part in said reality." - David Salle, artist and author of HOW TO SEE: LOOKING, TALKING, AND THINKING ABOUT ART

"A humane, knowing comedy perfect for a moment when no one in America seems to like one another." - Kirkus Reviews, starred review

"This irresistible, laugh-out-loud romp is a winner." - Publishers Weekly

"A delightfully sly comedy of manners . . . Readers will take in décor of the one-percent, jealous riffs on famous writers, and caricatured liberals and conservatives with voyeuristic glee." - Booklist

"Leavitt, using sharp social observations softened by humor, underscores the often well-meaning but impotent actions of the moneyed class. Readers looking for a contemporary plot, colorful characters and sly wit will enjoy this topical novel." - Shelf Awareness

"Sharply etched, funny and enjoyable." - Francine Prose
Bloomsbury Publishing, 9781620404874, 384pp.
Publication Date: October 13, 2020
About the Author
David Leavitt's fiction has been a finalist for the PEN/Faulkner Prize, the National Book Critics' Circle Award and the LA Times Fiction Prize, and shortlisted for the IMPAC Dublin Award. His writing has appeared in the New Yorker, the New York Times, Harper's and Vogue, among other publications. He lives in Gainesville, Florida, where he is Professor of English at the University of Florida and edits the literary magazine Subtropics.
or
Not Currently Available for Direct Purchase