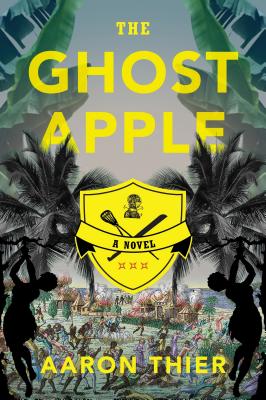 The Ghost Apple (Hardcover)
Bloomsbury Publishing PLC, 9781620405277, 289pp.
Publication Date: March 4, 2014
Description
At the turn of the eighteenth century, John Morehead Tripoli is marooned on the unspoiled Caribbean island of St. Renard. There, he lives for an idyllic year in a community of Carawak Indians.
Three hundred years later, the Carawak are gone, St. Renard is carpeted with banana plantations and sugarcane fields, and Tripoli himself is remembered only through his grandson, founder of New Hampshire's Tripoli College, which maintains a branch campus on the island. The college, never prosperous, has been forced to enter into a coercive financial relationship with snack food giant Big Anna(R) Brands, the same corporation that controls most of the land on St. Renard. Big Anna(R) deposes the college president, uses students and faculty as test subjects for a "dietary and mood additive" called Malpraxalin(R), and hijacks the St. Renard campus for a "field studies" program.
At the heart of this twisted satire are two souls in transition. Bill Brees is a grandfatherly dean, "undercover" as a Tripoli freshman, and bemused by how things have changed since his undergrad days. Maggie Bell is an African-American student, startled into the realization that nothing really changes at all. When these unlikely friends both elect to spend their spring semesters in the Caribbean, they will see a side of Big Anna(R) even uglier than they could have imagined.
The Ghost Apple develops through a varied and colorful collection of documents, including tourism pamphlets, blog posts, slave narratives, and personal correspondence. Slowly these texts reveal the extent of Tripoli's current crisis, and highlight those historical crises in the midst of which the college--and the nation--were founded.
About the Author
Aaron Thier was born in Baltimore and raised in Williamstown, Massachusetts, where he now lives with his wife. His writing has appeared in The Nation and The New Republic, among other places. This is his first novel. www.aaron-thier.com
Praise For The Ghost Apple…
"[A] mordant and mischievous satire . . . [set] amid the wild dysfunction and navel-gazing self-delusion of academia . . . The Ghost Apple does what satire is meant to do. It makes us laugh and it makes us think. Thier renders a deranged world that we recognize as our own." —Boston Globe"Insanely fun . . . [A] raucous adventure." —Booklist"Hilarious . . . with a razor-sharp wit." — Library Journal"Academic satire meets anti-globalization polemic . . . [in] an improbable laugh riot." —Kirkus Reviews, starred review "Loopy course descriptions, the minutiae of faculty meetings, blurbs from the school newspaper, et al., create a delicious texture and form the structure of the book . . . Hilariously deadpan . . . A droll comedy of modern manners, incisive without being angry, this satire within satire within satire will delight." —Publishers Weekly, starred review"Had Donald Barthelme written Absalom, Absalom!, this is it." —Padgett Powell, author of The Interrogative Mood and You & Me"This is a damn good novel. It's patient, weird, fun and, most of all, smart. It had me from the first line." —Percival Everett, author of I Am Not Sidney Poitier and Percival Everett by Virgil Russell "Antic, darkly funny, and—like all the best satire—deadly serious beneath its surface, this unusually inventive debut reads like a classic campus novel shredded, set on fire, and rebuilt by Jonathan Swift." – Andrea Barrett, National Book Award winner, author of Archangel"As deadpan as Donald Barthelme's best work and as antic as John Barth's, The Ghost Apple provides further compelling evidence, for those who still need it, of the ways in which our most cherished and trusted institutions always manage to facilitate the process of sending our world to hell in a hand basket.  Aaron Thier is a smart and funny and passionate new voice." —Jim Shepard, National Book Award finalist, author of Like You'd Understand, Anyway"A meditation on globalization, higher education, slavery, disease, and the addictive effects of all-you-can-eat pudding, this novel is at once lyrical and satirical, formally inventive and steeped in tradition. It is the sort of book that makes you laugh only until you realize how sharp its bite is." – David Leavitt, author of The Two Hotel Francforts
Advertisement