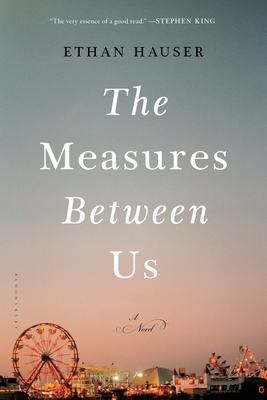 The Measures Between Us (Paperback)
Bloomsbury Publishing PLC, 9781620405321, 400pp.
Publication Date: June 10, 2014
Other Editions of This Title:
Hardcover (7/9/2013)
* Individual store prices may vary.
Description
Jack is an intern for the university's flood study. Transcribing interviews with people who live along a threatened and threatening river, he listens to their answers to questions about environmental change and their emotional investment in the waterway.
Lately, Jack has questions for Cynthia. They've become close, reuniting years after high school, but now she's distancing herself again, sinking into depression. Her parents have noticed, too, calling on the only professional they know: Henry, a psychology professor who was once a student in her father's middle school shop class. Henry wants to help, but he is also dealing with a household in jeopardy: there's a stubborn wedge between him and his pregnant wife.
By turns sweeping and intimate, "The Measures Between Us" is about the shifting covenants we make with ourselves and with the ones we love, about the distances we keep and those we're bent on erasing.
About the Author
Ethan Hauser received his M.F.A. from the University of North Carolina at Greensboro. His fiction has been published in Esquire, Playboy, Ploughshares, New Stories from the South: The Year's Best, 2005, and elsewhere. He was a finalist for the Chicago Tribune's Nelson Algren Short Story Award. Hauser lives in New York and is an editor at the New York Times, where his journalism also appears.
Praise For The Measures Between Us…
"The Measures Between Us connects disparate characters . . . in a kaleidoscopic fashion. The refractions of these tangential relationships make for a novel that surprises and that illuminates the bonds of common experience. This deeply affecting debut novel is full of hope." —Chicago Tribune (Editors' Choice)
"Hauser relies on beautiful prose and sensitive characterization instead of easy gimmicks . . . A-." —Entertainment Weekly
"Elegantly crafted . . . The swirling currents of these characters' personal tragedies connect them, but they render no easy answers." —Daily Beast "The Measures Between Us is a beautifully written and completely compelling story about the storms that flood towns and the ones that flood human lives. This is a novelistic debut of enormous accomplishment and even greater promise. It is the very esseence of a good read." —Stephen King
or
Not Currently Available for Direct Purchase