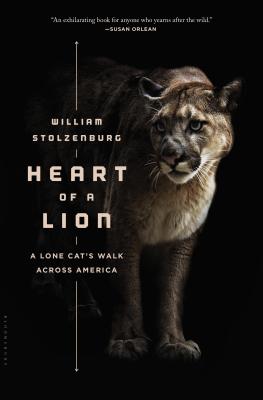 Heart of a Lion
A Lone Cat's Walk Across America
Hardcover

* Individual store prices may vary.
Other Editions of This Title:
Digital Audiobook (4/11/2016)
Compact Disc (4/4/2017)
Compact Disc (4/12/2016)
MP3 CD (4/12/2016)
Description
Late one June night in 2011, a large animal collided with an SUV cruising down a Connecticut parkway. The creature appeared as something out of New England's forgotten past. Beside the road lay a 140-pound mountain lion.

Speculations ran wild, the wildest of which figured him a ghostly survivor from a bygone century when lions last roamed the eastern United States. But a more fantastic scenario of facts soon unfolded. The lion was three years old, with a DNA trail embarking from the Black Hills of South Dakota on a cross-country odyssey eventually passing within thirty miles of New York City. It was the farthest landbound trek ever recorded for a wild animal in America, by a barely weaned teenager venturing solo through hostile terrain.

William Stolzenburg retraces his two-year journey--from his embattled birthplace in the Black Hills, across the Great Plains and the Mississippi River, through Midwest metropolises and remote northern forests, to his tragic finale upon Connecticut's Gold Coast. Along the way, the lion traverses lands with people gunning for his kind, as well as those championing his cause.

Heart of a Lion is a story of one heroic creature pitting instinct against towering odds, coming home to a society deeply divided over his return. It is a testament to the resilience of nature, and a test of humanity's willingness to live again beside the ultimate symbol of wildness.
Praise For Heart of a Lion: A Lone Cat's Walk Across America…
"The journey quest -- a hero's voyage toward a remote and significant goal -- is a core plot device in much of the world's best folklore and literature. Think of Jason and the Golden Fleece, Odysseus and his homeland, and, more recently, Sal Paradise in On the Road or W.P. Inman in Cold Mountain. The journey quest at the heart of William Stolzenburg's new book features an unconventional hero to be sure, a three-year-old mountain lion who remains unnamed throughout. Yet readers will find it both compelling and insightful, a worthy addition to the narratives of young adventurers in search of riches, love, and meaning . . . Stolzenburg's thoughtful and gripping narrative, in the end, is less about the sad heart of a lion on a fruitless quest, and more about the hearts and minds of the humans whose territory it traversed." —Natural History Magazine

"Stolzenburg does not minimize the importance of removing these wild animals from populated areas, but he argues persuasively that an extermination policy is unnecessary and repugnant on moral grounds . . . A serious, engrossing look at issues influencing state and federal conservation policy." —Kirkus Reviews

"Heart of a Lion is a tale of extraordinary achievement and resilience that reads both like an adventure novel and a detective story. But the beauty of this book is that its hero is not a human, but North America's largest resident wild cat, the mountain lion. And the journey so vividly and painstakingly documented by William Stolzenburg, working with a few dedicated mountain lion experts and other scientists, is one for the biological record books. This is a story of survival, a tale of how a big cat uses stealth, cunning, and physical prowess to travel thousands of miles seeking others of its kind to settle new lands and seed future generations. I loved this book." —Dr. Alan Rabinowitz, Chief Executive Officer of Panthera

"This is one stirring account of one stirring journey: the trek of a fellow creature through a hostile, man-made world -- and through our imaginations." —Bill McKibben, author of EAARTH: MAKING A LIFE ON A TOUGH NEW PLANET

"One of the most persuasive and enthralling natural history books I've ever read. A powerful voice for learning to live with our wild neighbors." —John Davis, cofounder of the Wildlands Network

"What a great book. In Heart of a Lion, Will Stolzenburg follows the long and unimaginable journey of a lone male mountain lion from the Black Hills of South Dakota to his unfortunate death near Greenwich, Connecticut. We learn just how awesome these prototype predators really are -- predators who need to survive in a human-dominated world. I hope this book will rewild the hearts of people and generate further admiration and protection for this most amazing cat." —Mark Bekoff, author of REWILDING OUR HEARTS and board member of the Cougar Fund
Bloomsbury USA, 9781620405529, 256pp.
Publication Date: April 12, 2016
About the Author
Will Stolzenburg has studied predator control techniques and worked as a wildlife technician, monitoring endangered species. He has written hundreds of magazine features and columns on the ecology of rarity and extinction for Science News and Nature Conservancy, among others. He lives in Shepherdstown, West Virginia.
or
Not Currently Available for Direct Purchase