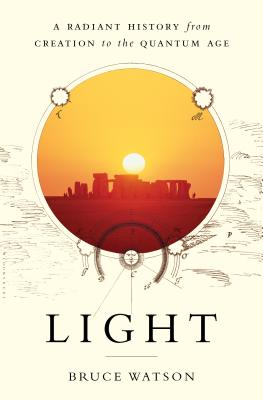 Light (Hardcover)
A Radiant History from Creation to the Quantum Age
Bloomsbury USA, 9781620405598, 304pp.
Publication Date: February 2, 2016
Other Editions of This Title:
MP3 CD (1/31/2017)
* Individual store prices may vary.
Description
Light begins at Stonehenge, where crowds cheer a solstice sunrise. After sampling myths explaining First Light, the story moves on to early philosophers' queries, then through the centuries, from Buddhist temples to Biblical scripture, when light was the soul of the divine.
Battling darkness and despair, Gothic architects crafted radiant cathedrals while Dante dreamed a "heaven of pure light." Later, following Leonardo's advice, Renaissance artists learned to capture light on canvas. During the Scientific Revolution, Galileo gathered light in his telescope, Descartes measured the rainbow, and Newton used prisms to solidify the science of optics. But even after Newton, light was an enigma. Particle or wave? Did it flow through an invisible "ether"? Through the age of Edison and into the age of lasers, Light reveals how light sparked new wonders--relativity, quantum electrodynamics, fiber optics, and more.
Although lasers now perform everyday miracles, light retains its eternal allure. "For the rest of my life," Einstein said, "I will reflect on what light is." Light explores and celebrates such curiosity.
About the Author
Bruce Watson is a frequent contributor to Smithsonian magazine, writing on topics ranging from eels to pi to profiles of artists and writers. His work has also appeared in the Wall Street Journal, the Washington Post, Los Angeles Times, and other publications. Watson is the author of four books, including Bread and Roses, Sacco and Vanzetti (nominated for an Edgar Award), and Freedom Summer. He lives in western Massachusetts.
Praise For Light: A Radiant History from Creation to the Quantum Age…
"Finalist for the Los Angeles Times Book Prizes in Science & Technology" - the Los Angeles Times
". . . A sweeping cultural and scientific history of our understanding of light . . . With his trademark good storytelling and wide reading, Watson takes us on a delightful journey." - Alan Lightman, The Washington Post
"Watson's touch is lyrical and deft . . . . [Light] is an eye-catching display, reflecting and refracting like a gemstone." - Nature
"[J.M.W.] Turner established himself as a true 'painter of light' with his extraordinary seascapes and sunsets . . . [And] you'll appreciate Watson's nuanced explanations of exactly how the artist achieved his goals." - Alexandra Witze, The Dallas Morning News
"An ingenious combination of science and art history." - starred revew, Kirkus Reviews
"Bruce Watson's new book . . . has the buoyant tone of a writer who is having fun--and who is able to convey that sense of excitement and discovery to the reader. Light, the phenomenon, has fascinated people for millennia. Light, the book, will fascinate them now." - Charles C. Mann, author of the New York Times bestsellers 1491 and 1493
"Light takes us on a lyrical and illuminating journey from myth to scripture, canvas to cathedrals, prisms to fiber optic networks, all part of our attempt to understand--and to capture--the very essence of the radiance around us." - Laura J. Snyder, author of EYE OF THE BEHOLDER: JOHANNES VERMEER, ANTONI VAN LEEUWENHOEK, AND THE REINVENTION OF SEEING
"Maybe this is why Watson's book is so important, why it can be such a boon to preachers and teachers: he reminds us just how magical and mysterious light really is." - Christian Century
"Bruce Watson has written a great mystery narrative that chronicles how architecture, art, religion, and mythology dovetail with science to provide our modern understanding of light." - Dick Teresi, coauthor of THE GOD PARTICLE and author of LOST DISCOVERIES
"This is a story and a book chock-full of great and fascinating figures, each of whose personality and doings Watson deftly presents without detracting from the impetus of his millennia-spanning narrative. A dazzling book, as seems completely appropriate." - starred review, Booklist
"Luminous, enlightening, informative, and wide-ranging. Watson has dared to take on the subject of light in all its magnitude and majesty." - Paul Mariani, author of EPITAPHS FOR THE JOURNEY and GERALD MANLEY HOPKINS: A LIFE
or
Not Currently Available for Direct Purchase