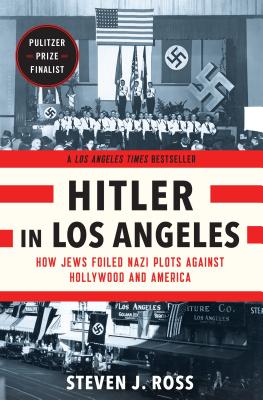 Hitler in Los Angeles
How Jews Foiled Nazi Plots Against Hollywood and America
Hardcover

* Individual store prices may vary.
Other Editions of This Title:
Digital Audiobook (11/13/2017)
Paperback (3/5/2019)
MP3 CD (11/14/2017)
Compact Disc (11/14/2017)
Compact Disc (11/14/2017)
Description
A 2018 FINALIST FOR THE PULITZER PRIZE

The chilling, little-known story of the rise of Nazism in Los Angeles, and the Jewish leaders and spies they recruited who stopped it.

No American city was more important to the Nazis than Los Angeles, home to Hollywood, the greatest propaganda machine in the world. The Nazis plotted to kill the city's Jews and to sabotage the nation's military installations: plans existed for hanging twenty prominent Hollywood figures such as Al Jolson, Charlie Chaplin, and Samuel Goldwyn; for driving through Boyle Heights and machine-gunning as many Jews as possible; and for blowing up defense installations and seizing munitions from National Guard armories along the Pacific Coast.

U.S. law enforcement agencies were not paying close attention--preferring to monitor Reds rather than Nazis--and only Leon Lewis and his daring ring of spies stood in the way. From 1933 until the end of World War II, attorney Leon Lewis, the man Nazis would come to call "the most dangerous Jew in Los Angeles," ran a spy operation comprised of military veterans and their wives who infiltrated every Nazi and fascist group in Los Angeles. Often rising to leadership positions, this daring ring of spies uncovered and foiled the Nazi's disturbing plans for death and destruction.

Featuring a large cast of Nazis, undercover agents, and colorful supporting players, Hitler in Los Angeles, by acclaimed historian Steven J. Ross, tells the story of Lewis's daring spy network in a time when hate groups had moved from the margins to the mainstream.
Praise For Hitler in Los Angeles: How Jews Foiled Nazi Plots Against Hollywood and America…
"A terrifying, revelatory and inspiring masterpiece that probes the flourishing fascism of 1930s America, and the power of popular resistance to combat an alliance of Nazism, the Ku Klux Klan and other homegrown paramilitary groups." - Jury for Pulitzer Prize in History

"A remarkable tale, one that pits a secretive, chess-playing Jewish spymaster--attorney Leon Lewis--and a group of courageous German-American war veterans that he recruited as his spies against a cast of villains straight out of a classic Warner Bros. film . . . Mr. Ross has a novelist's eye for characters and detail." - Wall Street Journal

"Hitler in Los Angeles . . . is part thriller and all chiller, about how close the California Reich came to succeeding." - Los Angeles Times

"Fascinating." - Smithsonian Magazine

"A history book that doubles as espionage thriller with a cast of characters that includes movie stars, studio moguls, entertainment lawyers, diplomats and pols, all of them quite real . . . Remarkable . . . Now that anti-Semitic chants recently have been heard in the streets of Charlottesville, Va., Hitler in Los Angeles must be seen as much more than an accomplished work of historical scholarship." - Jewish Journal

"The director of the Casden Institute for the Study of the Jewish Role in American Life and an award-winning film historian, Ross tells a shocking story of Nazi efforts to infiltrate America . . . Ross puts his experience in film history to good use, and he creates lively portraits of the men and women whom Lewis recruited as spies and who succeeded in putting some dangerous Nazis behind bars. A vivid history of homegrown resistance." - Kirkus Reviews

"Readers interested in a detailed look at this spy operation can have confidence in this well-sourced account." - Library Journal

"Thrilling . . . dramatic." - The Daily Express

"A chilling, captivating story of espionage and resistance . . . Author Steven J. Ross employs impeccable research and a driving no-holds-barred writing style . . . [This] nonfiction revelation . . . reads like an exciting spy novel. Ross reveals this true story of resistance by American Jews and Gentiles with an exciting, evocative writing style." - The New York Journal of Books

"Remarkable and meticulously researched." - Times Higher Education

"Reveal[s] the hitherto untold story of Jewish resistance to Nazi infiltration, not in Berlin or Warsaw but in Los Angeles during the 1930s, a time when Nazism, a distant rumble on the horizon for most Americans, was for tens of thousands of others a siren call to action . . . Ross has a blockbuster revelation." - The Chronicle of Higher Education

"A riveting and terrifying chapter of Nazi American history... Ross has a flair for thriller-writing and this history is a captivating read.. Enthralling... Important and compelling... Hitler in Los Angeles is crammed with twists and turns involving double-agents, movie stars, and big-time studio moguls. Netflix needs to turn Hitler in Los Angeles into a television series." - PopMatters

"Outstanding and compelling... parts of Hitler in Los Angeles read almost like a spy novel, except that these events really-- and frighteningly-- happened." - TruthDig

"Nazis, spies, assassination plots, a planned putsch to topple Franklin Roosevelt--these are the ingredients for a World War II movie. But in Steve Ross's compelling history, they make for a true-life thriller about an episode that has been almost completely ignored: the attempt by the Nazis to take over America." - Neal Gabler, author of WALT DISNEY

"Steven J. Ross has the verve of a spellbinding novelist and the skill of a master historian. This story has every bit the drama of Roth's The Plot against America or Dick's The Man in the High Castle, except it actually happened! The all-important take-away of Hitler in Los Angeles? Good people can and must prevail against bad." - David N. Myers, President/CEO, The Center for Jewish History

"This is a truly brilliant history by a superbly talented historian. More importantly, it's a damn fine read, a true life thriller that's a powerful reminder of how hate, if left to fester, can destroy us all." - Alex Kershaw, author of AVENUE OF SPIES

"Steven J. Ross, one of our foremost authorities on the entwined histories of American Jewry, domestic politics and Hollywood, presents a chilling tale of the Nazi plot to destroy America; the small spy network who helped defeat it; and the official indifference to the threat posed by German agents and home-grown extremists bent on sabotage and political murder." - Glenn Frankel, Pulitzer Prize-winning journalist and author of HIGH NOON

"This little-known chapter of 1930s history--captured by Steven J. Ross with impeccable research and an intriguing narrative--needs to be told; it will challenge assumptions about the power of citizens to shape world events from their own backyard." - Ted Johnson, senior editor, VARIETY
Bloomsbury USA, 9781620405628, 432pp.
Publication Date: October 24, 2017
About the Author
Steven J. Ross is professor of history at the University of Southern California and director of the Casden Institute for the Study of the Jewish Role in American Life. He is the author of Hollywood Left and Right, recipient of the Academy of Motion Picture Arts and Sciences' Film Scholars Award and nominated for a Pulitzer; Working-Class Hollywood, nominated for a Pulitzer and the National Book Award; Movies and American Society; and Workers on the Edge. He lives in Southern California. http://scalar.usc.edu/works/hitler-in-los-angeles/index
or
Not Currently Available for Direct Purchase