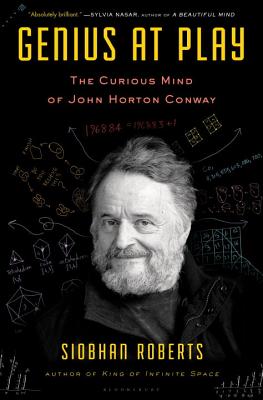 Genius At Play
The Curious Mind of John Horton Conway
Hardcover

* Individual store prices may vary.
Description
Winner of the 2017 JPBM Communications Award for Expository and Popular Books.
"A delightful meta-biography--playful indeed--of a brilliant iconoclast." --James Gleick, author of The Information

John Horton Conway is a singular mathematician with a lovely loopy brain. He is Archimedes, Mick Jagger, Salvador Dali, and Richard Feynman all rolled into one--he boasts a rock star's charisma, a slyly bent sense of humor, a polymath's promiscuous curiosity, and an insatiable compulsion to explain everything about the world to everyone in it. At Cambridge, Conway wrestled with "Monstrous Moonshine," discovered the aptly named surreal numbers, and invented the cult classic Game of Life--more than just a cool fad, Life demonstrates how simplicity generates complexity and provides an analogy for mathematics and the entire universe. As a "mathemagician" at Princeton, he used ropes, dice, pennies, coat hangers, even the occasional Slinky, as props to extend his winning imagination and share his many nerdish delights. He granted Roberts full access to his idiosyncrasies and intellect both, though not without the occasional grumble: "Oh hell," he'd say. "You're not going to put that in the book. Are you?!?"
Praise For Genius At Play: The Curious Mind of John Horton Conway…
"John Horton Conway [is] perhaps the greatest living genius unknown to the general public." —starred review, Publishers Weekly

"Science journalist Roberts's new biography of Conway demonstrates how the man's playfulness and originality has fed into the creativity and intelligence of his ideas. The tome resonates with Conway's voice--which gets its own special font--and his discussions with the author dictate the story's structure and provide the narrative's best glimpses into how his mind darts and weaves." —Scientific American

"Part of what makes Genius At Play so engaging is her detailed account of her experience and impressions as Mr. Conway, over eight years, recounted the many stories that make up his life." —The New York Times Numberplay blog

"A fascinating read from start to finish . . . never gets bogged down in mathematical detail, yet it conveys much of the unstoppable excitement of its hero in full throttle. Roberts has already won kudos for her book on geometer Donald Coxeter, and this volume serves to cement her position as a top mathematical biographer." —Huffington Post

"In this engrossing biography, readers see this genius repeatedly turn perplexities into breakthroughs . . . [Conway's] personality that emerges from this freewheeling narrative responds to even deep confusion with an irresistible playfulness." —starred review, Booklist

"[An] entertaining portrait of a charismatic genius." —Kirkus Reviews

"Genius At Play gives us as much insight into the calculus of Conway's creative powers as we are capable of capturing with our limited powers." —Buffalo News

"Genius At Play is a portrait of one creative genius by another. Absolutely brilliant. Impossible to put down." —Sylvia Nasar, author of A Beautiful Mind and Grand Pursuit

"A delightful meta-biography--playful indeed--of a brilliant iconoclast." —James Gleick, author of The Information and Chaos

"It's a riveting read, and you don't need to be a mathematician to enjoy it." —Baron Martin Rees of Ludlow, UK Astronomer Royal and author of Just Six Numbers

"John Conway is, by any standards, a very remarkable man, and he well deserves a remarkable biography, which this book undoubtedly is. Siobhan Roberts gives us an intimate picture of this brilliant and eccentric mathematician, with an extraordinary facility to entertain and educate through puzzles and unusual ideas. Through frequent use of quotations and anecdotes, she expertly conjures up a genuine picture of the man and his amazing world." —Roger Penrose, author of The Road to Reality and The Emperor's New Mind

"Wonderfully written, fascinating and hilarious, the book is a delight from beginning to end. Roberts has produced a playful and captivating portrait of the most playful mathematician alive." —Alex Bellos, author of Here's Looking at Euclid and The Grapes of Math
Bloomsbury USA, 9781620405932, 480pp.
Publication Date: July 14, 2015
About the Author
Siobhan Roberts is a journalist, and won a National Magazine Award for her profile of Donald Coxeter in Toronto, and this is her first book.
or
Not Currently Available for Direct Purchase