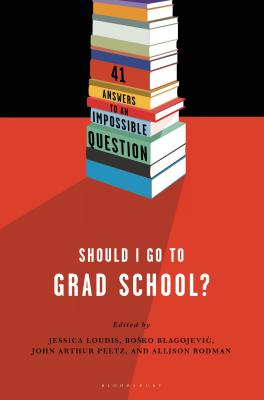 Should I Go to Grad School?
41 Answers to An Impossible Question
Paperback

* Individual store prices may vary.
Description
The decision to attend graduate school is easy for future doctors and lawyers: they must have a professional degree to get started. But for young creative workers, aspiring artists, and intellectuals, grad school is an existential fork in the road. An M.F.A. or a humanities Ph.D. can give you time to invest in studying something you love among like-minded intellectuals and qualify you to teach a new generation of students; but it can also uproot you geographically, expose you to backstabbing competitors, and saddle you with debt. Given the current job market, is grad school really worth it-financially, professionally, and emotionally?

In Should I Go to Grad School?, a wide range of people who lead intellectually and creatively interesting lives-sculptors and philosophers, activists and poets, a cocktail designer and a movie star-tell their own stories about choosing to go to grad school-or steering clear-and what that decision has meant in their lives. They give us an inside look at what grad school today is really like, and share the wisdom they wish they could have had going in. They reflect on their divergent paths to success, and muse about the path not taken.

With contributors including David Orr, James Franco, Simon Critchley, Terry Castle, Sheila Heti, and many more, Should I Go to Grad School? is a must read for anyone seriously considering that titular question.
Praise For Should I Go to Grad School?: 41 Answers to An Impossible Question…
"This charming collection of very personal essays by writers, artists, scholars, and filmmakers . . .does the great service of offering no generalizable advice. Once you finish the forty or so short pieces, you will certainly like almost all of these interesting and accomplished people. You will remember their funny, self-deprecating lines. You will appreciate their candor about failure. You will note the ubiquity of good luck in the stories by the few tenured scholars who contributed. . . . But if you are considering grad school, you will not find your answer here. And that's a good thing." —Bookforum
Bloomsbury USA, 9781620405987, 256pp.
Publication Date: May 6, 2014
About the Author
Jessica Loudis is a writer and editor based in New York. Her writing and reviews have been featured in the New York Times Book Review, the Wall Street Journal, the San Francisco Chronicle, the Believer, Slate, the Daily Beast, and elsewhere. Bosko Blagojevic is a New York-based artist, writer, programmer, and arts entrepreneur who founded Platform for Pedagogy in 2008. John Arthur Peetz is a writer and an editor at Platform for Pedagogy. Allison Rodman works for the Armory Show in New York City.
or
Not Currently Available for Direct Purchase