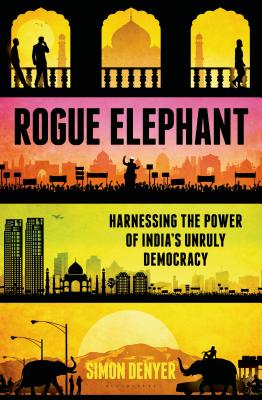 Rogue Elephant: Harnessing the Power of India's Unruly Democracy (Hardcover)
Harnessing the Power of India's Unruly Democracy
Bloomsbury Publishing PLC, 9781620406083, 440pp.
Publication Date: June 24, 2014
* Individual store prices may vary.
or
Not Currently Available for Direct Purchase
Description
Five years ago, India was an emerging world power being courted by the world's most powerful political and business leaders, an upbeat story of unparalleled economic growth. Since then, it has failed to account for the human capital at the heart of its effort to modernize: more than one billion people clamoring for what has become known as the Indian Dream -an education, a career, and an opportunity to pull one's family out of poverty and into prosperity. Today, India is suffering an immense crisis of confidence-crippling political corruption, politicians mired in the status quo, economic inequality, brutal violence against women, and rampant social injustice.
Simon Denyer, former Indian bureau chief for the "Washington Post," perceptively captures India at this crucial tilting point in its history-from the Nehru-Gandhi family dynasty that has ruled the country for most of its post-independence years, to flawed heroes such as news anchor Arnab Goswami and anticorruption crusader Arvind Kejwiral, to, most compelling, ordinary people fighting daily against corruption and the system. They, Denyer convincingly shows, are harnessing the force of the world's largest democracy to positive effect, demanding transparency and accountability as never before. The battle between the deep-rooted system of graft and patronage and the forces demanding change will have huge global significance, and Denyer's insight makes "Rogue Elephant" a vital contribution to the international conversation about India's present and future.
About the Author
Simon Denyer was the India bureau chief for the Washington Post. Previously, he has been the Washington bureau chief for Reuters, he ran the Reuters bureau in India, and he spent two years immediately after 9/11 doing the same thing in Pakistan and Afghanistan. He is editor of Foreign Correspondent: Fifty Years of Reporting South Asia, an anthology of writing about the subcontinent. He has made frequent TV appearances in the United States and India, and also worked as for Reuters Television as an anchor and correspondent. He spent more than four years covering East Africa for Reuters out of Nairobi, and has also worked in New York, London, and Paris. He currently lives in China as the China bureau chief for the Washington Post.
Praise For Rogue Elephant: Harnessing the Power of India's Unruly Democracy…
"[A] revealing panorama of Indian politics…Avoiding clichéd notions of India as either South Asian super-tiger or eternal basketcase, Denyer's sharp-eyed reportage and analysis convey both the size of India's problems and the strength of efforts to remedy them." –Publishers Weekly
Advertisement