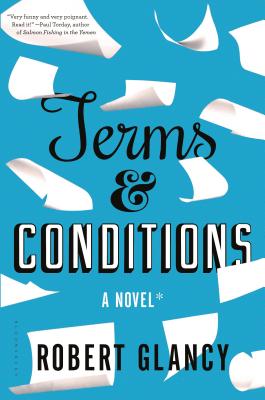 Terms & Conditions (Hardcover)
Bloomsbury USA, 9781620406434, 272pp.
Publication Date: April 22, 2014
* Individual store prices may vary.
or
Not Currently Available for Direct Purchase
Description
Frank has been in a serious car accident and he's missing memories-of the people around him, of the history they share, and of how he came to be in the crash. All he remembers is that he is a lawyer who specializes in fine print, and as he narrates his story, he applies this expertise in the form of footnotes.*
Everyone keeps telling Frank that he was fine before the accident, just a bit overwhelmed, but as he begins to reclaim his memories, they don't quite jibe with what everyone is telling him. His odious brother Oscar is intent on going into business with an inventively cruel corporation.** Alice, Frank's wife, isn't at all like the woman he fell in love with. She's written a book called "Executive X "that makes Frank furious, though he isn't sure why. And to make matters even stranger, stored in a closet is a severed finger floating in an old mustard jar that makes him feel very, very proud.
As more memories flood in, Frank's tightly regulated life begins to unspool as he is forced to face up to the real terms*** and the condition of his life.**** Robert Glancy's debut novel is a shrewd and hilarious exploration of freedom and frustration, success and second chances, and whether it's worth living by the rules.

* Yes, exactly like this.
** We can't tell you what it's called for legal reasons, but believe us, it's evil.
*** Which are rarely in his favor.
**** Which is a total mess.
About the Author
Robert Glancy was born in Zambia and raised in Malawi. At fourteen he moved from Africa to Edinburgh, then went on to study history at Cambridge. By day he works in PR and by night he writes. He currently lives in Auckland, New Zealand, with his wife and children.
Praise For Terms & Conditions…
"An extravagant treat of an office novel, for fans of Memento and The Mezzanine. I loved it." —Ed Park, author of Personal Days "Original, very funny and very poignant. Read it!" —Paul Torday, author of Salmon Fishing in the Yemen "A clever office send-up that depicts one man questioning (quite literally) who he is, and who he wants to be . . . . A remarkably fun read." —Publishers Weekly (starred review)  "It's wonderful. Funny, poignant, simple and profound – it's the kind of book I absolutely love. And it has the best ending I've read in a very long time." —Gavin Extence, author of The Universe Versus Alex Woods "Very funny . . . . the work wittily explores the little moments that add up to disappointment and regret . . . . VERDICT Highly recommended." —Library Journal (starred review) "This great debut feels fresh and playful, and exceptionally readable (footnotes have never been so addictive). Every book seems to have 'funny and life-affirming' written on it but this one actually is." —Matt Haig, author of The Humans "Hilarious . . . . An original office comedy that dots all the I's and crosses all the T's: Think a dash of Office Space, a pinch of Palahniuk and a glance at Regarding Henry." —Kirkus Reviews "Delivered with a profusion of witty quips and tongue-in-cheek footnotes, Glancy's first novel is written with a wry humor that belies the poignant life lessons within." —Booklist  "Carefully plotted, fresh and amusing . . . . Frank, himself, is wryly funny and likeable, so much so that when he eventually exacts his delightful and appropriate revenge you feel like cheering." —Midwest Book Review
Advertisement