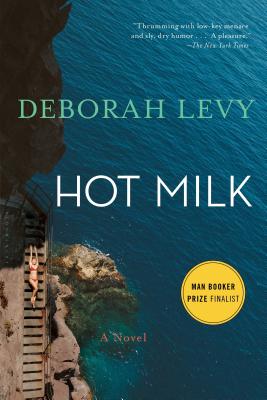 Hot Milk
Paperback

* Individual store prices may vary.
Other Editions of This Title:
Compact Disc (11/29/2016)
MP3 CD (10/25/2016)
Hardcover (7/12/2016)
Hardcover, Large Print (10/5/2016)
Description
A New York Times Notable Book of the Year.

Shortlisted for the 2016 Man Booker Prize, Hot Milk moves "gracefully among pathos, danger, and humor" (The New York Times).

I have been sleuthing my mother's symptoms for as long as I can remember. If I see myself as an unwilling detective with a desire for justice, is her illness an unsolved crime? If so, who is the villain and who is the victim?

Sofia, a young anthropologist, has spent much of her life trying to solve the mystery of her mother's unexplainable illness. She is frustrated with Rose and her constant complaints, but utterly relieved to be called to abandon her own disappointing fledgling adult life. She and her mother travel to the searing, arid coast of southern Spain to see a famous consultant--their very last chance--in the hope that he might cure her unpredictable limb paralysis.

But Dr. Gomez has strange methods that seem to have little to do with physical medicine, and as the treatment progresses, Sofia's mother's illness becomes increasingly baffling. Sofia's role as detective--tracking her mother's symptoms in an attempt to find the secret motivation for her pain--deepens as she discovers her own desires in this transient desert community.

Hot Milk is a profound exploration of the sting of sexuality, of unspoken female rage, of myth and modernity, the lure of hypochondria and big pharma, and, above all, the value of experimenting with life; of being curious, bewildered, and vitally alive to the world.
Praise For Hot Milk…
"Gorgeous . . . What makes the book so good is Ms. Levy's great imagination, the poetry of her language, her way of finding the wonder in the everyday, of saying a lot with a little, of moving gracefully among pathos, danger and humor and of providing a character as interesting and surprising as Sofia. It's a pleasure to be inside Sofia's insightful, questioning mind." - The New York Times

"Levy has spun a web of violent beauty and poetical ennui . . . the book exerts a seductive, arcane power, rather like a deck of tarot cards, every page seething with lavish, cryptic innuendo." - The New York Times Book Review

"In Levy's evocative novel, dense with symbolism, a woman struggles against her hypochondriacal mother to achieve her own identity." - The New York Times Book Review, "100 Notable Books of 2016"

"Against fertile seaside backdrops, Sofia, seeking a robust, global meaning for femininity and motherhood, becomes increasingly bold herself." - The New Yorker

"A powerful novel of the interior life, which Levy creates with a vividness that recalls Virginia Woolf . . . Transfixing." - Erica Wagner, The Guardian

"The novel's eerie atmosphere and sibylline turns of phrase have made Hot Milk the bettor's favorite for this year's Man Booker Prize . . . Its moody spell and haunted imagery pull you in." - Sam Sacks, The Wall Street Journal

"Levy's work has developed a loyal following, and she has emerged as one of England's best-loved authors . . . She has reached the apogee of mainstream recognition with two appearances on the Man Booker Prize shortlist, one for Swimming Home in 2012, and another in 2016 for Hot Milk . . . Both works retain traces of Levy's early rawness, but they go in for a more muted lyricism. Their oddity is subtle and slow to surface. Reading them is like walking off into the fog and getting lost there . . . The way we should read Levy: as a call to disorientation, and a reminder that when we return from vacation we will always find the old house altered, the windows a little wider, and our tired lives at least a little different." - The Nation

"Exquisite prose . . . Hot Milk is perfectly crafted, a dream-narrative so mesmerising that reading it is to be under a spell. Reaching the end is like finding a piece of glass on the beach, shaped into a sphere by the sea, that can be held up and looked into like a glass-eye and kept, in secret, to be looked at again and again." - Suzanne Joinson, The Independent

"Levy's language is precise. The absurdities of her style seem scattershot at first, but yield a larger pattern: a commentary on debt and personal responsibility, family ties and independence." - Washington Post

"Hot Milk is a complicated, gorgeous work." - Marie Claire

"Highbrow/Brilliant. [An] intensely interior but highly charged new novel about family, hypochondria, Spain, Greece, and all kinds of sex." - New York Magazine, Approval Matrix

"Economical, fluid, evocative of sex and mythology . . . . Young Sofia . . . drop[s] beautiful bombs of truth." - New York Magazine's Vulture blog

"A singular read . . . Levy has crafted a great character in Sofia, and witnessing a pivotal moment in her life is a pleasure." - starred and boxed review, Publishers Weekly

"Scintillating, provocative . . . Levy combines intellect and empathy to impressively modern effect." - starred review, Kirkus Reviews

"Great lush writing [and] luxuriation in place. No writer infuses the landscape, urban or rural, with as much meaning and monstrosity as Levy . . . Unmissable." - Eimear McBride, The New Statesman

"An unsettling, poetic novel." - The Atlantic, "The Best Books We Read in 2016"

"Among the questions posed in this heady new novel: Is Sofia's mother, Rose, sick or a hypochondriac who's feverish for attention? And more important, can the frustrated Sofia break the chains of familial devotion and live for herself?" - O, the Oprah Magazine

"A captivating demonstration of why Levy is one of the few necessary novelists writing in Britain today. This is the poetry and playfulness of her prose . . . More important, Levy grapples with and presents the complex psychology and multiple facets of her female characters like few others, which makes the recent reappraisal of her life's work all the more welcome." - The Forward

"A beguiling tale of myths and identity . . . provocative . . . The difficult, ambivalent, precious mother-daughter relationship forms the core of this beautiful, clever novel." - Michele Roberts, The Independent
Bloomsbury USA, 9781620406700, 240pp.
Publication Date: May 9, 2017
About the Author
Deborah Levy writes fiction, plays, and poetry. Her work has been staged by the Royal Shakespeare Company, broadcast on the BBC, and widely translated. The author of highly praised novels, including The Man Who Saw Everything (longlisted for the Booker Prize), Hot Milk and Swimming Home (both Man Booker Prize finalists), The Unloved, and Billy and Girl, the acclaimed story collection Black Vodka, and two parts of her working autobiography, Things I Don't Want to Know and The Cost of Living, she lives in London. Levy is a Fellow of The Royal Society of Literature.