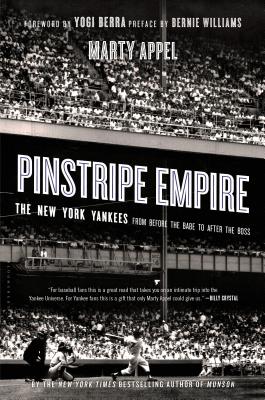 Pinstripe Empire: The New York Yankees from Before the Babe to After the Boss (Paperback)
The New York Yankees from Before the Babe to After the Boss
Bloomsbury Publishing PLC, 9781620406816, 636pp.
Publication Date: May 6, 2014
Description
Is there a sports team more synonymous with winning than the New York Yankees? The team of Ruth, Gehrig, DiMaggio, Berra, Ford, Mantle, Jackson, Mattingly? Of Torre, Jeter, and Rivera? Of forty American League pennants, twenty-seven World Championships, and nearly forty Hall of Famers?
Like so many great American institutions, the Yankees began humbly, on the muddy, uneven grass of Hilltop Park. Eighteen years later the little second-class franchise won its first pennant. Today, the Yankees are worth more than a billion dollars.
It's been nearly seventy years since Frank Graham wrote the last narrative history of the Yankees. Marty Appel, the Yankees' PR director during the 1970s, now illuminates the team in its hundred-plus years of glory: clever, maneuvering owners; rowdy, talented players; great stories behind the great stories. Appel heard tales from old-timers like Waite Hoyt, Bill Dickey, Yogi Berra, Phil Rizzuto, and Whitey Ford, and has remained close to the organization ever since. He gives life to the team's history, from the demise of Hilltop Park in the 1900s to the evolution of today's team as an international brand. With a wealth of photographs, this is a treasure trove for lovers of sports, the Yankees, New York history, and America's game.
About the Author
Marty Appel is the author of many books, including most recently the New York Times bestseller Munson. Following his years as the Yankees' public relations director, he became an Emmy Award-winning television producer and director of Marty Appel Public Relations. Appel lives in New York City and appears frequently on ESPN, HBO, the MLB Network, and the YES Network. His website is www.appelpr.com.
Praise For Pinstripe Empire: The New York Yankees from Before the Babe to After the Boss…
"An insider's history enlivened by a rich store of carefully researched anecdotes, most of which I'd never heard before . . . . This is a marvelous book to take on vacation. It's divided into 47 chapters—each one featuring a different player, milestone, era or fracas—and you can dip into it whenever the mood strikes." —Jim Bouton, The New York Times Book Review
"In
Pinstripe Empire: The New York Yankees From Before the Babe to After the Boss
, Appel has written an important, memorable and riveting history of the world's most dominant sports franchise. The book ...reads like a gripping, action-packed novel, one era more fascinating than the next." —
Newsday,
Jeff Pearlman
"Marty Appel is a fine storyteller with a keen eye for detail. He has firsthand knowledge of the bold-faced names and the bit players over a large span of Yankee history. All of which makes his perspective both entertaining and enlightening." —Bob Costas
"For baseball fans this is a great read that takes you on an intimate trip into the Yankee universe. For Yankee fans this is a gift that only Marty Appel could give us." —Billy Crystal
Advertisement