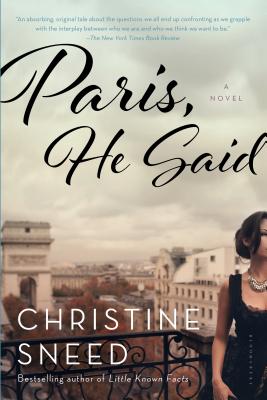 Paris, He Said
Paperback

* Individual store prices may vary.
Other Editions of This Title:
Digital Audiobook (9/21/2015)
MP3 CD (9/22/2015)
Compact Disc (9/22/2015)
Hardcover (5/5/2015)
Description
Jayne Marks is questioning the choices she has made in the years since college and is struggling to pay her bills in Manhattan when she is given the opportunity to move to Paris with her wealthy lover and benefactor, Laurent Moller, who owns and operates two art galleries, one in New York, the other in Paris. He offers her the time and financial support she needs to begin her career as a painter and also challenges her to see who and what she will become if she meets her artistic potential.

Laurent, however, seems to have other women in his life and Jayne, too, has an ex-boyfriend, much closer to her own age, whom she still has feelings for. Bringing Paris gloriously to life, Paris, He Said is a novel about desire, beauty, and its appreciation, and of finding yourself presented with the things you believe you've always wanted, only to wonder where true happiness lies.
Praise For Paris, He Said…
"A wry, sexy, clever little gem of a novel, Christine Sneed's latest lights up the streets of Paris with elegance and wit." —Jami Attenberg, New York Times bestselling author of THE MIDDLESTEINS

"A novel about art and artifice that is heartfelt, a novel about love and deception that is clear-eyed, witty and wise. Sneed entertains and tantalizes, in the most Parisian manner." —Amy Bloom, author of LUCKY US

"Art, desire, romance, and Paris itself are brought so beautifully together in Christine Sneed's new novel. She writes with contagious affection for her characters, and in the delightful and delighted hours I spent inside PARIS, HE SAID I had that rare feeling we can get from a novel--I was happy to be alive." —Scott Spencer, National Book Award finalist and bestselling author of ENDLESS LOVE

"If Henry James were still with us, he'd not only approve of Paris, He Said, he could have written it himself, though without his serpentine syntax. It's a delicious treat, studded with wise and beautifully observed detail, that places side by side those perpetually fascinating antagonists, the eager, casual American and the meticulous, pleasure-driven French. Christine Sneed knows everyone's intimate secrets and her book is lively, amusing, and, ultimately, kind to pretty much all of them." —Rosellen Brown, New York Times bestselling author of BEFORE AND AFTER

"Paris, He Said is about more than the double-edged sword of open relationships. The books' true heart lies closer to the potentially even more discomfiting subject of ambition, and it is this focus that elevates Paris, He Said--from merely an entertaining novel about a near-universal fantasy to a serious exploration of how one manages the hunger for recognition and success, and why one might harbor ambivalence about that aspect of oneself . . . [It is] an absorbing, original tale about the questions we all end up confronting as we grapple with the interplay between who we are and who we think we want to be." —New York Times Book Review

"Sneed judiciously dramatizes gender expectations, the 'erotic imagination,' the struggles of women artists, and the divide between outward appearance and inner realities. An alluring, provocative novel about the coalescence of the self and the art of living." —Booklist

"Sneed is very good at elucidating the doubts that plague many women when it comes to their careers . . . This frothy novel, about sex and secrets in the city of light, contains many observations about womanhood, personhood and the ever elusive but never-too-late-to-learn 'knack for happiness.'" - Oprah.com, Best Books of Spring

"Sneed allows readers to revel in Paris' celebrated light while walking its wide boulevards and cobblestone streets. If you love the City of Light or have always wanted to travel there, Paris, He Said is worth a visit. You'll come for the story but stay for Sneed's painterly homage to the city's art and culture." —Chicago Tribune

"Sneed expertly keeps the pages turning in this delightful novel. Paris, He Said offers readers, too, an entertaining escape from the mundanities of daily life. With clever and graceful prose, Sneed deftly guides a story that explores whether satisfaction follows when all one's deepest wishes come true." —BookPage

"[Sneed's] most subtle and accomplished work to date . . . A brave book. Sneed offers, with quiet confidence, her characters' increasing complexities. People, like the best art, deserve more than one interpretation. There is little black and white contrast in Sneed's work, and she lingers in every gradation of shade in between, as if gray were a full palette of color." —The Millions

"Combining desire, sex, and fine art like only the French can, this petite mort of a novel depicts Paris as a faraway land where beauty, if not love, is eternal." —O, the Oprah Magazine

"Sneed . . . writes slyly funny, masterful comedies of manners utterly unlike anything else in American letters." —The Independent

"Dives into Paris like a tourist in love . . . In the best, most pertinent ways, Paris He Said's Jayne Marks reminds me of Rabbit, Run's Harry 'Rabbit' Angstrom; both characters attempt to escape the constraints of their lives, get caught in self-created webs of uncertainty, and must reckon with the conditions of their decisions and limitations for happiness. Because Sneed's heroine is a single, female artist, her struggle brings to light a contemporary conflict particular to women--namely their reliance on youth and beauty, and their reluctance to believe in themselves." —The Rumpus
Bloomsbury USA, 9781620406939, 336pp.
Publication Date: February 2, 2016
About the Author
Christine Sneed is the author of Little Known Facts. She has a creative writing MFA from Indiana University and teaches creative writing at DePaul University, Northwestern University and Pacific University. Portraits of a Few of the People I've Made Cry won AWP's 2009 Grace Paley Prize in Short Fiction, was a finalist for the Los Angeles Times Book Prize, first-fiction category, was named the Chicago Writer's Association Book of the Year, and the recipient of Ploughshares' 2011 first-book prize, the John C. Zacharis Award. It was also long-listed for the Frank O'Connor International Short Story Award and named one of the seven best books of the year by Time Out Chicago. Her stories have appeared or are forthcoming in Best American Short Stories, PEN/O. Henry Prize Stories, Ploughshares, Southern Review, Massachusetts Review, New England Review, Notre Dame Review, and a number of other journals. Visit her website at http://www.christinesneed.com.
or
Not Currently Available for Direct Purchase