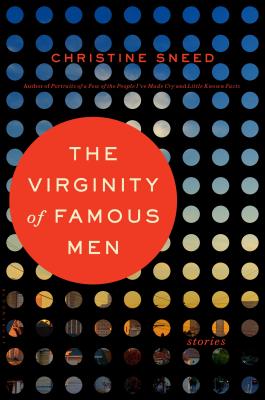 The Virginity of Famous Men
Stories
Hardcover

* Individual store prices may vary.
Other Editions of This Title:
Paperback (3/6/2018)
Description
The Virginity of Famous Men, award-winning story writer Christine Sneed's deeply perceptive collection on the human condition, features protagonists attempting to make peace with the choices--both personal and professional--they have so far made. In "The Prettiest Girls," a location scout for a Hollywood film studio falls in love with a young Mexican woman who is more in love with the idea of stardom than with this older American man who takes her with him back to California. "Clear Conscience" focuses on the themes of family loyalty, divorce, motherhood, and whether "doing the right thing" is, in fact, always the right thing to do. In "Beach Vacation," a mother realizes that her popular and coddled teenage son has become someone she has difficulty relating to, let alone loving with the same maternal fervor that once was second nature to her. The title story, "The Virginity of Famous Men," explores family and fortune.
Long intrigued by love and loneliness, Sneed leads readers through emotional landscapes both familiar and uncharted. These probing stories are explorations of the compassionate and passionate impulses that are inherent in--and often the source of--both abiding joy and serious distress in every human life.
Praise For The Virginity of Famous Men: Stories…
"Snared by each of the collection's tragic, comic, quirky and/or quotidian lives . . . the reader tears through page after page and by the end feels not only bereft but ravenous, hungry for more . . . Fiercely meditative and unnerving short fiction." - New York Times Book Review
"These marvelously precise and lucid stories, so rich in psychological insights, so propulsive, switch from funny to wrenching in a heartbeat. Like Ann Beattie, Amy Hempel, and Edith Pearlman, Sneed, as attuned to our buzzing-hive world as she is, writes timeless stories richly human in their empathy and wit, grace, and toughness." - starred review, Booklist
"This is an absolute gem of a collection, each perfectly formed story encompasses a world." -featured, boxed review, The Bookseller (UK)
"Sneed's strength is her characters; we often find them in the middle of a choice. It feels refreshing. These are not the aimless, wondering, interior characters we dread in short fiction. The active nature of every one of Sneed's people is that they want something, and we know what that something is. They desire to get away, dissolve into someone else, be saved, and ultimately not be on their own. We empathize with their desires, and root for--and sometimes fear for--the decisions they make." - Los Angeles Review of Books
"Readers will find themselves invested in these worlds and lives. Tenderly portrayed and sharply observed. A rich collection." - Kirkus
"[An] impressive and expansive story collection . . . From the rich and famous to the down and out, Sneed's characters are exposed by life's twists and turns, their inner struggles laid bare as they seek connection to the people they love most." - Publishers Weekly
"Sneed is as much heir to John O'Hara and John Cheever as to . . . Alice Munro and Mavis Gallant." - Chicago Tribune
"Sneed is excellent on the poetry of glamour, how it holds up well from a distance and dissolves on approach." - VICE
"Christine Sneed's smart and sexy new short story collection, The Virginity of Famous Men . . . focuses less on the pursuit of sex and love than on the more complicated matter of love's fallout . . . It's that emotional heft that interests Sneed, and she mines it to great effect and with incredibly precise prose." - Milwaukee Journal-Sentinel
"Compulsively readable. Sneed writes like a house afire, like a friend who is bursting with stories to share--and the impact is unforgettable." - Robin Black, author of LIFE DRAWING
"Only the wild imagination of Christine Sneed could have invented these funny, intimate, and exceptionally moving stories." - Peter Orner, author of LAST CAR OVER THE SAGAMORE BRIDGE
"With this brilliant new collection, Christine Sneed clinches her place among the greatest writers of her generation. These hilarious, heartbreaking, perfect stories will charm you, seduce you, change the way you see the world." - Joanna Rakoff, author of MY SALINGER YEAR
"Rich and mesmerizing. Here is love caught in the headlights. Here is a master of the short story form." - Scott Blackwood, author of SEE HOW SMALL
"Some of the most emotionally-rich writing I've read in quite some time. Sneed goes for the heart, the head, and, quite often, the funny bone." - David Abrams, author of FOBBIT
"The Virginity of Famous Men simmers with longing and desire. Sneed's scarred protagonists--magically, incredibly--show us a potential for connection that resonates long after each story's close." - Karen Brown, author of THE LONGINGS OF WAYWARD GIRLS
"Who we fall in love with, and why, has always fascinated Christine Sneed. In her new collection of stories, The Virginity of Famous Men, she also delves into why some of us are so drawn to fame--and how much we are willing to give up for a little bit of it." - The National Book Review
"Awakenings, sudden good luck or tragedy drive characters in these stories to bury iterations of themselves and reinvent with new pursuits, new ways of seeing, new bonds." - Newcity
"The Virginity of Famous Men is a stunning collection. The lives in these 13 stories are exquisitely imagined, utterly convincing . . . listened to carefully by Christine Sneed's perfect ear." - Washington Independent Review of Books
"Sneed's immersive stories contain such full worlds that they almost feel like distilled novels . . . [Her] sophisticated wit and emotional acuity . . . keep these stories vibrant." - San Francisco Chronicle
"[The Virginity of Men] imparts a lifetime of wisdom on the difficulties of love." -"2016 Fiction Shortlist," Chicago Review of Books
"Three stories in and you are mesmerised by Sneed's confident yet intimate voice and don't want to put the book down till you have read the lot. There is something compelling about her inside track on affairs of the heart . . . She describes loss (and thereby all life) and makes it bearable in myriad ways. An absolute treat." - Daily Mail
Bloomsbury USA, 9781620406953, 320pp.
Publication Date: September 13, 2016
About the Author
Christine Sneed is the author of Little Known Facts. She has a creative writing MFA from Indiana University and teaches creative writing at DePaul University, Northwestern University and Pacific University. Portraits of a Few of the People I've Made Cry won AWP's 2009 Grace Paley Prize in Short Fiction, was a finalist for the Los Angeles Times Book Prize, first-fiction category, was named the Chicago Writer's Association Book of the Year, and the recipient of Ploughshares' 2011 first-book prize, the John C. Zacharis Award. It was also long-listed for the Frank O'Connor International Short Story Award and named one of the seven best books of the year by Time Out Chicago. Her stories have appeared or are forthcoming in Best American Short Stories, PEN/O. Henry Prize Stories, Ploughshares, Southern Review, Massachusetts Review, New England Review, Notre Dame Review, and a number of other journals. Visit her website at http://www.christinesneed.com.
or
Not Currently Available for Direct Purchase