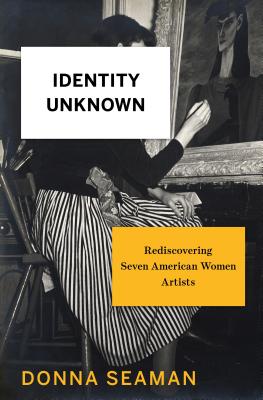 Identity Unknown
Rediscovering Seven American Women Artists
Hardcover

* Individual store prices may vary.
Other Editions of This Title:
Hardcover (2/1/2017)
Description
An award-winning writer rescues seven first-rate twentieth-century women artists from oblivion--their lives fascinating, their artwork a revelation.

Who hasn't wondered where-aside from Georgia O'Keeffe and Frida Kahlo-all the women artists are? In many art books, they've been marginalized with cold efficiency, summarily dismissed in the captions of group photographs with the phrase "identity unknown" while each male is named.

Donna Seaman brings to dazzling life seven of these forgotten artists, among the best of their day: Gertrude Abercrombie, with her dark, surreal paintings and friendships with Dizzy Gillespie and Sonny Rollins; Bay Area self-portraitist Joan Brown; Ree Morton, with her witty, oddly beautiful constructions; Loïs Mailou Jones of the Harlem Renaissance; Lenore Tawney, who combined weaving and sculpture when art and craft were considered mutually exclusive; Christina Ramberg, whose unsettling works drew on pop culture and advertising; and Louise Nevelson, an art-world superstar in her heyday but omitted from recent surveys of her era.

These women fought to be treated the same as male artists, to be judged by their work, not their gender or appearance. In brilliant, compassionate prose, Seaman reveals what drove them, how they worked, and how they were perceived by others in a world where women were subjects-not makers-of art. Featuring stunning examples of the artists' work, Identity Unknown speaks to all women about their neglected place in history and the challenges they face to be taken as seriously as men no matter what their chosen field-and to all men interested in women's lives.
Praise For Identity Unknown: Rediscovering Seven American Women Artists…
"Re-creates the careers of seven groundbreaking female virtuosos, rescuing from history's margins bold, invigorating work that defied male-centric norms." - O, the Oprah Magazine

"Female creators rise in all their splendor and defiance in Donna Seaman's wonderful new book . . . Seaman [is] an enchanting biographer" - Washington Post

"Seaman is out to right a grievous wrong but she does so not with shrill arguments but rather with stylish, sensitive and deeply researched prose. "Identity Unknown" is a revelatory, engaging and provocative work." - Chicago Tribune

"Identity Unknown goes far beyond the more narrow question of criticism in discussing seven women artists whose relative neglect places them in unfair obscurity. No more obscurity for this arty septet! Seaman's lively portraits make the reader eager to rediscover them, a process helped along by the book's photos of them and their art." - Seattle Times

"[A] diligently researched and compassionately written look into several undsersung female artists . . . It is only through books like Seaman's, which contains fascinating biographical details as well as keen analyses of individual artworks, that this great historical (and ongoing) slight of accomplished women artists has any hope of being corrected." - Buffalo News

"Donna Seaman's . . . flowing, image-rich sentences are always composed with a painterly precision and texture, layering words upon words like a painter blends colors . . . A multifaceted, fascinating list . . . both in terms of the art and the artists' lives." - Booklist

"With impressive research, Booklist editor Seaman curates a fine retrospective on the history of women in the male-dominated world of 20th-century art . . . A decidedly important and long-overdue showcase." - Kirkus Reviews

"Seaman's refreshingly intimate descriptions of these women are as candid as they are beautiful . . . She writes as if she knew them personally, and refuses to gloss over their imperfections, even while she lauds their artistic geniuses . . . Identity Unknown's call for remembrance of female artistic brilliance is thorough, poignant, and elucidating." - The Los Angeles Review

"Rendered in wise and beautiful prose . . . Donna Seaman has written a dangerous book about dangerous women who were dangerous because they dared to be themselves . . . Identity Unknown is a credo to creativity, to lives lived large without apology . . . Seaman creates an artistic afterlife for seven women artists whom we can no longer forget." - Pacific Standard Magazine

"In-depth analysis and richly written prose." - Chronogram

"Beautifully written and wise, this haunting book reveals the lives of seven brilliantly creative American artists who, though successful in their own day, have somehow fallen out of sight, along with countless other women artists throughout history. Seaman throws them an elegantly-crafted lifeline, rescuing them from obscurity, in colorful prose that vividly portrays the rich spell of their work, and delves into their lives with empathic curiosity. The result is seven cameos that are poignant and funny, pensive and dramatic, full of calamity and loss at times, as creative lives tend to be, but also love, adventure and the transcendent glory of creating such mesmerizing work. The storied quilt of these unknown lives is absolutely enchanting." - Diane Ackerman, author of THE ZOOKEEPER'S WIFE

"Identity Unknown is not only a book that illuminates the lives and works of seven artists who have been unjustly neglected, a fate shared by countless brilliant women in many fields, it is a passionate examination of the artistic calling itself. As she moves between a particular artist's personal history and her work, Donna Seaman reveals the stubborn resolve, consuming drive, and fervid concentration necessary for creative labor. In elegant, lucid prose, Seaman makes the unknown known, filling in each blank with a vivid portrait of an exceptional twentieth century artist." - Siri Hustvedt, author of THE BLAZING WORLD
Bloomsbury USA, 9781620407585, 480pp.
Publication Date: February 14, 2017
About the Author
Donna Seaman is Editor, Adult Books, Booklist, a member of the advisory council for the American Writers Museum, and a recipient of the James Friend Memorial Award for Literary Criticism and the Studs Terkel Humanities Service Award. She has reviewed for the Chicago Tribune and Los Angeles Times, among others. She has written biocritical essays for the Oxford Encyclopedia of American Literature and American Writers. Her author interviews are collected in Writers on the Air: Conversations about Books. She lives in Chicago.