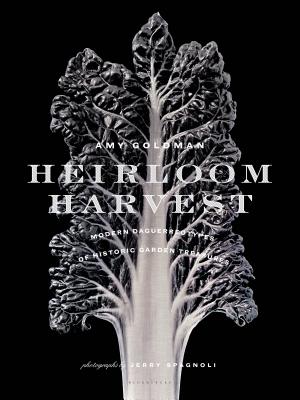 Heirloom Harvest
Modern Daguerreotypes of Historic Garden Treasures
Hardcover

* Individual store prices may vary.
Description
On two hundred acres in the Hudson Valley, Amy Goldman grows heirloom fruits and vegetables--an orchard full of apples, pears, and peaches; plots of squash, melons, cabbages, peppers, tomatoes, eggplants, and beets. The president of the New York Botanical Garden has called her "perhaps the world's premier vegetable gardener." It's her life's work, and she's not only focused on the pleasures of cultivating the land and feeding her family--she's also interested in preserving our agricultural heritage, beautiful and unique heirlooms that truly are organic treasures.

Over fifteen years, the acclaimed photographer Jerry Spagnoli has visited Amy's gardens to preserve these cherished varieties in another way--with the historical daguerreotype process, producing ethereal images with a silvery, luminous depth and a timeless beauty, underscoring the historical continuity and value of knobby gourds, carrots pulled from the soil, and fruit picked fresh from the tree.

In Heirloom Harvest, Amy's essay, "Fruits of the Earth," describes her twenty-five year collaboration with the land. The text along with Jerry Spagnoli's photographs and an afterword by M Mark add up to an exquisite package, an artist's herbarium worthy of becoming an heirloom itself.
Praise For Heirloom Harvest: Modern Daguerreotypes of Historic Garden Treasures…
"Heirloom Harvest . . . turns humble produce--Christmas Pole lima beans, Purple Top White Globe turnips, Crown of Thorns gourds--into pieces of art, the singularity of each vegetable accentuated by its rendering in a lustrous kaleidoscope of blacks and whites." —Town & Country

"The astonishing beauty and variety of the heirloom fruits and vegetables that Amy Goldman cultivates in her gardens in Rhinebeck, N.Y., live on in books of photographs. Her latest volume gives Asian pears, long beans and frilly cabbage vintage allure. Photos of the farm and its story are included." —Florence Fabricant, New York Times 2015 Holiday Gift Guide

"Heirloom Harvest . . . celebrates nearly forgotten varieties with haunting images by Jerry Spagnoli made using one of the earliest types of photography, the daguerreotype." —Elle Decor

"[H]orticultural conservationist, philanthropist and all-around aesthetician Amy Goldman . . . has championed the cause of saving heirloom varieties of vegetables. If Goldman is the strategist of this project, its tactician--New York photographer Jerry Spagnoli--best captures its drama . . . Heirloom Harvest takes cherished heritage varieties and elevates them further as individuals." —Washington Post

"Jaw-dropping photography . . . will appeal to your eyes and your belly . . . It may not be your traditional cookbook, but this collection of heirloom vegetables captured in daguerreotype--the joint effort of a plant conservationist and a revered photographer--is still a treat." —Entertainment Weekly

"[A] perfect collaboration between two people passionately devoted to preserving historical techniques." —Chronogram

"Goldman has built a reputation for lavish books that lovingly capture the haunting and primeval beauty of the once common but quickly disappearing heirloom vegetables and fruits she grows . . . Heirloom Harvest turn[s] the curving flesh of a pimento pepper or the pebbled, wrinkled rinds of bitter melons into the gasp-inducing stuff of high art." —Veranda

"In Heirloom Harvest, [Amy Goldman] takes her expertise and dedication a notch higher, collaborating with photographer Jerry Spagnoli to artfully document the unique world of heirlooms . . . An eloquent reminder that many of the treasured heirlooms depicted might have been lost if not for the dedication of Goldman and other seed savers over the years." —American Gardener

"[Heirloom Harvest] is the result of a 15-year collaboration between Goldman, a plant conservationist and heirloom gardener, and Spagnoli, who is at the forefront of revitalizing the daguerreotype process. The fruits and vegetables pictured, such as Raritan Rose peaches and Silverado Shard, are all grown on Goldman's 200-acre Hudson Valley farmstead." —Publishers Weekly, 2015 Illustrated Gift Books

"Luminous, moody daguerrotypes of the heirloom fruits and vegetables conservationist Amy Goldman grows at her farm in New York's Hudson Valley." —2015 Holiday Book Guide, LA Times

"Raw, graphic, and glittering, the daguerreotypes in the book Heirloom Harvest, by Jerry Spagnoli, master of photography's oldest form, morph everyday vegetables into high art. Heirloom-plant conservationist Amy Goldman's fascinating passages complement the arresting pictures." —Organic Life

"Jerry Spagnoli, a daguerreotypist, met Amy Goldman, a champion vegetable grower and heirloom plant conservationist, in 2000 . . . what began with photos of a few squash that Goldman brought to Spagnoli's Chelsea studio eventually grew into days spent on the farm, photographing freshly harvested specimens and those still on the vine . . . the result is a series of idiosyncratic portraits of vegetables and fruits that celebrate the unusual textures and surprising shapes encouraged by traditional farming techniques used on heritage species. (Also included are images of livestock and poultry and views of the farm, setting the produce pictures in a larger context)." —Photo of the Day, Photo District News

"A feast for the eyes and a serious reminder that biodiversity is admirable and necessary. Amy Goldman is doing a beautiful job in one small area of this science and encourages others to do the same." —Martha Stewart on MELONS

"What a book! It's gorgeous, inspiring, truly awesome." —Deborah Madison on COMPLEAT SQUASH

"Luscious . . . This is a book to inspire passion." —starred review, Publishers Weekly on HEIRLOOM TOMATO
Bloomsbury USA, 9781620407776, 192pp.
Publication Date: October 27, 2015
About the Author
Amy Goldman is a passionate gardener, seed saver, and well-known advocate for heirloom fruits and vegetables. She is the author of The Compleat Squash and Melons for the Passionate Grower, and she appears frequently on such TV programs as Martha Stewart Living and Victory Gardens.
or
Not Currently Available for Direct Purchase